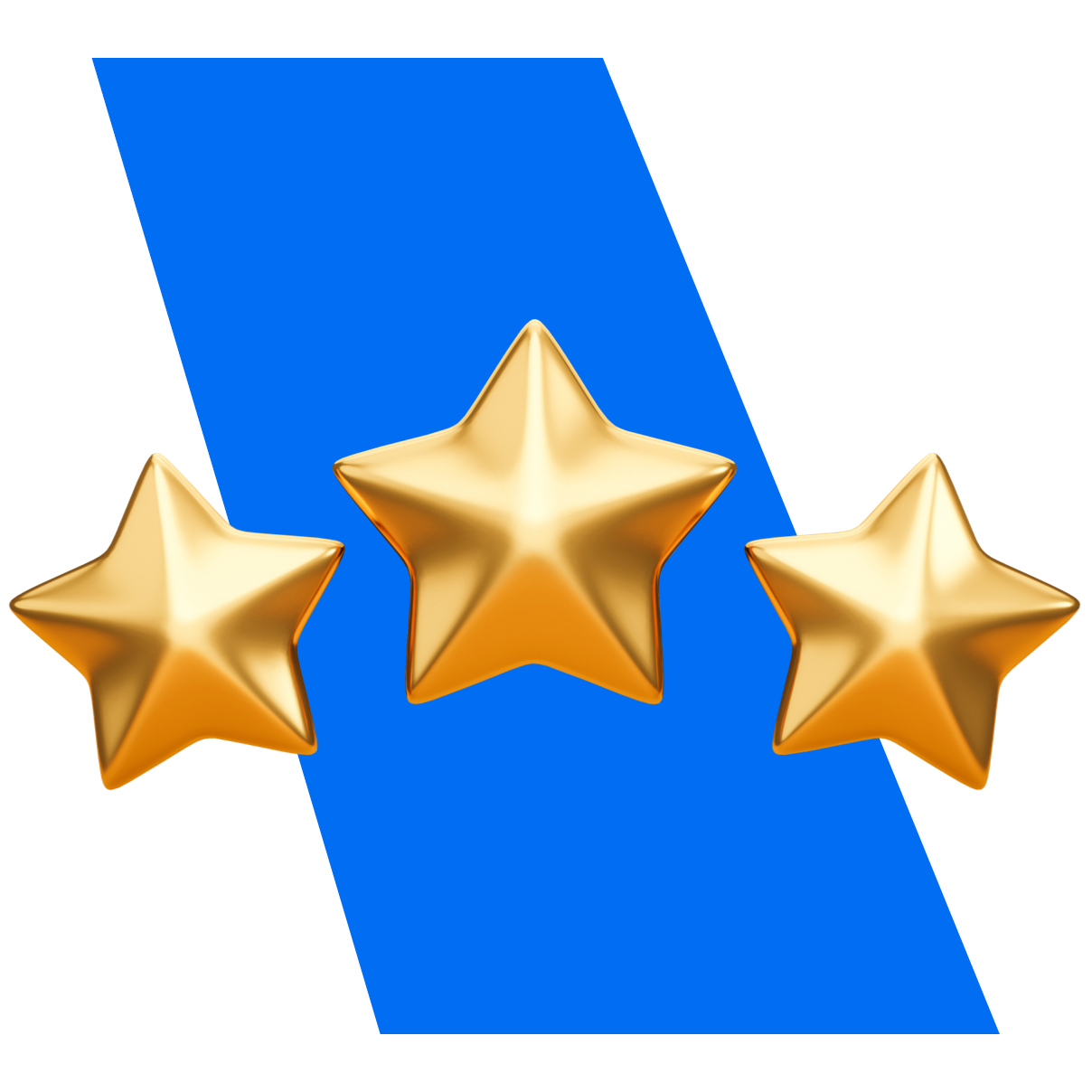 Honest and Unbiased Sports Betting Reviews
If you want to read honest reviews of betting sites written by professional bettors, then you've come to the right place.
While having so much choice is an obvious benefit when betting online, it does come with its issues. As experts in the online betting sphere, we analyse and review the best online betting sites with a fine toothcomb, identifying the pros and cons of each site to help you find a site that ticks all your boxes.
Read Our Honest & Unbiased Betting Site Reviews
Sort by:
Top Rated
Top Rated
Newest
Sort by Name A-Z
Sort by Name Z-A
Factors We Consider When Reviewing Betting Sites
The quality and integrity of sports betting sites varies greatly, so it's important that you know what to expect before signing up and parting with your hard-earned money. Our honest and unbiased reviews of betting websites are extremely detailed and cover all the essential factors that you need to know before signing up.
One of the most important factors we consider is the legitimacy and security of the site. There is no use having an account with a sports betting site if it's renowned for withholding funds or undertaking unscrupulous practices. It doesn't matter how successful you are as a punter if you cannot get your money.
Other factors that are taken into consideration include:
Step 1
Country Restrictions
Countries all around the world have different laws regarding gambling. In turn, online betting sites have contrasting approaches in whether to respect those laws. After all, in most cases, the responsibility of knowing the local regulations lies with the individual betting. By undertaking a quick search on Google, you can get the lowdown on the legality of online sports betting in your country.
Of course, not all sites accept customers from certain countries even if online betting is legal. Therefore, our online betting site reviews contain a list of restricted countries to ensure you can see whether the site accepts registrations from your country before you try to sign up.
Step 2
User Experience
A professional and easy to navigate website is important. You should be able to navigate between your account information, the cashier, and all the betting markets available with the click of a button. As most online betting websites are powered by HTML5 technology these days, the layout will adjust according to the device you use.
Many sites also offer state-of-the-art sports betting apps. You can download these apps on Android and iOS smartphones and tablets for free. We review each sports betting app available at every site we try to ensure you'll have a great experience no matter which operating system powers your device.
Step 3
Number of Sports/Markets
A good betting site will offer a wide array of sports for customers to bet on (20+ is around standard). Horse racing is a sport that requires constant attention as races take place almost every day and odds move all the time, so typically only the bigger companies will price it up.
Besides a comprehensive list of sports, it is important to have good depth to the markets – that is, a large number of different bet types for each event. Our online sportsbook reviews make it clear how many sports you will find and the range of betting markets available for a typical event.
Step 4
Bonuses/Promotions
The ferocity of competition for new business among the best online betting sites has led to bookmakers offering generous bonuses and concessions when individuals sign up.
However, there is a lot of fine print that comes with 'free bets' and 'cash back' and within our bookie reviews, we assess their concessions and scrutinise the terms and conditions to ensure that the advertised bonuses are actually achievable (in terms of being able to obtain the amount stated and easily withdraw the winnings).
Step 5
Competitive Betting Odds
Sports betting sites can offer concessions and have a huge number of sports to bet on, but it doesn't matter if their betting books are compiled to criminal percentages. The closer to 100% the better for customers and our online sports betting reviews look at how companies perform in terms of the competitiveness of their odds over a variety of markets.
We know many of you search for the best online sportsbook for payouts, so this is an important factor we consider when evaluating sites. Why accept lower odds if you can sign up elsewhere and win considerably more? If the betting odds suck, we'll tell you to bet elsewhere.
Step 6
Payment Methods
There is a new payment provider/service popping up every day, and generally the best online betting sites have been good at incorporating new payment solutions into their websites. Our sportsbook reviews look at the number of different payment types available with each site, their minimum/maximum deposit amounts, and whether they charge a fee for processing your payment.
Step 7
Customer Support
We look at how accessible and comprehensive customer services are. Can the site be contacted by e-mail, live chat, and telephone? How many hours per day are the staff on the clock? Obviously, a 24-hour customer services department is desirable, as if there are any queries with bets, customers want them resolved ASAP. The best online betting sites make customer service a priority.
Online Sportsbook Reviews Written by Pros
Our online sportsbook reviews look at all the above factors and access each site's website to get a real client experience. Only by navigating around the website, speaking to customer services and identifying the depth of markets can we give an accurate assessment of the best online betting sites.
With hundreds of bookmakers out there, it comes as no surprise that all sites are not equal in terms of their offerings. There is a real discrepancy in the quality of services offered by different operators, from the number of markets offered, to the competitiveness of odds to the professionalism of customer services.
Therefore, you should always read our sportsbook reviews. We are a team of professional bettors who share our thoughts and give you an insight into each site to ensure it ticks all your boxes before signing up and depositing.
Safety Concerns
Safety Concerns
You should always be cautious when visiting online betting sites that you haven't heard of, especially if the website looks low budget. Some of these operators fold and clients lose all their funds without having a chance to retrieve them.
Although there are some reputable companies who are licensed in the Caribbean (Curacao), many rogue sportsbooks tend to operate from this region due to the relatively easy licensing laws and low chance of legal action.
Firms operating out of Europe are typically easier to contact and there is more likelihood of customers retrieving their money in the case of a dispute. Our bookie reviews will help you avoid the worst of the bunch.
Another advantage of choosing an established and reputable betting company with a legitimate website is the fact that there is likely to be a more advanced security encryption, meaning that there is less chance of the site being compromised.
That's not to say that new UK betting sites aren't trustworthy and the those we're adding to SBO are tried and tested so you can enjoy a safe betting experience.
Legal Concerns
Legal Concerns
As mentioned, the legality of online gambling varies by country. Some sports betting sites respect the individual laws of different countries, while others give punters the choice as to whether they want to contravene their home nation's legislation.
There is also a variation in how seriously governments of different countries view breaches of the law when it comes to online betting, with some punishing the individuals with fines, whilst others target the operators rather than the people. Use our bookie reviews to determine which are the best online betting sites in your part of the world.
Sports Betting Scams – How to Avoid Them
There are several ways online betting sites can scam you. From taking your money and closing their site to offering bonuses with unrealistic terms and conditions, some companies will do anything to exploit honest punters.
The bonus scam is probably the most common nowadays. For instance, a sportsbook will offer an enticing promotion such as 'deposit $20, get $100 in free bets'.
Customers sign up in their droves and deposit their funds, only to find out that to withdraw their initial deposit and the promo money, they must turn over the total ($120), 20 times on doubles with minimum odds of 3.00. Obviously, the chance of being able to do this is minimal, and as such, the site pockets the initial deposit money virtually every time.
Not honoring bets is another scam used by betting sites once a bet has won. Companies will come up with baffling reasons as to why a bet is not being settled; collusion, incorrect odds, suspicious betting activity etc. In most cases, it is difficult for punters to retrieve their money.
At SBO.net, many of our followers let us know if they have encountered problems with sites, enabling us to update our online sports betting reviews and keep you informed. Bettors who use bookies in Europe have more security in these cases, as many of the reputable firms are signed up to IBAS (Independent Betting Adjudication Service).
IBAS act as an impartial adjudicator in the case of a dispute and the bookmakers agree to abide by their decisions. Online gamblers are advised to use these companies, as they tend to be more secure are less likely to scam customers. Read more on the angles that are taken by rogue operators in the scams section.
Ready to Read Our Betting Site Reviews?
So, there you have it. There is lots of information in our betting reviews for you to digest when deciding where to sign up and bet online. Many sports bettors go in headfirst and pick an online operator with the best odds or the biggest sign-up bonus, but it is worth delving deeper than that by reading our latest sportsbook reviews.
Luckily, here at SBO, we do the hard work for you and provide comprehensive information on the best online betting sites that you, the punter, can rely on.