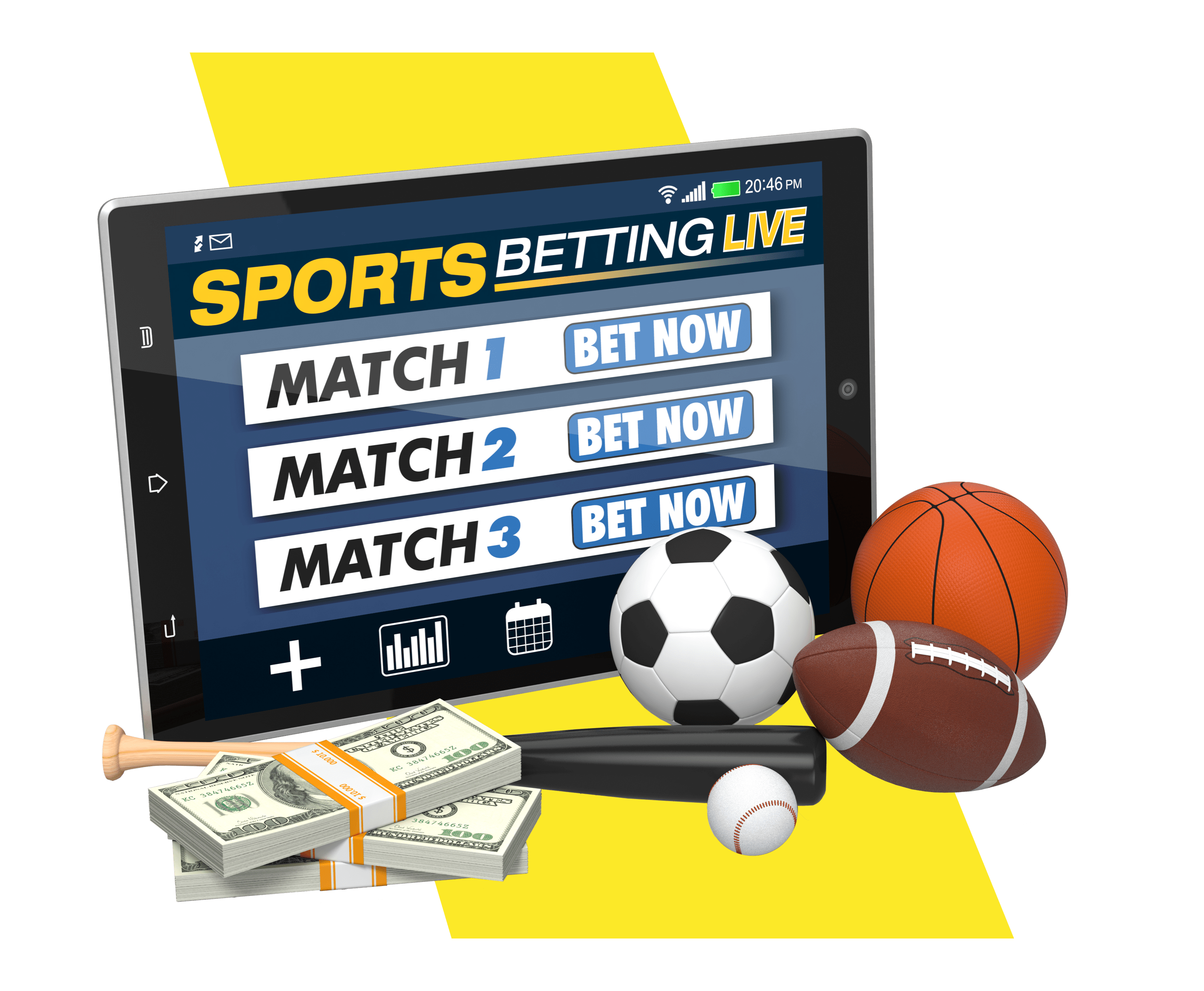 Best Betting Apps for iOS & Android Devices in 2022
Many years ago, Apple told us "there's an app for that" and when it comes to sports betting, they were absolutely right. With so many options available to UK punters, we decided to take a more detailed look and sort the good from the bad to help you choose the best betting apps for bonuses, in-play markets, and more.
Best Sports Betting Apps – December 2022
MyBookie Sports
Show More Details
Show Less Details
Average Payout Speed
0 – 24 Hours
Generous bonuses and promotions
Great range of betting markets
Extensive racebook
Very good customer service
Only a few withdrawal options
Fees for withdrawing funds
BUSR Sports
Show More Details
Show Less Details
Average Payout Speed
0 – 24 Hours
Trusted by publications such as ESPN
Access a dedicated racing section
Crypto-friendly sportsbook
Adjust odds format and time zone
Support options include call back
Quite low sportsbook limits
BetOnline Sports
Show More Details
Show Less Details
Average Payout Speed
0 – 24 Hours
Accepts players from all over the world
Known for their live betting offers
Lots of secure banking options
Great bonuses and promotions
High fees for some deposit options
Support agents are often slow to reply
Bovada.lv Sports
Show More Details
Show Less Details
Average Payout Speed
0 – 24 Hours
Top-rated US online sportsbook
Mobile site for iOS and Android users
Diverse range of betting markets
Excellent customer support options
Lines come out very late in the day
Odds not as favorable as other books
BookMaker.eu Sports
Show More Details
Show Less Details
Average Payout Speed
0 – 24 Hours
Popular book that accepts large max bets
Huge focus on football and basketball
High-spec live in-play platform available
Downloadable client for Windows & Mac
Odds are not amazing on non-US sports
User interface could be improved
The Best Betting Apps for UK Punters
We've done a definitive ranking of the best betting apps for UK punters. We've considered a range of key factors including free bets and bonuses, app features, usability and speed.
In the end though, our criteria to reach this list was how good the app is overall. Some have better odds, offers or markets on specific sports but we've combined all the important factors to pick the best betting app across the board.
What Makes a Good Betting App?
Most UK bookmakers offer apps to their customers, but which features separate the best sports betting apps from the rest? Our team considers some key factors when looking at a new app, including:
Reliable and Fast
Reliable and Fast
Nobody wants an app that is glitchy, full of bugs or one that crashes all the time. Equally, you don't want to have to wait ages for an app to load or bring up the odds you are looking for.
Usability and Design
Usability and Design
As with any website or app, it's important to be able to navigate easily and find what you're looking for. It's also a big plus for us when an app looks cool and it makes using it more enjoyable.
In-Play Betting
In-Play Betting
In-play and football betting apps go hand in hand, but what makes a good betting app great is a huge selection of live betting markets on virtually every sport under the sun.
Free Bets and Special Offers
Free Bets and Special Offers
Bookies that have betting app offers are winners in our eyes. Everyone loves a betting bonus or free bets but there's nothing worse than the offer only being available in a shop or on the main site.
Cash Out Feature
Cash Out Feature
Betting apps with cash out give you freedom that wasn't possible before online betting. Every punter has bets that simply don't go their way but cashing out allows you to save crucial funds. Apps are the best place to use cash out due to convenience and ease.
Stats and Live Streaming
Stats and Live Streaming
Up to date stats are a key part of any bettor's arsenal and apps are a great way to stay up to speed. Also, the best betting apps provide you with the chance to get closer to the action with live streaming.
Betting Apps for Android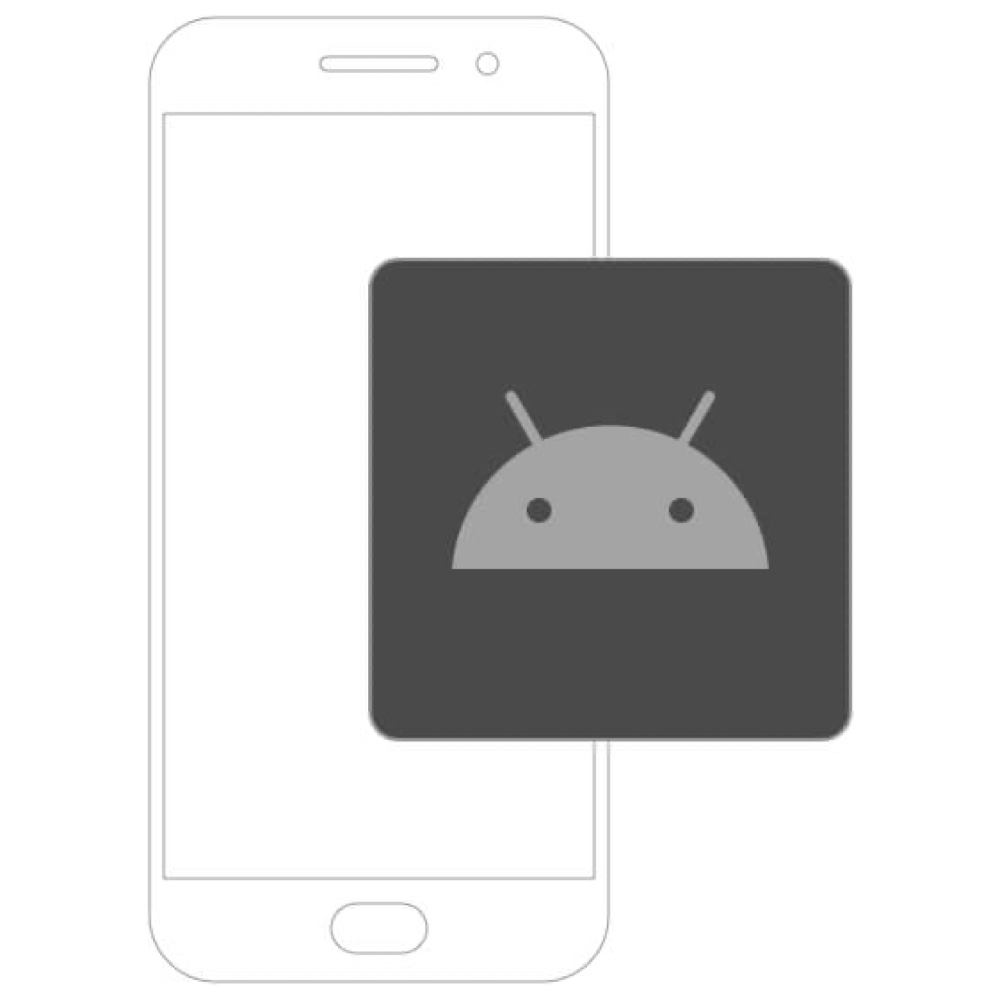 Betting apps for Android phones are hugely popular and new UK bookmakers release apps every day. If you're looking to find the best android betting app, you can't go wrong in considering the key features that make good betting apps.
There's only usually a very small difference between Android and iOS apps and sports betting apps are no different. Look for apps that are reliable, easy to use, have in-play, cash out and some brilliant offers.
The main difference between using an Android and iPhone betting app is the way you download the app itself. If you are an Android user, download your preferred betting app in Google Play. When the download is complete, you can use the app in a very similar way to the desktop version of your favourite bookmaker.
If you're signing up for a new account, make a deposit, enter any code you have for a bonus and then you can start making bets as normal. Take a few minutes to familiarise yourself with the app as usually the only major difference between desktop and app versions is layout and design.
Withdrawing your funds from an Android betting app is also really simple and works in exactly the same way as a desktop site.
Betting Apps for iPhone
Finding the best betting apps for iPhone is key for any bettor that uses Apple's most popular device. Just like Android users, there's nothing specific to IOS apps that you need to look out for if you're an iPhone user. Just bear in mind what we consider when we're looking for top betting apps.
All betting apps for iPhone need to be accessed through the App Store. If you know which betting app you want to download, simply search in the App Store to get started. After that, it's pretty much plain sailing and there won't be any big surprises.
Whether it's the range of deposit methods available or how the cash out feature works, iPhone betting apps work in exactly the same way as if you were on a desktop site.
However, make sure you check the latest bonuses and free bets section of your new app to ensure you never miss out on any special offers.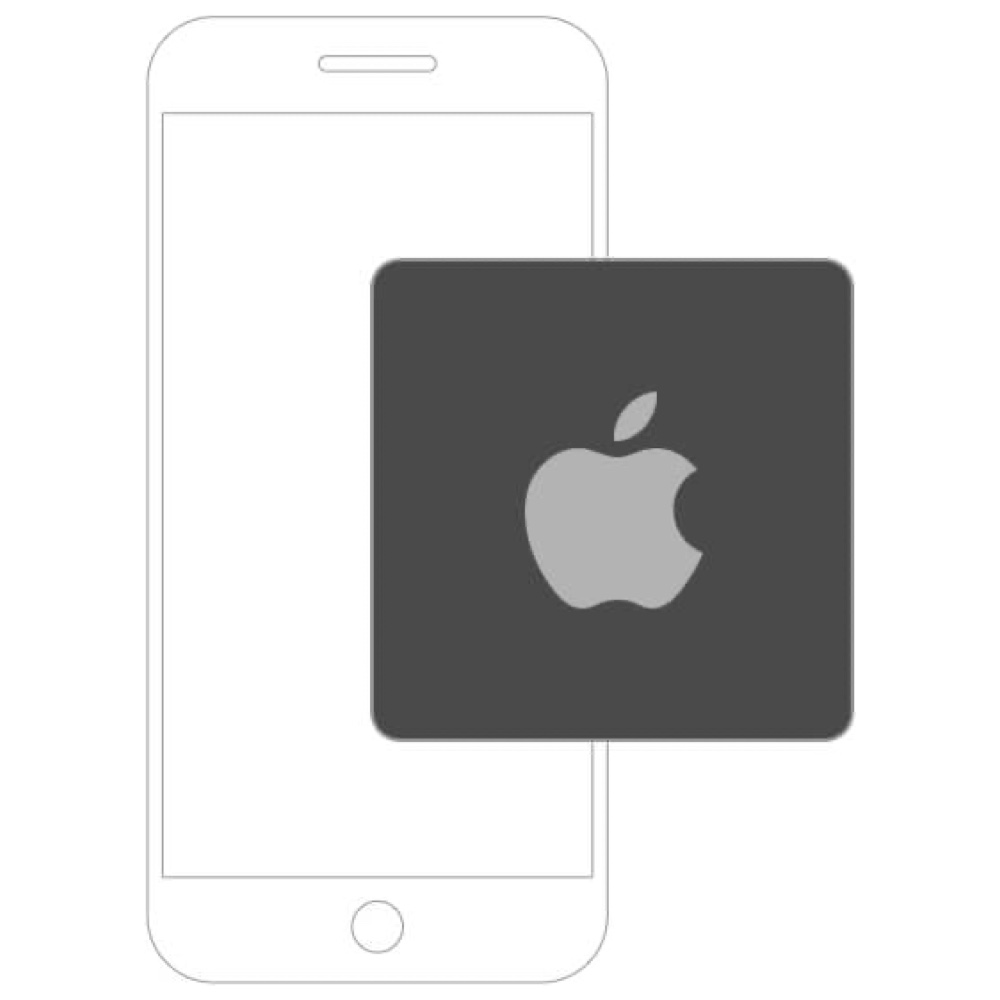 Betting Apps With Free Bets
One of the great benefits of betting online is the free bets and bonuses that are offered by UK bookies. Luckily for us, these offers are often extended and even enhanced for app users. All of the betting apps we have researched offer users some sort of bonus, however, there are a select few that offer something extra.
Here are our picks of the best betting apps with bonuses:
Mobile Betting on Different Devices
It wasn't that long ago that betting on mobile was a fairly new idea. But now there are plenty of new and intriguing ways to bet on different devices other than your mobile.
Tablet Betting Apps
Tablet Betting Apps
One great option is the tablet. For the casual bettor, in particular, this can be the ideal device on which to bet.
It's large enough that you can get good, high definition visuals – perfect for watching live streams – but convenient enough that you can pick up and play in a few taps without having to fire up a desktop computer.
Betting Apps on Apple Watch
Betting Apps on Apple Watch
Apple Watches do much more than just tell the time: you can send messages, talk to Siri, track your fitness levels, and access a range of apps, including betting apps.
Imagine being halfway through an intense gym workout and realising you've forgotten to back a winner in the big match, with just moments until kick-off. A few taps of the watch and you're back in the game.
The Best Betting Apps for Different Sports
Everyone has their favourite sports to bet on and some apps specialise in specific sports. Most specialist sport betting apps are dedicated to one of the two big boys when it comes to UK sports betting – football and horse racing.
Football Betting Apps
Football betting apps are the most common and allow football fans to follow matches in-play, stream live and of course, to place ever popular accumulators.
'Accas' are a focus point for many betting apps. UK punters in particular love placing multiple bets on football and bookmakers provide apps that make that easy. Because of the emphasis on accumulators, cashouts, in-play and bonus offers are common.
Our team has researched a lot of the different football betting apps that are available. In our opinion, the overall best football betting app is Bet365.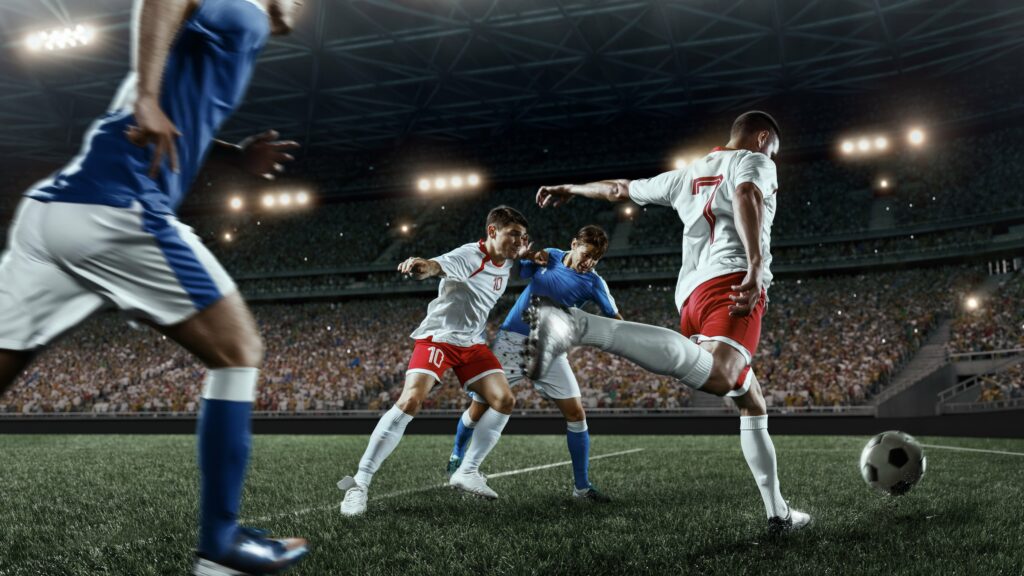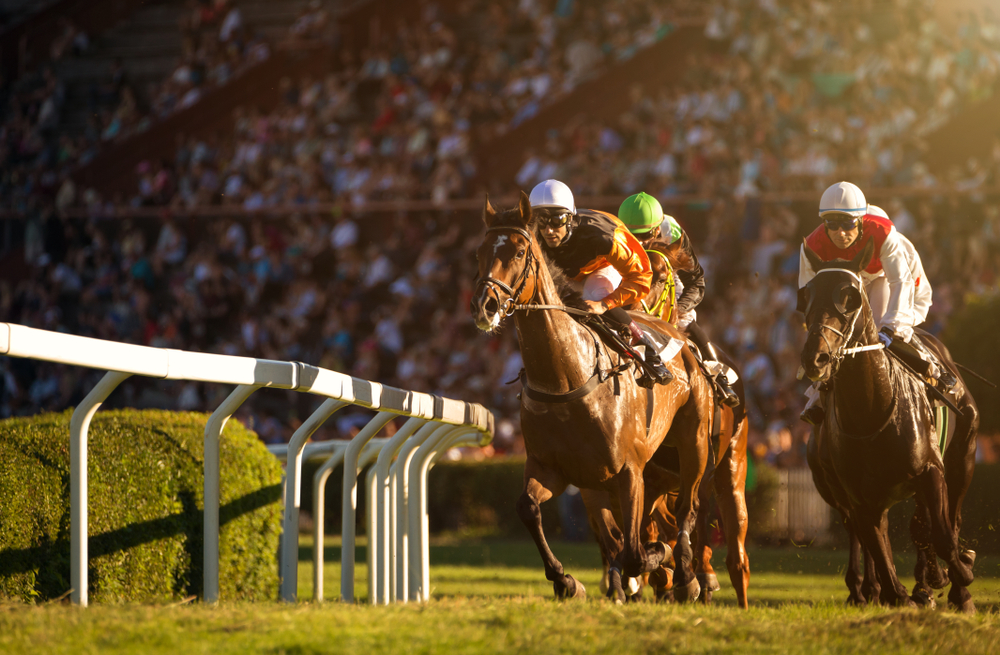 Horse Racing Betting Apps
Unsurprisingly, as horse racing is the second most popular sport to bet on in the UK, there are also lots of apps that specialise in it. There's nothing quite like the excitement of watching a horse race that you have money on, particularly if it's a major event like Cheltenham or Royal Ascot, but it's not always possible to be there.
Many betting apps give horse racing fans a chance to enjoy the race with live streaming. Like football betting apps, horse betting apps also offer plenty of special offers for punters. These include welcome offers, extra places paid or even boosted odds if your horse wins by a big margin.
After researching all major bookmakers, our pick of the best betting app for horse racing is Bet365.
The Benefits of Using Betting Apps
Sports betting online changed the game for punters and apps are an extension of that. There are loads of perks to using gambling apps, including:
Availability
Availability
Nearly everyone has a smart phone these days. And if you're serious about sports betting, it's pretty crucial. The best bookmakers know this, and every big betting site provides an app. This means it's easier than ever to place bets and stay up to speed with your favourite sports.
Convenience
Convenience
Physical bookmakers can be inconvenient to get to or even intimidating for newbies. Betting from the convenience of your phone is simple and easy, and the best betting apps make it a hugely enjoyable experience.
Special Offers
Special Offers
Bonuses and free bets are a major part of modern betting. By using betting apps, you can access deals that are available to normal punters as well as some exclusives. Nobody wants to miss out on a great deal but that's exactly what could happen if you don't have an app downloaded.
Bet In-Play
Bet In-Play
The importance of in-play betting can't be overstated and 9 times out of 10, in-play is better on a mobile device. This is especially true if you attend the event you're betting on or meet for a social gathering to watch it. For this reason, in-play betting has had a key role in boosting the popularity of betting apps.
Betting Apps vs Mobile Betting
There are two main ways to bet on a smartphone. The first is by accessing a bookmaker through your regular browser (e.g. Safari or Google Chrome). The second is by downloading an app. Is there any real difference? Is one better than the other?
There are pros and cons to both but overall, we recommend downloading a betting app if you are intending to make regular bets. If you use a browser to visit your favourite sports betting site you could run into the following issues:
Unable to access all features
Slower loading time
Mobile optimisation issues
If you're only intending to use a bookie one time, it makes sense to access it through a browser. There's not much point in downloading an iPhone betting app only to delete it a few minutes later – unless you're doing so to access a specific bonus.
So, in these cases, it's often prudent to visit a betting site via a browser. For instance, let's say you see a welcome offer for a bookie you don't really like. You may want to sign up just to take advantage of the bonus. This is the perfect time to access the bookies via your mobile browser.
There are some significant cons to using a browser to visit iPhone sports betting sites too. If you're in a hurry – for, say, a live in-play bet on the footie – it's much quicker to fire up an existing app than it is to visit a website. Most bookies have mobile-optimised websites, but not all. If your one doesn't, it could be tricky navigating the site. And you might not even have access to all of the same features you would on the app.
Making deposits and withdrawals is also much easier on an app. This is one area which can be particularly fiddly using a browser – and certainly an area where an incorrect click could be costly. When using an app, generally these features are made bigger so it's easy for you to click through.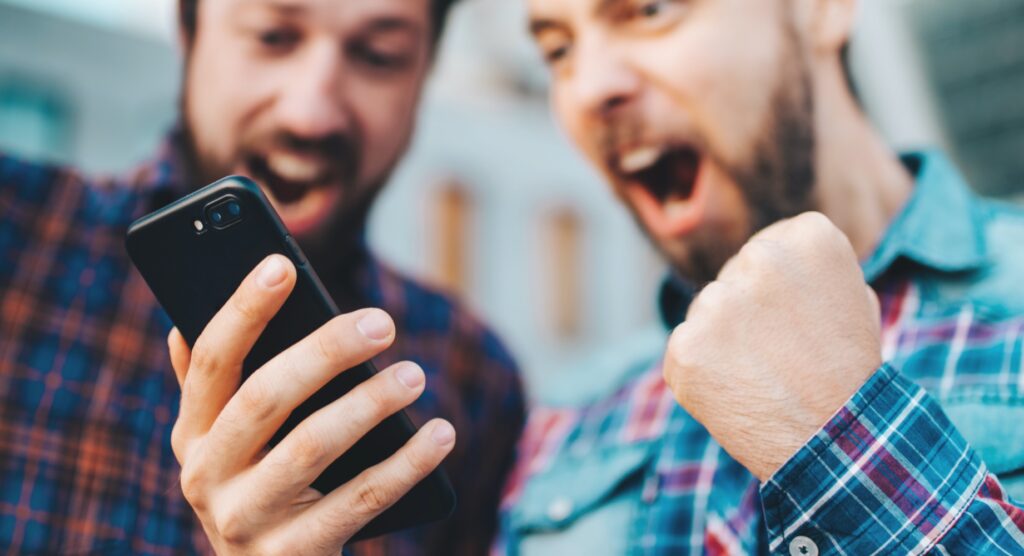 Do You Have Enough Storage?
Another consideration is the amount of storage on your smartphone. For models which only offer 16GB or 32GB, squeezing all your apps, photos and videos onto one device can be tricky. This is a very real concern for some users, and one possible reason against using bookmakers' apps when they have a perfectly good mobile site which serves the same purpose.
Never Miss Out on Betting Opportunities
There are some significant cons to using a browser to visit iPhone sports betting sites, too. If you're in a hurry – for, say, an in-play bet on a football match – it's much quicker to fire up an existing app than it is to visit a website.
Trust us, we know how frustrating it can be to see betting opportunities disappear because it took too long to log in to a website and navigate to the betting market that you're interested in.
History of Betting Apps
Apple may have opened the App Store in July 2008, but real money betting apps weren't available for download until 2011. In line with Apple's ambition to create the world's safest and most vibrant marketplace, real money betting apps were only approved if online bookmakers proved that they had the necessary licensing and permissions in place for their target markets.
Android betting apps have only been available on Google Play since 2017 when Google reversed its decision to only allow gambling apps through third-party channels. This policy had been in place because Google couldn't guarantee that under 18s would be prohibited from downloading them.
Thankfully, we are now spoilt for choice when it comes to betting apps. Both the App Store and Google Play provide easy access to the best betting apps from the biggest brands in the industry. If you're still unsure about which betting app to download, take some time to read through user reviews on each marketplace. Feedback from fellow punters gives you a glimpse into what to expect from each app.
Betting Apps FAQs
What is the best betting app?
It really depends on what you are looking for, but we believe we've found the
best betting apps
on the market. We've tapped our screens countless times while reviewing and rating every sports betting app that has been released. We only give our seal of approval to betting apps that load quickly, offer a comprehensive range of in-play markets, and treat punters to lots of free bets and special offers.
Can you get bonuses on betting apps?
Absolutely! The top-rated betting apps offer the same free bets and bonuses as advertised on the main website. However, many online bookmakers treat app users to exclusive offers as an incentive to sign up and bet via their official app.
Are betting apps the same for IOS and Android?
In most cases, yes. There may be a few minor differences when it comes to things like display and design, but all the important things like bonuses, odds and cash out will be the same whether you're using the app on an iOS or Android-powered smartphone or tablet.
What is the best betting app for football?
Every betting app offers a jaw-dropping number of markets on football, but we must admit that our favourite is bet365. Their odds are consistently good, the welcome offer is excellent, and the app couldn't be any easier to use.