The Best Greyhound Betting Sites for 2023
Covering thousands of races in the UK every year, greyhound betting sites provide a wealth of opportunities to profit from dog racing.
If you're interested in greyhound betting, then our guide is all you need to get started. From our list of the best greyhound racing betting sites to information for both beginners and experienced handicappers, we're here to help you profit from betting on dogs.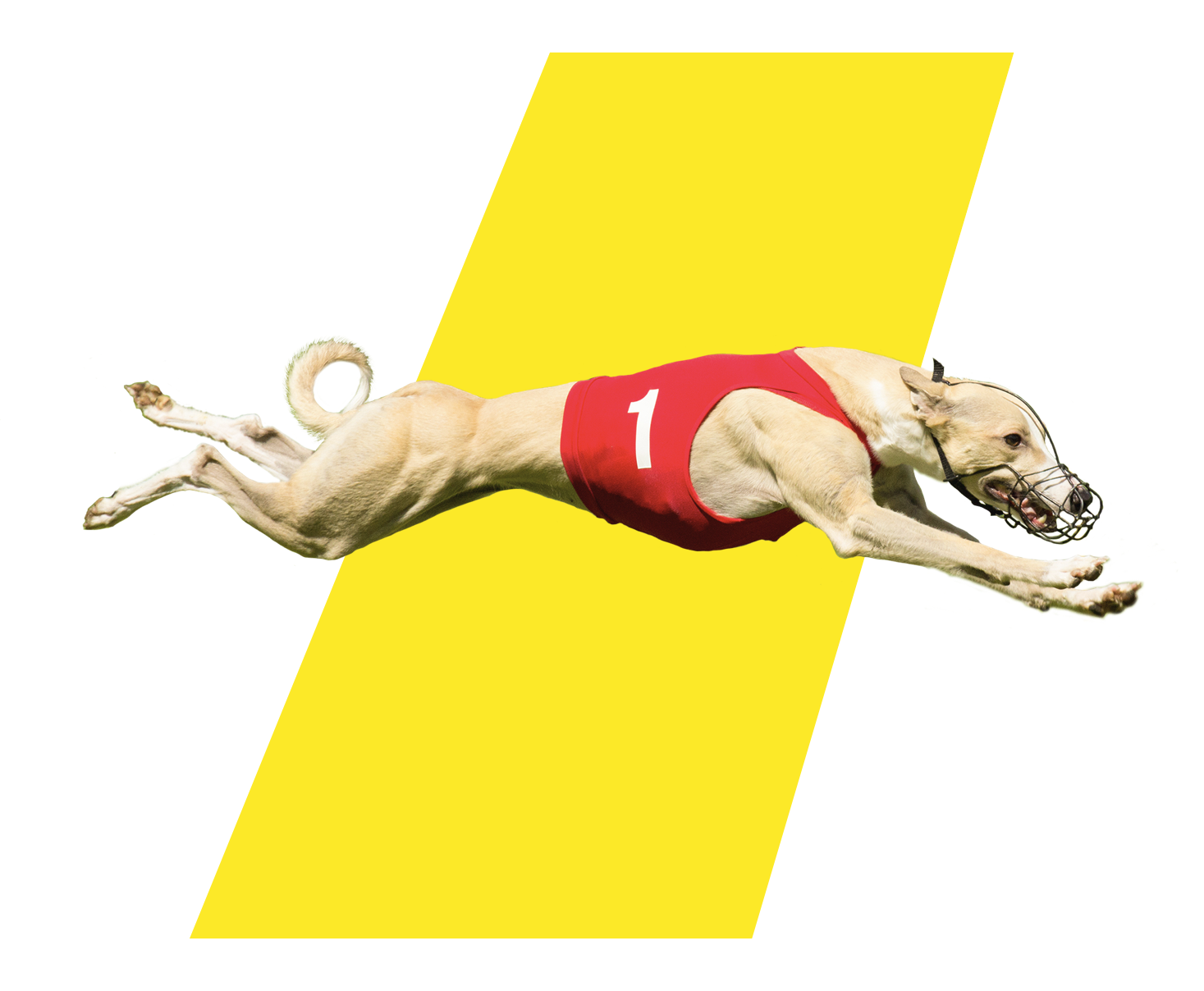 Top Greyhound Betting Sites – September 2023
Features of the Best Greyhound Betting Sites
When we review greyhound betting sites, we consider a wide range of factors. We consider everything from licensing and brand reputation to banking methods and customer support.
But there's three key features we consider when compiling our list of the best greyhound betting sites for UK punters: greyhound betting offers, virtual greyhound racing and live streaming.
Let's discuss why these factors are so important when reviewing greyhound betting sites.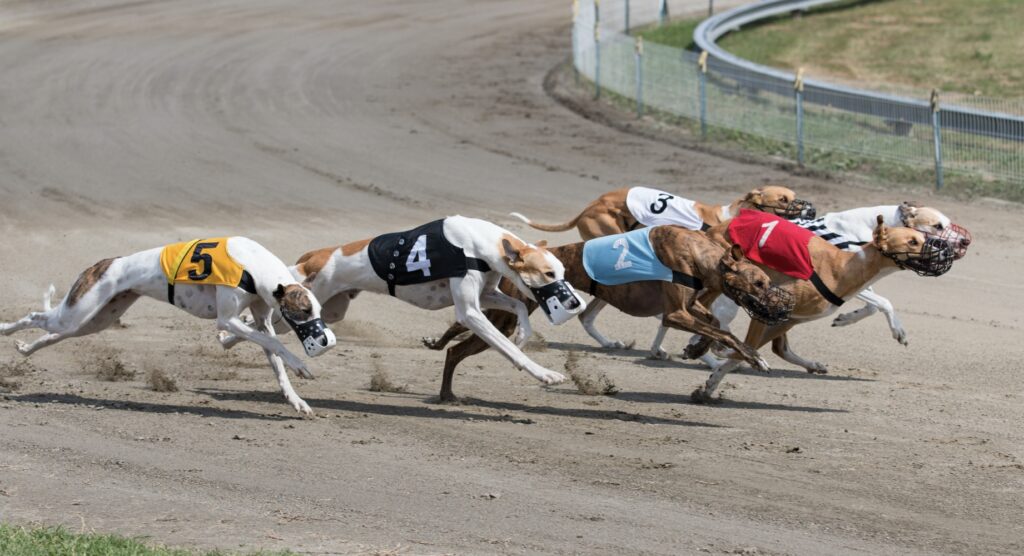 We want you to get the most out of every deposit you make at a betting site. That's why we seek sites that offer you free bets and lucrative bonuses. Each of our recommended UK greyhound betting sites features generous promotions, ranging from free bets and loss protection offers to deposit bonuses and loyalty rewards for existing players.
Don't have a race to bet on? Virtual greyhound racing offers an alternative to traditional races by allowing you to bet on simulated action anytime you like. These simulated races are also perfect for bettors who may not love the idea of actual dog racing, but who still love the idea of a day at the track. We look for sites that offer the most advanced and enjoyable virtual greyhound betting platforms possible.
It's more fun to bet on dog races when you can watch the greyhounds run in real time. That's why we favour sites that offer live streaming coverage at races from top tracks. Our recommended sites most commonly offer streams from UK and Irish tracks, while some offer additional coverage of races from other parts of the world, such as Australia.
How to Bet on Greyhound Racing Online
It's easy to bet on greyhound racing in the UK. With just a few simple steps, you can go from never having looked at a dog betting site to putting money down on your first race.
Here's a step-by-step guide to placing your first bet on a greyhound race.
Step 1

Compare the greyhound betting sites on this page to identify the site that ticks all your boxes. Click on one of the links on this page to visit your preferred site, where you'll begin the registration process.
Step 2

Create an account by entering personal information such as your name, address, date of birth and email address. You will also set a unique username and password that will allow you to log into the site.
Step 3

To bet on greyhounds, you must add funds to your account. Navigate to the cashier, choose your preferred banking method, and follow the on-screen instructions to make your first deposit.
Step 4

Now it's time to find a race to bet on. Navigate to greyhound section, where you'll find daily and future race cards. Choose the dog – or dogs – you'd like to back, and then confirm the type of bet you want to make.
Step 5

Enter your stake, and the site will show you the potential payout. If you like what you see, hit the confirmation button to place your bet.
Greyhound Betting Markets Explained
One of the big attractions of greyhound betting is the sheer number of options available to you on each race. While you can probably imagine that you might bet on which dog will win a race, that's only the beginning of the menu of betting markets available to you.
Here's a breakdown of the most important bets you should know before you get started.
Win
Win
This is a bet on which dog you think will win a race. If your greyhound wins, the bet pays out. On any other result, your bet loses.
Place
Place
In a place bet, you will win if your greyhound finishes in either first or second place in their race. If it finishes in third or lower, you lose.
There is no bonus for you if your greyhound wins the race: you will win the same amount no matter which paying position the dog finishes in.
Show
Show
A show bet will pay out if your chosen greyhound finishes anywhere in the top three. The bet loses if the dog finishes in fourth place or lower. Once again, you'll win the same amount no matter where your dog lands on the podium.
Show bets pay out at lower rates than place bets, which pay less than win bets. You may see the following odds on a dog before a race:
Win: 37/10
Place: 7/5
Show: 4/5
If you make a £10 win bet and your dog finishes first, you will win £47. However, the same first place finish would pay just £18 if you made a £10 show bet. Of course, the show bet has the advantage of also paying out should the dog finish in second or third.
Across the Board
Across the Board
Across the board betting means you are making separate win, place, and show bets on the same greyhound. Each bet will pay out individually, meaning that if your dog finishes first, you'll win all three bets.
Pick 3
Pick 3
A Pick 3 is a bet that lasts over three consecutive races. To win, you must correctly pick all three winners. You may pick multiple dogs in each race, but you must pay for each individual combination.
For instance, if you want to play a £1 Pick 3, but bet on two greyhounds in each race, it will cost you £8 in total (2x2x2). If one of your combinations wins, the payouts can be quite large, especially if some longshot dogs are among your winners.
Pick 6
Pick 6
The Pick 6 requires you to correctly predict the winners of six greyhound races in a row. Like the Pick 3, you can choose multiple horses per race if you'd like, but the cost adds up quickly: choosing just two dogs per race at £1 per combination costs £64.
However, the payouts are also huge, as correctly predicting all six winners is a difficult task. Often, a Pick 6 winner will return tens or even hundreds of thousands of pounds.
Straight Forecast
Straight Forecast
In a straight forecast, you must correctly predict both the winner and the second-place finisher in a race. In order to win, you must not only select the right two dogs, but pick them in the correct order. Any other combination – including having the correct dogs in reverse order – will result in a losing bet.
Reverse Forecast
Reverse Forecast
A reverse forecast once again asks you to pick the greyhounds that will finish first and second in a given race. However, the reverse forecast will pay out no matter which order your two dogs finish in, as long as they occupy the top two spots.
As a result, reverse forecasts pay out at lower odds than straight forecasts.
Lucky 15
Lucky 15
A Lucky 15 bet requires you to make four different bets on four separate dogs, usually in different races. You will make 15 bets: straight bets on each of the four greyhounds, all six possible two-bet accumulators, all four three-bet accumulators, and a single fourfold accumulator.
A Lucky 15 bet can pay handsomely if three or four of your selections win. Many greyhound racing betting sites also offer a bonus if only one of your dogs wins, helping to cut your losses in that scenario.
Yankee
Yankee
A Yankee bet is similar to the Lucky 15, in that you will choose four dogs to bet on, but eliminates the four singles bets. That leaves 11 bets in total: six doubles, four triples, and one four-bet accumulator.
This reduces the cost of making this combination bet, while retaining the potential for large payouts if three or more of your greyhounds pay out.
Odd/Even
Odd/Even
In an odd/even bet, you can cover half of the field of a race with a single bet. If you choose odd, you bet on all the dogs starting in odd-numbered shoots. Conversely, betting even gives you all of the dogs in the even-numbered shoots.
Inside/Outside
Inside/Outside
The inside/outside bet once again gives you the opportunity to bet on half of the field at once. The inside bet covers the inside half of the draw – the lower half of the numbered shoots, which will start closest to the rail – while the outside bet covers the rest of the field.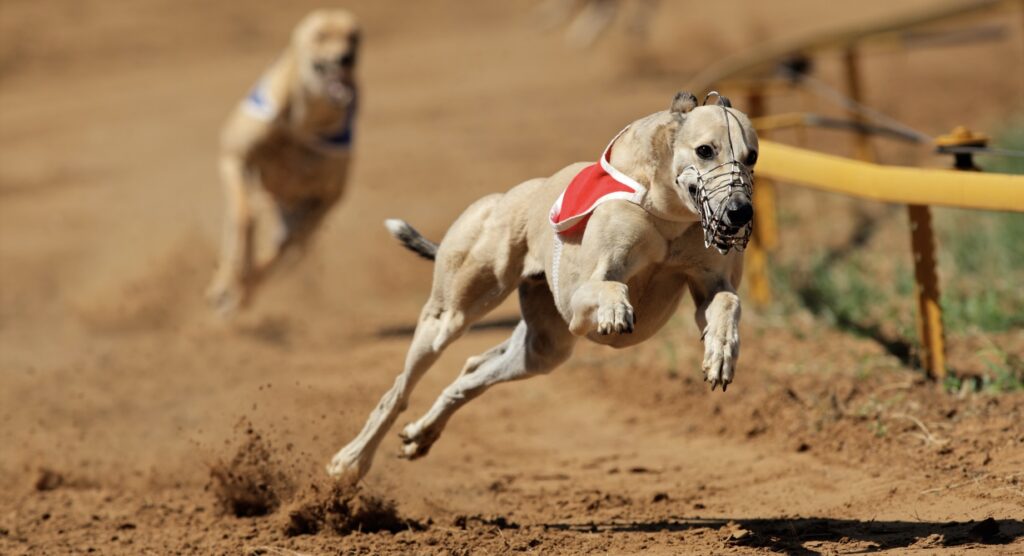 Greyhound Betting Strategy That Works
There's no guarantees when betting on greyhounds. Early pace and trapping ability are two important factors punters consider when betting on dog racing in the UK, but even the quickest dogs can run into difficulties or fail to live up to expectations. Many short-priced favourites have lost because they were baulked at the first bend, failed to adapt to different weather conditions, or other reasons.
Although there's no secret formula to help you pick the winning dog in every race, there are greyhound racing betting strategies that can help you maximise profits and minimise losses.
Below you will find information on how finding value bets, hedging your bets, and arbing can help you when betting on greyhounds.
Find Value Bets
The goal of greyhound betting isn't to pick as many winners as possible. Instead, you should be looking to make profitable bets by finding dogs that aren't properly valued by bookmakers.
For instance, you might feel hesitant to bet on a runner that you believe has just a 20% chance to win a race. But if one of the best greyhound betting sites is offering 10/1 odds on the dog winning, then you've found a very profitable bet. Even if you lose this time, finding those value bets will help you come out ahead in the long run.
Hedge Your Bets
Hedging your bets is an effective way of protecting an initial stake and minimising any potential losses.
For instance, you might bet £10 on the ante-post favourite to win the English Greyhound Derby at odds of 12/1. Your dog makes it through to the final, but it doesn't win as easily as expected. The oddsmakers make your selection the third favourite, with two shorter-priced favourites fancied in the final.
If you're concerned your selection will lose, you can hedge your bet by backing the two shorter-priced favourites to win the final. To use this greyhound betting strategy correctly, you must use stakes that ensure you won't lose money if any of the three dogs win the race.
Of course, there's no guarantee that one of the other dogs in the field won't cause an upset. Such an outcome would result in you losing your initial stake, as well as the funds used to bet on the other two dogs.
Arbitrage Betting
The concept behind this greyhound betting strategy is to guarantee profit, regardless of the result. This strategy requires a betting exchange and enough funds to place a lay bet (a bet on the dog to lose) that guarantees a profit.
To explain how arbitrage betting works, let's go back to our previous example. We've bet £10 on the ante-post favourite to win the English Greyhound Derby at odds of 14/1. This time the dog wins its heat in style and remains the hot favourite to win the final.
Rather than cross your fingers and hope the dog outclasses the other finalists for a return of £150, you can place a lay bet to guarantee a profit – even if the dog finishes last.
Let's say the dog is now available to lay at even money. You could place a £75 lay bet to guarantee a return of £150, regardless of the result. At this stage you have bet £85 in total (initial £10 bet + £75 lay bet), meaning you have locked in a profit of £65.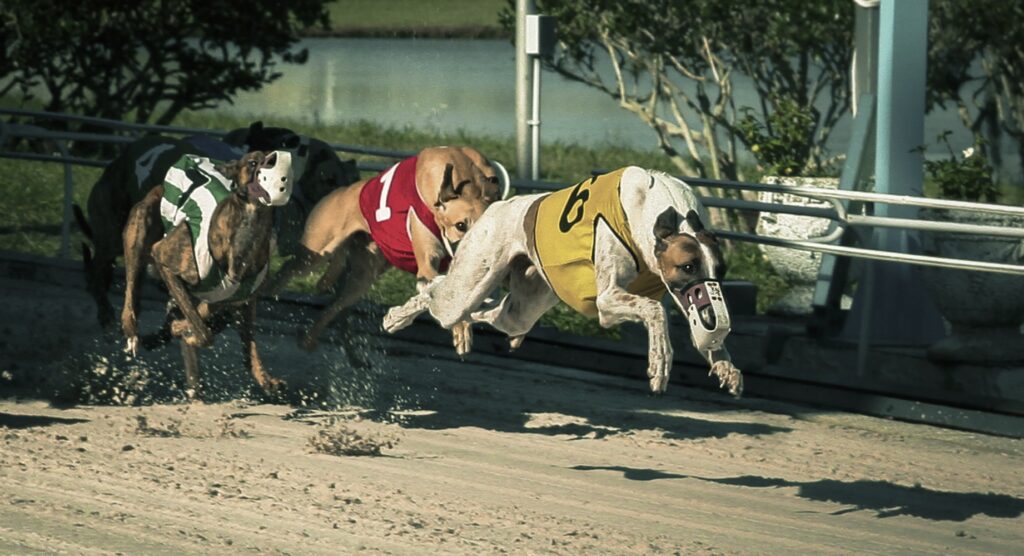 Greyhound Betting Tips to Help You Win
While anyone can bet on greyhound racing, it takes skill and experience to become a profitable punter. But even if you're a beginner, you can start betting smarter by learning a few key strategies and concepts.
We've collected our favourite tips for greyhound betting below, each of which can help you turn the odds in your favour.
Always Research Form
Always Research Form
All good handicappers follow this rule, whether they're betting on dogs or horses. It's important to know how each greyhound has performed in its recent races, as this will be the biggest indicator of what you can expect to see from them today.
You don't just want to look at where they finished in their races, however. You should also consider the level of competition they faced, as your dog may have been beating up on weaker competitors, or just barely coming up short against high grade greyhounds.
Consider the Distance
Consider the Distance
Not all dogs excel at the same distances. Before you place your bets, make sure that your dog has been successful in similar races in the past. You might glance at a form chart and see that a greyhound has placed in four of its last five races, only to find that those were sprint races. If that dog has never run the standard 480 metres, it might not have the staying power to compete.
Take Advantage of Promotions
Take Advantage of Promotions
One of the biggest benefits of betting on dog races online is that betting sites regularly hand out bonuses and other promotions like free bets to players. Taking advantage of these offers can be a key part of a strategy designed to maximise your winnings. Signing up at new UK betting sites can be especially lucrative, as new sites often provide huge bonuses to attract punters as they try to establish themselves in the market.
Check the Weather Forecast
Check the Weather Forecast
Weather can be the great equaliser in a greyhound race. Different dogs prefer dry or wet conditions. On a rainy day, knowing how dogs perform in mud can give you a big edge. As a general rule, both larger dogs and those running from the outside traps tend to hold up betting in sloppy track conditions.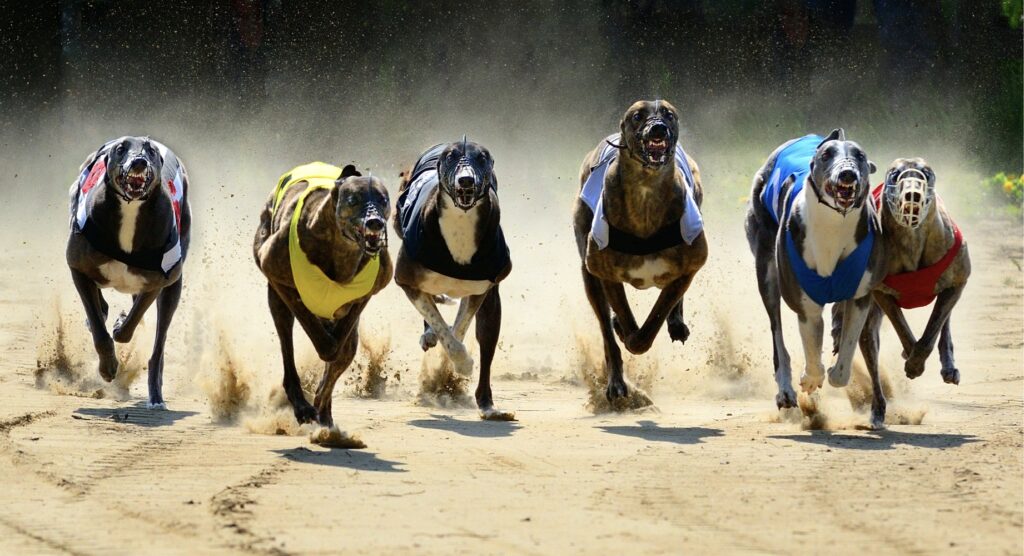 Bet on Major Greyhound Racing Events
Tracks around the world hold a variety of major greyhound meets throughout the year. You can bet on all these competitions at the top greyhound betting sites, whether the dogs are racing in the UK, Ireland, or Australia.
Here's a look at a few of the most notable events on the greyhound racing calendar.
English Greyhound Derby
English Greyhound Derby
The English Greyhound Derby is the biggest and most prestigious race in all of British dog racing. White City Stadium traditionally hosted this race, but the venue has changed several times since the first competition in 1927. Nottingham Greyhound Stadium took over hosting duties in 2019. While the distance has changed slightly over the years, the English Greyhound Derby currently runs 500 metres.
Scottish Greyhound Derby
Scottish Greyhound Derby
The Scottish Greyhound Derby enjoys a similar history to its English counterpart. First run at Carntyne Stadium from 1928 through 1968, the race changed tracks multiple times, and Shawfield Stadium now hosts the event. This race is slightly shorter than the English Greyhound Derby, coming in at 480 metres.
Irish Greyhound Derby
Irish Greyhound Derby
The Irish Greyhound Derby stands out as the strongest dog racing competition in Ireland. First held in 1928, Shelbourne Park has hosted the race since 1970. Run over 550 yards, the Irish Greyhound Derby is considered one of the most important races of the year, arguably on par with the English Greyhound Derby.
TAB Topgun
TAB Topgun
The TAB Topgun races are among the top greyhound competitions in Australia. Since 1993, the Melbourne Greyhound Racing Association has chosen only the top dogs in the country to compete in the prestigious Group 1 Topgun races at the Meadows. That includes the TAB Topgun itself at 525 metres, and the Topgun Stayers, a longer 725-metre race.
East Anglian Derby
East Anglian Derby
Yarmouth Stadium has hosted the East Anglian Derby every year since 1975. Run at a relatively short 462 metres, this race currently awards £15,000 to the winner. That prize pool has attracted elite competition to Yarmouth each year, making it one of the major races in the UK greyhound racing calendar.
Select Stakes
Select Stakes
Nottingham Greyhound Stadium currently hosts the Select Stakes, a 500-metre race which was traditionally run at Wembley Stadium from 1952 to 1996. This invitational competition offers £7,500 to the winner, enough to attract a very strong field annually. Kilcohan Park in Waterford, Ireland also holds its own Select Stakes, one of the nation's biggest greyhound races of the year.
Bet on the Latest Greyhound Races
From the English Greyhound Derby and Irish Greyhound Derby to the Select Stakes and TAB Topgun, our recommended greyhound betting sites offer competitive odds on all major greyhound races around the globe. Sign up to compare the latest odds and bet on dog races.
Greyhound Betting FAQs
Where can I bet on greyhounds online?
You can bet on dog racing at any of our recommended greyhound betting sites. Each of these bookmakers are proven to be safe and reliable. These sites also offer bonuses and promotions for new greyhound punters.
What is the best way to bet on greyhounds?
There are many popular ways to enjoy greyhound betting. You can bet on individual dogs, or try exotic bets that stretch over multiple races with potentially massive payouts. The best way to enjoy any of these options is by opening an account at one of the best greyhound betting sites, where you can place your bets from your computer or mobile device.
How often do greyhound favourites win?
The rule of thumb is that favourites win about 30% of the time in greyhound racing. However, that doesn't mean that every favourite has that chance of winning. If there is one dominant dog in a race, it may be close to certain to finish first. On the other hand, a race with several runners that rate as co-favourites could be wide open, with no dog having a clear advantage even with careful handicapping.
Q.
Can you make money betting on greyhounds?
A.
Greyhound betting is a skill-based activity, which means that it is possible to make money by betting on dog races. Becoming a profitable punter takes time and effort, with extensive research required to understand which greyhounds provide value in each race and how to best exploit your opportunities. There's always a little luck involved, too: even the best dogs have bad days at the track.