Helping You Find the Best Bets
Whether you're into football, NFL or MMA fighting, the thrill of watching sport comes from urging your heroes on as they fight for victory. The greatest athletes on earth push their bodies to the limits and perform to the very edge of their abilities in search of ultimate glory. We treat sports betting online in exactly the same way – putting our knowledge, skill, and betting prowess to the test as we try to come out on top in the eternal battle against the bookies!
Sports betting has been revolutionised by the internet and the days of filling out complicated coupons in betting shops have been replaced by the simplicity of online bookmakers. Many of the top sports betting sites are managed by well-known high street names, but there is an ever-growing number of online sportsbooks which are equally safe and secure to bet with. Opening an account takes just a few minutes – simply register with a few personal details, make a deposit, and start betting.
Every sport is different but most follow the same basic betting guidelines – you bet on a team or an individual to win a specific match or tournament and if your prediction is correct, you win money! The beauty of sports betting online is that bookmakers can offer a much wider range of betting markets, so you can bet on anything from the total number of goals or points to the outright winner of a competition. Here on SBO, you'll find detailed guides to betting on a sport-by-sport basis to take you through the basics, along with information and tips, and strategies and advice to help you make long-term profits.
Why You Should Bet Online
Sports betting online has completely changed the way bookmakers offer their services to customers. Instant internet technology has made it possible for the best betting sites to embrace live in-play betting and live streams of events as they happen. This fast-paced environment has shifted the balance of power in our – the punters' – favour, making it possible to react and bet midway through sporting events as they unfold.
Mobile betting is another area which has increased hugely in popularity over recent years, owing to the proliferation of smartphones. Whether you use iPhone, Android, or a different operating platform, you'll find that the majority of online bookmakers allow you to place bets via mobile. That way, you never miss out when you're on the move.
Technology has also helped improve banking options, safety and security. Reputable sports betting sites have introduced highly secure systems to keep your details and money safe. We only recommend the most trusted sports betting sites to our members, so you can relax in the knowledge that your data is secure. Online transactions are now completely safe, and the best bookies accept payments through a range of different methods which include debit and credit cards, Paypal, bank transfers, online e-wallets, and even Bitcoin.
Depending on where you are in the world, the sportsbook, payment method, and currency you use are likely to vary. That's why we've put together a detailed guide to betting in your country, together with a list of the top sports betting sites for a choice of deposit methods.
How to Choose the Best Sports Betting Sites
Our sportsbook reviews will provide all the information required to choose the right betting sites for you. Some of the most important things to consider when deciding where to bet include:
Finding the best odds on a regular basis across a range of sports
Picking the most secure betting sites to guarantee safety
Using online bookmakers with regular bonus and reward offers
Finding online betting sites with the best mobile betting apps
Joining online bookmakers that offer services in your preferred language and currency
These are just some of the things we take into account when putting an online sportsbook through our rigorous review process.
Things to avoid, on the other hand, include brand new sites with no track record (don't sign up without checking our review first) and sports betting sites which are not licensed to carry out business in your country. Also steer clear of online bookmakers that limit maximum bets – or worse still, charge fees for withdrawals.
Why Trust Our Service
Consider this site a punter's guide written by sports betting experts. Every one of us at Sports Betting Online has a wealth of experience of professional gambling and making money from sports betting as a living. Our online bookmaker reviews are completely independent and unbiased, and we scrutinise every betting site before we recommend them to you. Our sports betting guides, free tips, and strategies are written by industry experts with the aim of creating the greatest online sports betting portal on the internet.
Through our own research and feedback from our community, we highlight the worst betting sites and rogue operators and keep an up-to-date blacklist of bookies. Scam sportsbooks and illegal bookmakers never make it through our strict review process, so our members can join any one of our recommended betting sites with peace of mind.
Sports Betting Offers and Promotions
Check out the best promotions
Sports betting online has seen a great deal of competition arise among bookmakers. The best online betting sites can now reach customers in every corner of the globe – which means every site has got to do more to stand out from the crowd and earn our business.
Online bookies now offer a whole host of bonuses and free bets to either entice new customers or persuade existing customers to carry on playing. There are some genuinely massive bonus offers out there, ready to be scooped up if you open an account and start betting with the sportsbook in question. We keep track of the latest promotions at all the top bookmakers and list them all for you on our free bets and bonus pages.
The promos don't just stop there, as most decent betting sites continue to offer regular concessions like enhanced odds on horse racing, boosted accumulator odds, cashback offers, and much more.
Sports Betting Odds Explained
It's the less glamorous side of sports betting online, but getting to grip with odds and probability will serve you extremely well in the long run. Shopping for odds by checking prices at various bookmakers means you'll always get the best return on every winning bet. We recommend opening accounts with a selection of our top-rated online sports betting sites, so you're ready to go when you find a good bet at good odds. You can read our guide to the overround and the importance of hunting for value in sports betting to get a clearer idea of how online bookmakers set their odds and make a profit. The simple rule of thumb is: take the best available odds for every bet you place. By doing this, you'll increase your profits, and those extra little wins will add up over time to reduce the impact of any losing bets.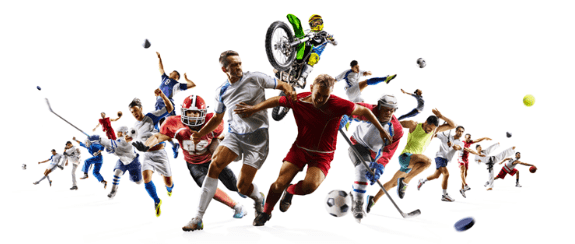 As for the way odds are displayed, that may depend entirely on where you are in the world. Odds listed in a fractional format are usually associated with the UK, while Europeans will be more familiar with decimal odds. US bettors will easily understand American odds, and Asian punters are more likely to be used to Malaysian odds, Honk Kong odds, or Indonesian odds. Thankfully, most online bookmakers give you the choice of how the odds are displayed on your account so you can stick with what works for you.
Understanding the Different Types of Sports Bets
Another advantage of sports betting online is that bookmakers can offer as many different bets as they can come up with. However, with over 100 betting markets on high-profile matches, it can be quite the minefield for punters to navigate. Here's a breakdown of some of the most common bets you'll come across, which cover the majority of sports.

Match result
The most popular type of bet is a simple wager on who will win the game or match. This usually relates to 90 minutes in a football match but may include overtime and/or penalties in other sports such as ice hockey or basketball. You might see this bet referred to as the "money line" in US sports.
Asian handicap
This bet removes the possibility of a draw and offers more balanced odds when one side or player is clearly superior to the other. One example would be a football match or basketball game where the inferior side is given a goals or points "head start", which is added to the final score for the purpose of settling the bet. This means the bookies can offer close to even odds on both sides, even when they are completely mismatched. It's more commonly known as the "spread" in US betting parlance.

Totals betting
This is another very common betting market which asks you to predict how many points or goals will be scored by both teams combined in a match. The betting market is often represented by an over/under 'line', such as over/under 2.5 goals – where you predict whether there will be more or less than 2.5 goals. An alternative totals market offers a range such as 0-1 goals, 2-3 goals, or 4+ goals, where you bet on how many goals will be scored in the match.
Both teams to score
Usually associated with football, but also used in several other sports, this is a simple two-way bet where you predict whether both teams will score in the match or not.
Result and both teams to score
A progression on the above bet, the result/both teams to score market adds the extra dimension of predicting the result as well. Odds can be very high in this market, but you must predict home, away or draw as well as whether or not both teams will find the net.
Draw no bet
This is an "insurance" bet where you can back a team to win the match, with the insurance of your stake being returned if the game ends in a draw.
Correct score
This is a simple bet to predict the final score of the match. Again, the odds will be generous due to the difficulty of predicting the exact score of the game.

First player to score
Pick a player to score the first goal, try, or point of the game. They must be the first player to score for either side. In football matches, some online bookmakers don't include own goals and will refund your stake if the match ends 0-0.
First team to score
This is much the same as the above bet, but with this market, you only need to predict which team will score first in the match, regardless of which player hits the back of the net.

Corner betting
This is a bet that's growing in popularity among football fans. It allows you to predict the number of corners in a game. Wagers include over/under, the team to get most corners, race to three, five or seven corners, the total number of corners, and corner handicaps.
Half/quarter betting
These markets allow you to bet on most of the above outcomes over the course of the first or second half only. In sports where games are divided into four periods, you'll find similar markets for each quarter.

HT/FT betting
The half-time/full-time market compels you to predict the result at both half-time and full-time. For example, you could bet home/home, draw/home, away/home, or any other combination. You have to get both HT/FT results correct to win the bet.
Card betting
Bookmakers also offer odds on red and yellow cards for each game. If you think a particular fixture is likely to be a fiery one, this can be a very profitable bet. The most common market is total cards, where you predict how many cards or card points will be amassed during the match (with some bookmakers, a yellow card is allotted a value of 10 points and a red card 25 points). Other betting markets include over/under the number of cards, whether or not there will be a red card, and even wagers on particular players to receive a card.
How to Win Money by Betting on Sports
Many professional punters have demonstrated that you can easily win money from sports betting online by following a few simple rules. Set up a betting bank and stick to your staking plans. Don't bet with your heart and don't chase losses. Spot the value bets and take the best odds every time. We're here with you every step of the way with betting info, free tips, and sports guides. Use our professional strategies and staking plans, take the best bonuses we can find, and join our top-rated bookmakers so you get the best odds on every bet.
Our members are making money every week by following the advice on this website, so don't miss out. Stop standing on the sidelines and get involved in the action! Get started with our highest-rated betting site today.