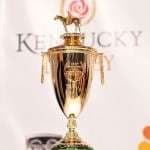 We're now counting down the days until the 140th running of the Kentucky Derby at Churchill Downs in Louisville, Kentucky. The big race is next Saturday (May 3rd 2014) at 6PM ET. The all important post position draw is on Wednesday (April 30th 2014) at 5PM ET.
Keep an eye on Topbet and Bovada as they are hosting some of the best prices around for the duration of the derby.
Will California Chrome Prove Unbeatable?
California Chrome – Best Odds 3.50
Sire: Lucky Pulpit
Jockey: Victor Espinoza
Trainer: Art Sherman
Looking at the pedigree of California Chrome will show you that this horse has been truly an underdog story in 2014. The colt is 3-0 this year with wins in the California Cup Derby, San Felipe Stakes (Gr. 2) and Santa Anita Derby (Gr. 1).
He has won each race by over five lengths and I've been impressed by the speed of this colt. He's able to stalk in 4th or 5th position in a race before turning the burners on late if needed. If I had to find a fault it would be that he gets out of the gate slowly at times.
California Chrome is the only horse in the field that has posted three 100+ Brisnet speed ratings. The length of the race I don't feel is going to be a problem and the only concern is whether or not the colt will be fine with 19 other horses congesting the dirt track.
Best Sportsbooks for Betting on the Kentucky Derby
Which Top Contenders Can Challenge the Favorite?
Wicked Strong – Best Odds 11.00
Sire: Hard Spun
Jockey: Rajiv Maragh
Trainer: James Jerkens
Wicked Strong was available near 20/1 earlier this month, but has been bet in heavily to 11/1 with most shops offering 9/1 odds. We saw this colt recently win the Wood Memorial Stakes (Gr. 1) against a strong field and he looked great down the stretch.
He had a rough go of it earlier in the year in Florida where he finished 9th in the Holy Bull Stakes (Gr. 2) and 4th in an allowance race. I thought he looked much better at Aqueduct. Wicked Strong comes on slow, but he definitely looks like he'll suit the distance well.
Vicar's In Trouble – Best Odds 13.00
Sire: Into Mischief
Jockey: Rosie Napravnik
Trainer: Michael Maker
Last year Rosie rode Mylute to a 5th place finish in the Kentucky Derby and 3rd in the Preakness Stakes. Unfortunately, I don't think it will be the year for Rosie. Vicar's In Trouble is quick out of the gates, but I don't think he'll be able to manage the distance.
Last month he won the Louisiana Derby (Gr. 2). The pace to start was quick, but he started to slow down the 2nd half of the race. He won the race wire to wire, but in the Kentucky Derby you can bet the pace will be quicker and I don't think he'll finish strong.
Danza – Best Odds 11.00
Sire: Street Boss
Jockey: Joe Bravo
Trainer: Todd Pletcher
Danza is moving up the market quickly the past few days and is now paying 11.00 after being available at 17.00 last week. The colt is gaining momentum, but is the attention worthy? Danza isn't as experienced as most of the top contenders with four career races.
He won the Arkansas Derby (Gr. 1) at 41.00 odds, but you have to question how strong the field was in that race. I question whether that win was an outlier. With the strong field in the Kentucky Derby and the short odds of 11.00 I'll be avoiding Danza in the big race.
Hoppertunity – Best Odds 15.00
Sire: Any Given Saturday
Jockey: Mike Smith
Trainer: Bob Baffert
This is a colt that I've been watching closely for a few months and I think Hoppertunity has a great chance to steal this race. He isn't as talented as some of the contenders, but for a colt that just started racing this year I've been very impressed with his progress.
In five races this year Hoppertunity has won the Rebel Stakes (Gr. 2) and finished 2nd in the Santa Anita Derby (Gr. 1) only trailing the favorite California Chrome. He looked to have a lot of kick left in him in the SA Derby and he also looked great in his recent workout.
Wildcat Red – Best Odds 21.00
Sire: D'wildcat
Jockey: Luis Saez
Trainer: Jose Garoffalo
At these odds I'll have a piece of Wildcat Red. He has raced seven times in his career, all of which have been at Gulfstream Park. He has four wins and never finished worse than 2nd place. His last result was a 2nd place in the competitive Florida Derby (Gr. 1).
This colt has speed and a lot of us think he'll be the early pacesetter in the Kentucky Derby. Wildcat Red is going to be able to handle the distance fine and the weather will be a bonus. This colt is used to racing in sunny Florida. I really like this colt to surprise people.
Are There Any Long Shots to Target in the Kentucky Derby?
Every year casual fans and expert handicappers try to target in on one or two long shots for the Kentucky Derby. If you analyze the past results from the Kentucky Derby we can see that the last favorite to win the race was Big Brown back in 2008.
Since 2008 we've seen some big winners including Mine That Bird (50.00 Odds) in 2009 and Animal Kingdom (21.00) in 2011. With a lot of talent at the top of this race I think this year it'd be wise to limit the number of long shot horses that you try to target.
Tapiture – Best Odds 28.00
Sire: Tapit
Jockey: Ricardo Santana Jr
Trainer: Steve Asmussen
Tapiture is a local and will have a lot of crowd support come Saturday. He struggled to a 4th place finish in the Arkansas Derby (Gr. 1), but he did win the Southwest Stakes (Gr. 3) earlier this year. Tapiture also had a win last year in a Gr. 2 race at Churchill Downs.
Having track form is great and knowing he can win at Churchill Downs is why I've decided to target the local colt. Tapiture has looked good in workouts at CD this month as well. We're getting good value on this colt after his poor performance in the Arkansas Derby.
My Staking Portfolio for the 2014 Kentucky Derby
I'm using a $100 bankroll and illustrating what my staking portfolio will most likely look like come race day. Keep in mind that I have only placed my win bets at this point. I want to wait for the post positions to be drawn before placing the rest of the wagers.
$50 on California Chrome to Win at 3.50
$10 on Hoppertunity to Win at 15.00
$10 on Wildcat Red to Win at 21.00
$2 Trifecta Box on California Chrome / Hoppertunity / Wildcat Red ($12 Total)
$2 Exacta Box on California Chrome / Hoppertunity / Wildcat Red ($12 Total)
$2 Exacta on California Chrome / Tapiture
$2 Exacta on California Chrome / Wicked Strong
$2 Trifecta on Hoppertunity / Wildcat Red / Tapiture
= $100 total
As you can see I'm high on the favorite California Chrome this year. It has been a few years since we've seen the market favorite win in the Kentucky Derby, but this colt is a Triple Crown threat in my opinion. Good luck to everyone this weekend!
Keep an eye on Topbet and Bovada as they are hosting some of the best prices around for the duration of the derby.