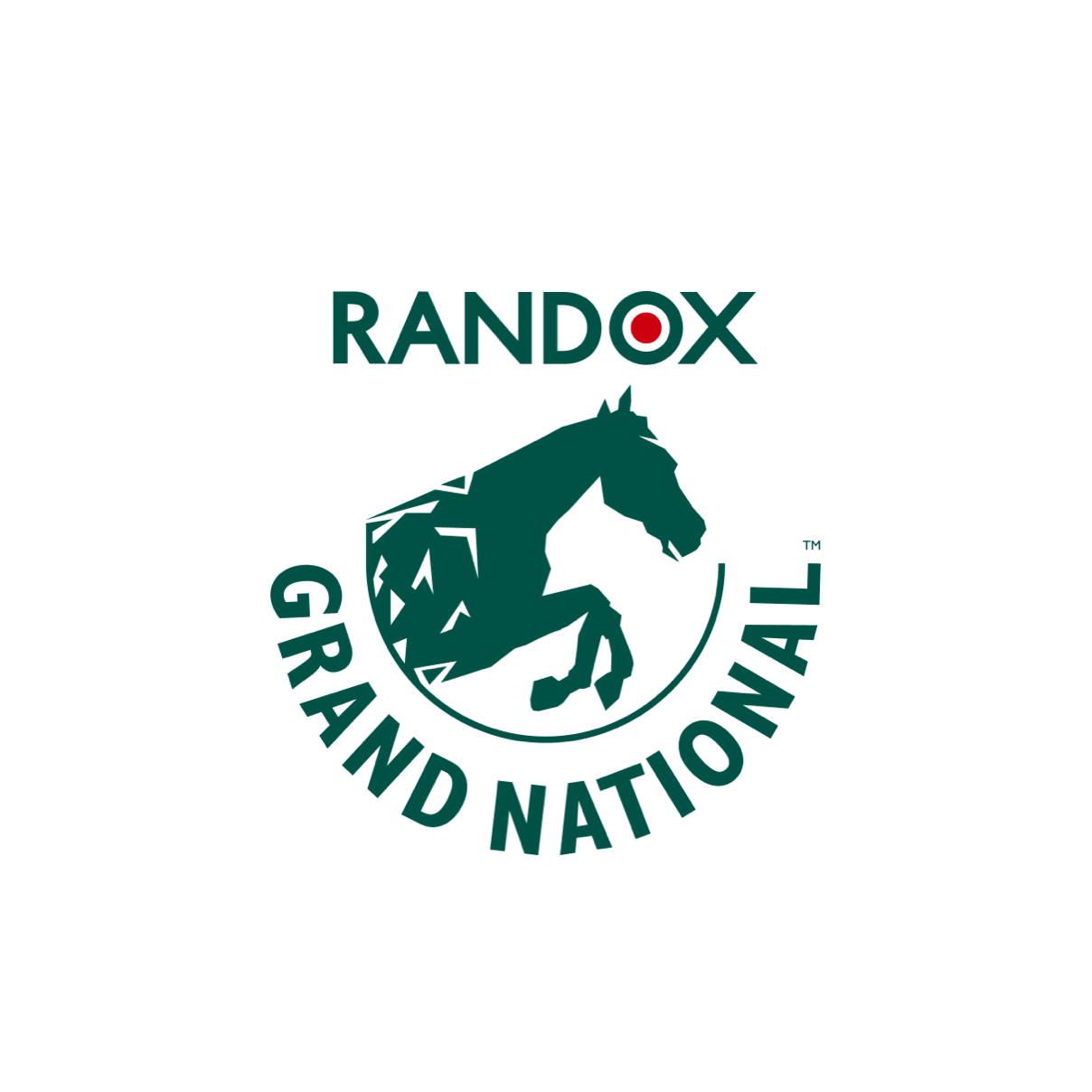 Grand National Betting Sites & Expert Guide 2023
At SBO.net, we've got all things Grand National covered. Top Grand National betting sites? Check. Solid gold Grand National betting tips? Check. Plus, we give you the strategy and the insight you need to cover yourself in glory on England's greatest race day.
Best Grand National Betting Sites – January 2023
Why These Grand National Betting Sites?
Unsurprisingly, due to the popularity of the race, UK betting sites and others from across the world offer countless odds and markets on the Grand National. Using our tried and tested research strategy, the team at SBO.net has identified the best betting sites for the Grand National. We've done the hard work for you, so you don't have to waste time on less than great sites.
In addition to finding you great offers and top Grand National betting odds, we also make sure the sites we recommend are safe and secure. Our criteria for selection includes:
No great offers, no dice. We scour all the best Grand National betting sites to bring you the absolute best deals on the market. Our recommended sites will typically offer you generous joining perks, including deposit match bonuses and free bets.
We shortlist the best bookmakers through our odds comparison research. Using regularly updated data, we provide you with the best Grand National odds currently on the market, giving you a bigger bang for the same bet.
When we recommend horse racing betting sites to you, their ability to offer you a whole host of markets is key. All our sites offer everything from spread betting to faller offers. Plus, we examine the best betting sites for Grand National action that also offer sports markets with competitive offers.
Last but not least, we check the security credentials of all potentially attractive Grand National online betting sites. We look into how sites store your personal information, in addition to checking the levels of encryption on selected sites.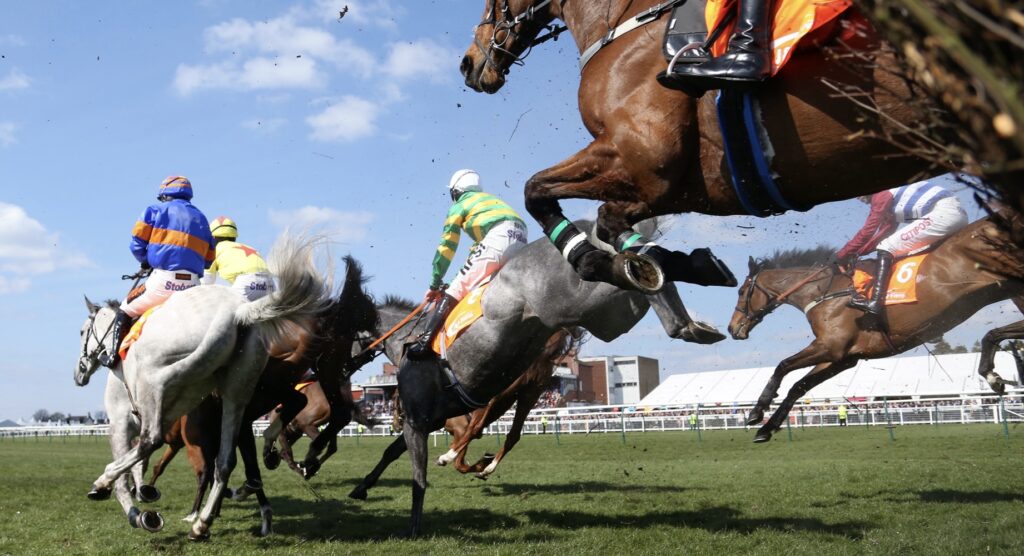 How to Place a Bet at a Grand National Betting Site
If you're new to Grand National online betting, don't worry. We'll show you how to place a bet, so you can relax and watch the excitement unfold.
Step 1
Shop Around
Firstly, shop around our recommended best betting sites for Grand National wagers, as listed above. When you find a site you like, click on the open account or join here buttons.
Step 1
Open an Account
Next, enter your standard personal registration details, and your card details if you're making a deposit. If you're new to any particular Grand National online betting site, they will usually offer you a free bet. Regardless, always look for the secure padlock icon whenever making a transaction on payment pages.
Step 2
Compare the Odds
When you're ready to rumble, click on the link to your chosen site's Grand National page. You'll now see all the runners, with the current odds beside each horse's name. Simply select the odds you fancy, and your selection will be added to a betslip.
Step 2
Confirm Your Bet
Open your betslip, enter how much money you wish to stake and your bet type. Then simply confirm your bet and that's it, you're under starters' orders!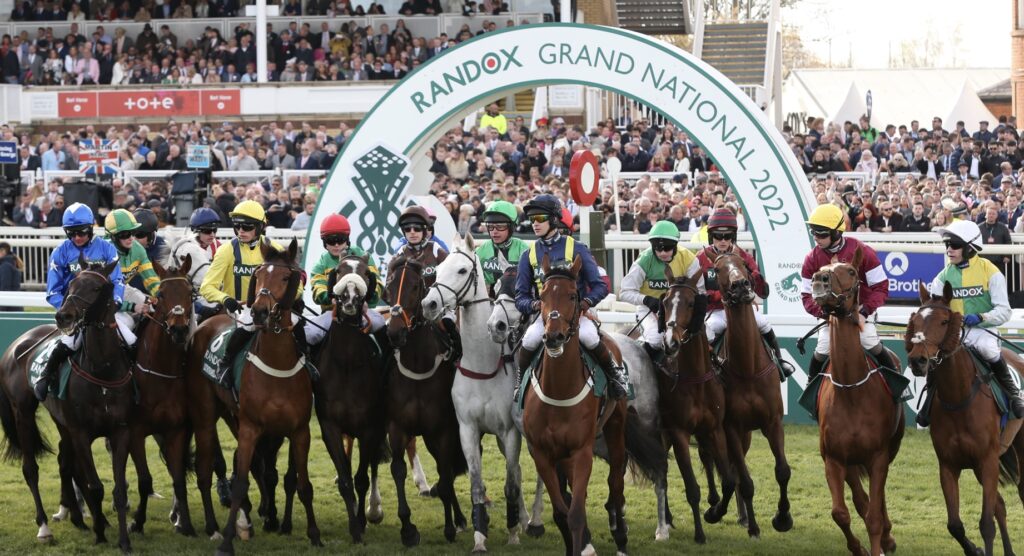 Grand National Betting Tips
Good grand national betting tips don't just mean getting some inside knowledge on a horse or jockey. We've outlined a few important things to consider before you bet on the event:
Choose Your Grand National Online Betting Site Early
Choose Your Grand National Online Betting Site Early
Many bookmakers put the brakes on their new customer offers. So, we strongly recommend you open your new account with a bookmaker several weeks ahead of the Grand National in April. Now that the bookies don't suspect you're a one-time-wonder, you can tuck into their regular joining offers.
Spread Your Bets
Spread Your Bets
The Grand National is a notoriously difficult race to win. There are upsets a plenty in the history of the race, but also some outstanding horses and jockey's who have had incredible success. With so many variables out there, it makes sense to back more than one horse, so don't be afraid to spread bet.
Don't Discount Hold-Ups
Don't Discount Hold-Ups
Another helpful tip is don't turn your nose up at hold-up horses. Remember One For Arthur in 2017? While its accepted wisdom to be up with the pace from the start, slower starters have shown that 'tortoises' can overcome 'hares'.
Common Grand National Bets
If you're not sure about different types of bets and what they mean, we've put together a few examples of common Grand National bets below.
Evens
Evens
Does exactly what it says on the tin. Evens are Grand National betting odds where your stake exactly equals your winnings, for example £25 at evens wins a further £25.
Each Way
Each Way
An each way bet is where you bet on a horse to win and to finish in the top 4 or 5 (this is called a place bet). This means you effectively make 2 different wagers in the same bet. The win and the place.
For example:
You bet £10 each way on Red Rum at odds of 10/1. This is a total wager of £20 because you are making 2 bets.
If Red Rum wins you get £110 returned – £100 winnings plus your £10 stake.
If Red Rum finishes 2nd, 3rd, 4th or 5th you get returned £30 for the place – £20 winnings plus your £10 stake. For place bets, bookmakers usually pay 1/5 or 20% of the winning odds. Red Rum was 10/1 to win, this is reduced to 2/1 to place.
Free Bets
Free Bets
As mentioned before, the best Grand National betting sites offer free bets to punters opening new accounts, but generally not on the day of the Grand National. Free bets mean after you have made a deposit, you get to place a bet that will usually be refunded if you lose.
Non-Runner, No Bet
Non-Runner, No Bet
A few weeks before the National, many online sites will offer Non-Runner, No Bet markets. This means if you place a bet and, for whatever reason your horse does not run, you will be refunded your stake.
Faller Offers
Faller Offers
You can even bet on a negative outcome. Some Grand National betting sites will offer you a set amount (typically capped at £25) whereby should your horse unseat, fall or be brought down, you'll get a free bet up to a set amount.
Placed Finish Refunds
Placed Finish Refunds
Similar to the above, place a bet to win and even if your horse does not win, but places, you'll be refunded your stake according to the offer's set limit.
Ante-Post
Ante-Post
If you have a gut feeling about a certain horse, even if the runners for the Grand National haven't been announced yet, you can bet on your dark horse in advance. This is called the Ante-Post market.
Boosters
Boosters
Odds boosters can seriously enhance your Grand National betting odds. Online bookmakers offer many different offers during the race and just before it. Prices can be boosted by up to 20% and, although stake limits do apply, they offer great value.
How to Pick the Winner of the Grand National
Picking a winning horse can be based on science, skill, intuition, luck or a combination of all four. We recommend making your own luck, by doing your homework beforehand.
Form Attention
Form Attention
Reading form is a great way to gauge how a horse is performing. Form is a series of numbers and letters next to each horse's name. If you are seeing lots of 1s and 2s, you know you're looking at a potential winner.
Conversely, if 7s and 8s are more prevalent, you're less likely to be looking at the next Red Rum. Also keep an eye out for C, indicating that a horse has won on that course before, or D, which means the horse has won over that distance before.
Talking Trainers
Talking Trainers
Only Ginger McCain has successfully defended a National title. In the last 30 years, only trainer Nigel Twiston-Davies has more than one winner under his belt. By all means study the trainers, but remember, lightning doesn't strike the same trainer twice in this event.
Stamina of a Warhorse
Stamina of a Warhorse
Stamina is vital for any horse to win the National. Twenty-four of the last 26 winners won a three-mile chase beforehand. Experience is also key. Young horses, with more speed than stamina, tend to struggle. Nine of the last 10 winners have been aged between nine and 11.
Fence Factor
Fence Factor
A winning competitor must show confidence in jumping. Eighteen of the last 20 Aintree winners fell or unseated their riders at most just twice in their careers.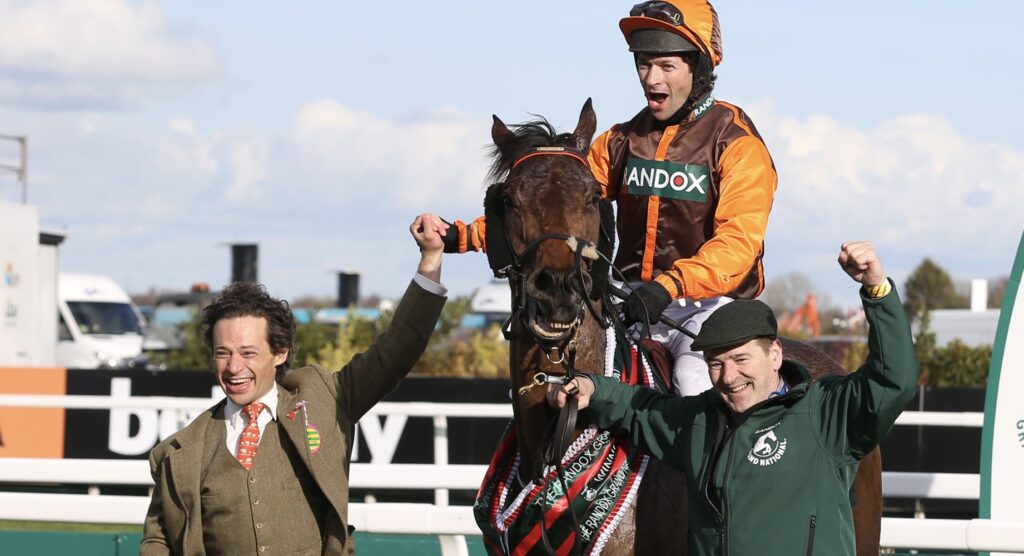 The History of the Aintree Grand National
Held in Liverpool since 1839, the Aintree Grand National is a hugely popular festival. The Grand National steeplechase itself, known as the 'people's race' is where every single horse stands a chance of winning. This fairy-tale factor is why, for eight minutes, an estimated audience of up to 600 million tunes in.
National Treasures
In 1928, Tipperary Tim and amateur jockey William Dalton won everlasting fame by being the only horse and rider, out of 42 runners, to cross the finish line.
In recent history, few will forget jockey Davy Russel winning both the 2018 and 2019 National on Tiger Roll. And when it comes to legends, trainer Ginger McCain and his 3-times winning horse Red Rum are household names.
Formidable Fences
Becher's Brook stands at 5ft with the landing side typically 6-10 inches lower. The Chair is the highest (5ft 3ins) and widest Grand National fence. Only jumped once, it is preceded by a 6ft-wide ditch and has a landing side 6ins higher than the take-off side.
Standing at 5ft tall, Canal Turn is considered the trickiest fence, as horse and rider have to turn 90-degrees left immediately on landing.
Grand National Fun Facts
Valentine's Brook is a fence named after a horse that jumped the fence backwards.
In 1855 Sam Darling fell and was knocked out. A horse then knocked him in the head, reviving him.
On average 250,000 pints are sold during the three-day festival.
Aintree gets its name from a Viking settlement, after Danes cut down all the trees but one.
Foinavon fence is named after the 1967 winner who won at odds of 100/1.
The Benefits of Using Grand National Betting Sites
Since COVID-19, sports betting online is now not only the most convenient way to wager, it's also the safest.
For one, getting special offers from traditional high street bookmakers, or even those at the track, are very rare and Grand National betting odds are often extremely unfavourable. Betting online, from the comfort and security of your own home, is super-convenient and hassle-free.
Even more satisfying, you don't have to wait in a queue for your bookmaker to cash in your winnings. When you bet online, winnings are automatically credited to your account. Join our favourite bookmaker below and predict the next Grand National winner.
Frequently Asked Questions
Which is the best Grand National betting site?
There are a multitude of Grand National betting sites. We've cherry-picked the very best sites for you above.
What are the Grand National betting odds for the favourite?
You can find the betting odds for the favourite as soon as they are published on any of our recommended sites.
Do Grand National betting sites have other sports available?
Yes, the betting sites we suggest for you include great offers on other sports markets.
Do Grand National betting sites give free bets?
Many of the sites we propose offer free bets, just be sure to join up a month or more before the race.