2023 Kentucky Derby Betting Guide
Welcome to our guide to the top Kentucky Derby betting sites! Our team of experts will help you find the best sites for Kentucky Derby betting online.
We also teach you everything you need to know about betting on the Kentucky Derby, from how to place your bets to how to choose your horses for this historically important race.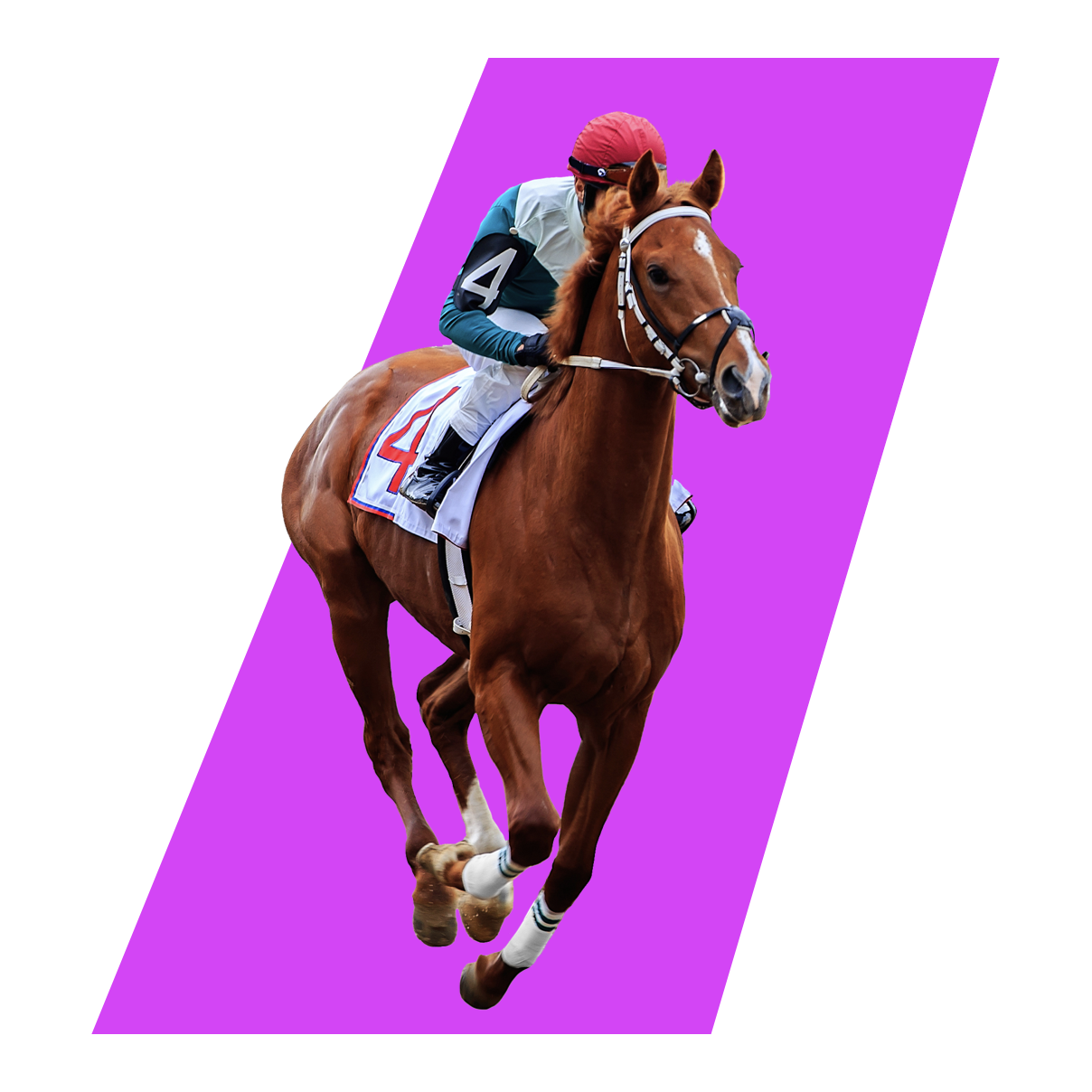 Where to Bet on the 2023 Kentucky Derby
How We Choose Kentucky Derby Betting Sites
Each of our recommended Kentucky Derby betting sites goes through a rigorous review process before it ends up on our list. We only list sites that are legal, trusted, and thoroughly tested for fairness so that you can feel safe and confident when you use them.
We expect each of our recommended sites to excel in a variety of areas. Here's a breakdown of a few of the most important factors we consider when making our selections.
Our most important criterion for any site we recommend is that it is legal and licensed. Every Kentucky Derby betting site we recommend to you has a license from a trusted regulator and can be played legally in your jurisdiction. Proper licensing is a must to ensure you are playing at trustworthy, reliable betting sites.
There's nothing better than getting a great bonus when you sign up for a new betting site. However, some bonuses are better than others, and some might not be right for your specific needs. That's why we look for the biggest and best bonuses and promotions for our readers. We also explain exactly what you're getting so that you can pick the offer that's best for you.
Nobody enjoys having to reach out to a customer service representative to get help. But issues crop up at even the best sites, and that's where having top-notch customer support makes a world of difference. We make sure to interact with the customer service teams at every site we recommend to ensure they're helpful, courteous, and knowledgeable.
Even if a site has the best of intentions, none of that matters if their security isn't up to par. We only recommend the best betting sites that have implemented state of the art security protocols and respond quickly to any issues that may occur. That way, we can ensure that your money and your personal information will be safe and secure when you play at our suggested sites.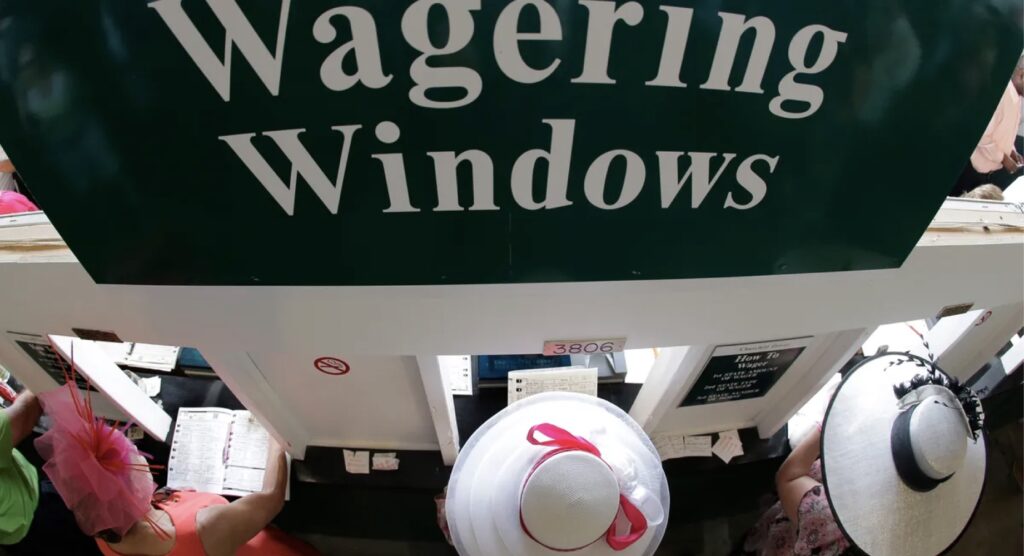 How to Use Kentucky Derby Betting Sites
Even if you've spent plenty of time watching races at the track, you might not be familiar with online betting sites. Here's a quick guide to how to bet on the Kentucky Derby, from making your account to placing your first wager.
Step 1
Sign Up for Your Account
First, you'll need to choose one of our Kentucky Derby betting sites to join. Click on our links to be taken to a signup page, where you'll be asked to provide your name, address, and some other basic info. You'll also get the chance to pick a username and set a secure password for your account.
Step 2
Make Your First Deposit
In order to make a bet, you'll need to put money into your account. To do so, head over to the cashier while you're logged into the betting site. There, you'll see a list of options for depositing funds. Depending on where you live and what is available to you, you might be able to deposit by bank transfer, credit card, e-wallet, prepaid methods, cryptocurrencies, or other options.
Once you find the method you want to use, select it. Put in the information requested, including the amount you want to move into your betting account. Once you submit your deposit, it should take only a few moments for the money to hit your balance.
Step 3
Finding the Kentucky Derby
Next, you'll have to find the Kentucky Derby from the list of many horse races available on the betting site. In some cases, you may have to switch to the "racebook" from the sportsbook in order to find horse racing betting options. The Kentucky Derby may be listed in a list of "featured" races, or under a heading for the Triple Crown races, making it easier to find.
Step 4
Place Your Bets
Now that you've found the race, you can take a look at the horses and place your bets! You can choose an individual horse by clicking on it, after which you can be on that horse to win, place, or show. You can even choose multiple horses to place exotic bets like an exacta or trifecta.
Once you're happy with your bet, input the amount of money you'd like to wager. Once you're satisfied with the details, submit your bet. You now have a bet on the Kentucky Derby!
Claiming Bonuses
When you sign up for one of our recommended sites, you'll be eligible for a signup or first deposit bonus. The process for claiming these bonus offers varies between different sites. In some cases, it will be as easy as registering an account and, if necessary, making your first deposit.
In other cases, you might have to use a bonus code when you register or make that first deposit. When this is necessary, we'll be sure to give you the code you need in order to receive your reward.
You may also have to opt-in to receive specific promotions on the betting site. If you're looking for more information on what bonuses are available, checking out the promotions page is a great place to start.
Contacting Customer Service
Each of our recommended Kentucky Derby betting sites employs a professional customer service team that can help answer any questions or help resolve any problems that you run into. If you need to contact customer service, look for a support button on the website, which is usually accessible from any page you might be on.
Some sites offer a variety of ways to talk to customer support agents. These can include a live chat, which allows you to speak with personnel via text. Most sites also offer a phone number and/or an email address where you can talk to customer service. Live chat is usually the quickest option; some sites offer this service 24 hours a day, while others have specific hours when live help is available.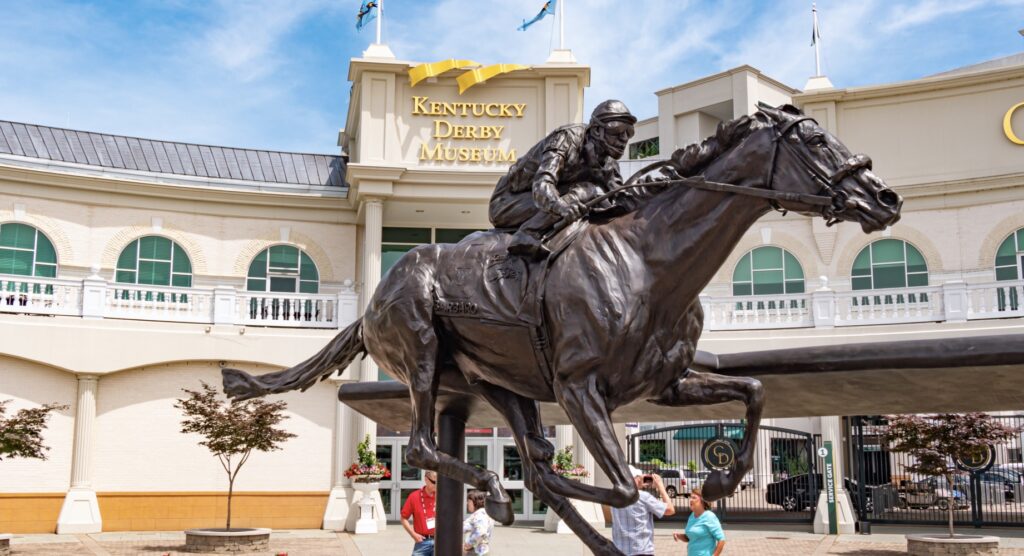 Which Are the Most Popular Bets at Kentucky Derby Betting Sites?
If you're new to betting, or are more familiar with wagering on other sports, some of the terminology around horse racing bets may seem confusing. Fear not: it's easy to learn how these wagers work. Here's a quick look at different types of Kentucky Derby bets explained so that even new bettors can understand them.
Win, Place, and Show
Win, Place, and Show
These bets are known as straight bets. In all three cases, you'll be betting on just one horse, and you'll want it to do well in the race. How well it has to do depends on the bet, as follows:
Win: Your horse must win the race.
Place: Your horse must finish first or second.
Show: Your horse must finish in one of the top three spots.
Win bets pay more than place bets, which in turn pay more than show bets. After a race, the results are typically shown alongside the payouts for a $2 bet on all straight bets that would have won. Here's an example from the 2019 Kentucky Derby, when 65-1 longshot Country House won the race:
Country House: $132.40 (Win) $56.60 (Place) $24.60 (Show)
Code of Honor: $15.20 (Place) $9.80 (Show)
Tacitus: $5.60 (Show)
Exotic Bets
Exotic Bets
Exotic bets require you to pick multiple horses. To win these bets, you'll typically need your chosen horses to finish in an exact order. The most common exotic bets include:
Exacta: A bet on two horses to finish first and second in an exact order.
Trifecta: A bet on three horses to finish first, second, and third, in an exact order.
Superfecta: A bet on four horses to finish first through fourth in an exact order.
You may also choose to box any of these bets. When you do so, you will cover all possible combinations of that bet. For instance, an exact box means you'll make two bets, covering both ways your two horses might finish first and second. A trifecta box requires six bets, while a superfecta box requires 24 bets to complete.
As you'd expect, the bigger combinations pay out more money, though even exactas can be quite lucrative at times. In the example of the 2019 Kentucky Derby, a $1 exacta paid just over $1,500, while a $1 trifecta bet won nearly $11,500, and a $1 superfecta earned $51,400.
Multiple Race Bets
Multiple Race Bets
Some bets allow you to wager on the winners of multiple races in a row. These might be called a Daily Double (for two races), a Pick 6 (for six races), or a Pick All for the full day's slate. In order to win the bet, you'll need all of your chosen horses to win.
You may pick multiple horses per race for these bets, as long as you're willing to pay for every combination. This can add up fast: for instance, if you were playing a $2 Pick 6, and wanted to cover just two horses in each race, you'd have to pay $124 to cover all 64 combinations!
How to Choose Your Horse for Kentucky Derby Betting
The process of picking horses to bet on – also known as handicapping – is something some bettors have devoted their lives to. However, you don't have to study for years to start improving your results. Here are a few tips on how to find your Kentucky Derby best bets.
Consider Form
Consider Form
Form is how the horse has performed in recent races. Of course, this must be balanced on the conditions of each race and the quality of the competition.
Check the Starting Positions
Check the Starting Positions
Generally speaking, on longer races like the Kentucky Derby, the inside (lower number) starting positions are considered better. This is no guarantee, but horses starting on the far outside (in gates 11 or higher) have historically had a tougher time winning the race.
How's the Weather?
How's the Weather?
If the race is running on a firm, fast track, the horse you generally rate highest is probably the best bet to win. However, a muddy or sloppy track could favor horses that have a history of performing well under those conditions.
Find Value
Find Value
Remember, the goal is to find horses that are more likely to win than their odds suggest. That means that a longshot could be the smart bet: even if they still aren't likely to win, they may be offering payouts that are way too high for a horse of their quality.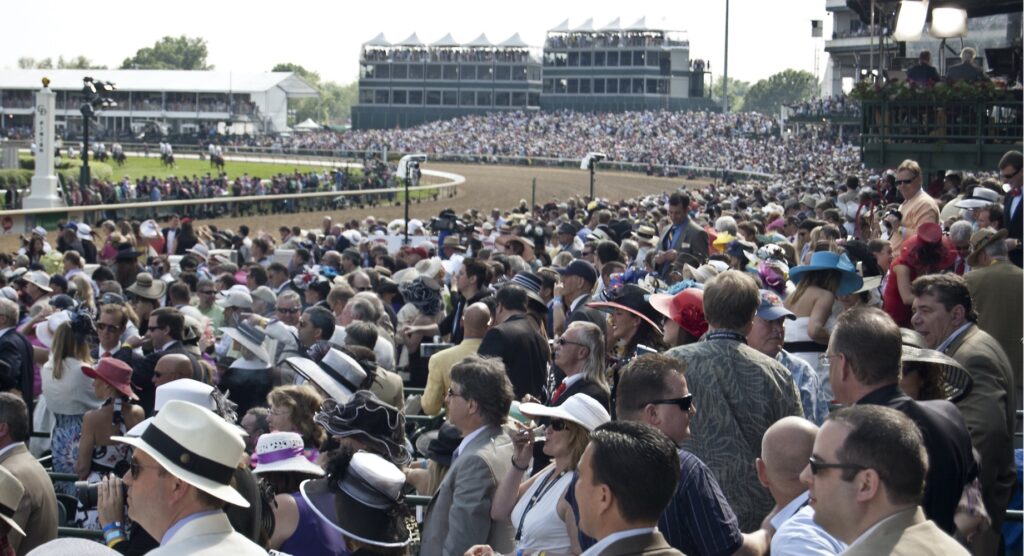 The History of the Kentucky Derby
The Kentucky Derby was first run in 1875. For 144 years, the race ran interrupted every May. That only changed in 2020 due to the COVID-19 pandemic, which pushed back the race until September for the first time.
Originally, the Kentucky Derby was run at 1.5 miles, but it was shortened to 1.25 miles in 1896, and has stayed at that length ever since.
Secretariat holds the record for the fastest time in the Kentucky Derby at 1:59.4 in 1973. Only two other horses have finished under two minutes: Sham, who finished second behind Secretariat, and Monarchos, who won the race in 2001.
Traditions play an important role at the Kentucky Derby. The preferred alcoholic beverage of the race is the mint julep, women traditionally wear elaborate hats, and the song "My Old Kentucky Home" has been played before each race since 1921.
The Benefits of Using Kentucky Derby Betting Sites
Betting on horse racing online comes with a number of benefits when compared to wagering at the track.
For one, there's the fact that you can stay at home and bet on the biggest races from all over the world, rather than having to travel to a race or an off-track betting (OTB) location to put your money down. Online betting is also simpler and easier for the average gambler to understand.
When you bet on a race at the track, you won't know exactly how much you stand to win until after the race is over. That's because horse racing bets are a type of parimutuel wagering, in which all the money bet is put into a pool, the track takes its cut, then the winners are paid out of the remaining cash.
Of course, you can't get the track experience when you're betting on your phone or computer from home. But even that can be a benefit: hearing the screams of thousands of fans and wading through lines to place bets or cash winning tickets can be a stressful, pressure-filled experience for many people. With online betting, you can enjoy the races with friends and family or by yourself, while still having the chance to win big.
Frequently Asked Questions
Are Kentucky Derby betting sites legal?
Yes, our recommended Kentucky Derby sites are fully legal and are licensed by trusted regulators. Be aware that online gambling laws vary by jurisdiction, meaning some sites may not be available in your state or country.
Do Kentucky Derby betting sites have lines on different sports?
Many of our top betting sites offer a full range of sports betting services. That means you can bet on football, baseball, soccer, basketball, or just about any other sport you'd like, usually from the same account balance you're using for Kentucky Derby betting.
How do I withdraw my winnings from a Kentucky Derby betting site?
Our suggested betting sites offer a wide range of cash out options. These can include bank transfers, e-wallets, cryptocurrencies, paper checks, and other methods, depending on the site.
Q.
Which is the best Kentucky Derby betting site?
A.
There's no single site that's best for every person, which is why we offer a selection of trusted, reputable websites for you to choose from. Take a look at our top list to find a site that's right for you!