Pool fans are in for a treat this month. It's time for the 13th edition of the World Cup of Pool, coming to us from Leicester in England. We analyse the chances of all the top teams. As always, it's a wide-open event but we fancy Spain to spring a surprise.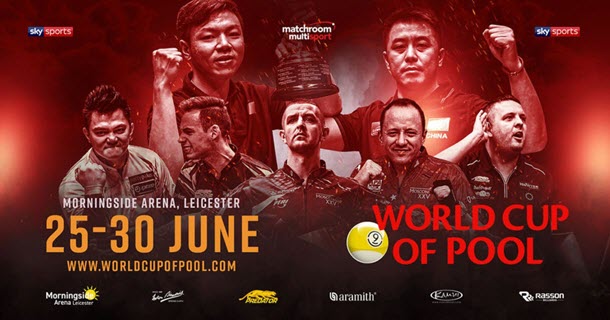 World Cup of Pool Format
32 two-player teams take part in a knockout format. Games in the first two rounds are a race to seven racks (frames) with match length increasing for the later rounds. Matches are played as scotch doubles, with each player on the team taking alternate shots.
The pool balls numbered 1-9 are used, the object ball is always the lowest numbered remaining ball. Whoever pots the Nine-Ball wins the rack, regardless of who potted the earlier balls. Expect to see plenty of plant and combination shots, so the balls aren't always potted in exact order.
Get the best odds on 2019 World Cup of Pool with our selected bookmakers below:
The Draw
Quarter One
(1) China v Sweden
(16) Great Britain B v Chile
(9) Holland v South Africa
(8) USA v Brazil
Quarter Two
(5) Philippines v Czech Republic
(12) Russia v Albania
(13) Canada v France
(4) Germany v Estonia
Quarter Three
(3) Chinese Taipei v Saudi Arabia
(14) Greece v New Zealand
(11) Japan v Hong Kong
(6) Austria v Croatia
Quarter Four
(7) Spain v Australia
(10) Finland v Singapore
(15) Poland v Italy
(2) Great Britain A v Malta
World Cup of Pool 2019 – Teams
These are the players who will represent the seeded teams, with all the big names in the sport representing their countries:
China – Wu Jia-qing & Liu Haitao
Great Britain A – Jayson Shaw & Chris Melling
Chinese Taipei – Ko Pin-Yi & Ko Ping-Chung
Germany – Joshua Filler & Ralf Souquet
Philippines – Carlo Biado & Jeff De Luna
Austria – Albin Ouschan & Mario He
Spain – David Alcaide & Francisco Sanchez Ruiz
USA – Shane van Boening & Skyler Woodward
Holland – Niels Feijen & Marc Bijsterbosch
Finland – Petri Makkonen & Mika Immonen
Japan – Naoyuki Oi & Toru Kuribayashi
Russia – Fedor Gorst & Ruslan Chinakhov
Canada – Alex Pagulayan & John Morra
Greece – Alexander Kazakis & Nick Malaj
Poland – Konrad Juszczyszyn & Mateusz Sniegocki
Great Britain B – Mark Gray & Imran Majid
World Cup of Pool Previous Winners
Who has the most wins in the World Cup of Pool? Which players have the best record?
This is the 13th edition of the event. China and the Philippines lead the way with three victories each.
Wu Jia-qing & Liu Haitao of China will attempt to defend the title they won in Shanghai 12 months ago.
Other previous winning combinations are Albin Ouschan and Mario He of Austria, victorious in 2017, and Petri Makkonen & Mika Immonen who won in 2012.
Shane van Boening (USA, 2008), Ralf Souquet (Germany, 2011) and Ko Pin-Yi (Chinese Taipei, 2015) have all won the title with different playing partners.
2019 World Cup of Pool – The Favourites
It's a wide-open betting heat, with three contenders sharing favouritism at 7.50.
Team USA are very strong, with Shane van Boening and Skyler Woodward carrying their hopes. SvB is not the perfect team player, but gels well with Woodward.
Shane has won everything in the game in a stellar career, whilst his partner has moved his game up a level in the last 12 months.
Skyler followed up his Mosconi Cup MVP performance in December with victory in the Derby City Classic 9-ball event in February, overcoming a huge field. A semi-final spot followed at the World Pool Masters in March in front of the Sky cameras.
This duo were beaten finalists two years ago and will fancy their chances of going one better. They are housed in the most difficult quarter of the draw though.
Holders China came close to elimination a few times last year. They needed last rack victories over Estonia and China in the early rounds and won a tight semi-final against Taipei.
They will have to perform from the start this time as they have a treacherous draw. A useful Great Britain B team will await them in the second round, and they may then have to beat the USA and the Philippines just to reach the final.
They come here in decent nick, with Wu reaching the final of the 256-player US Open in April, whilst Liu had a good run to the last eight. The difficult draw makes them an unattractive proposition at 7.50.
Brothers Ko Pin-Yi and Ko Ping-Chung represent Chinese Taipei (aka Taiwan). Both are exceptional talents and it is an advantage that they are in the easier half of the draw.
I believe they are the best of the three joint favourites, but this really isn't an event I'd want to take a short price in.
Hosts Great Britain have two teams, with their main hope being the fancied 'A' team of Jayson Shaw and Chris Melling. Shaw is an absolute genius, perhaps the best player on the planet. Chris Melling is no mug either and has enjoyed a return to form after some years in the doldrums.
They will enjoy plenty of home support and it would be no surprise to see a deep run. Anyone backing at 10.00 should be worried that there appears to be no calming influence in the team. Both are extremely gung ho.
Austria won this event two years ago with Albin Ouschan & Mario He. The pairing were also runner-up last year and semi-finalists in 2014, so have the pedigree to go well at 13.00. However, Ouschan has looked out of form recently, and Mario He has recently returned from a drug ban.
The Germany team of Joshua Filler & Ralf Souquet are a very contrasting pair. 20-year-old Filler is one of the most exciting and instinctive players on the circuit. His partner Souquet is 50 years old and is far more methodical.
With over 500 career titles Souquet is a fantastic talent though. Filler himself has had a great start to his young career, with a Mosconi Cup MVP and a US Open to his name already. They have a solid chance at 13.00, but it would be unusual for two such different players to be able to perform together.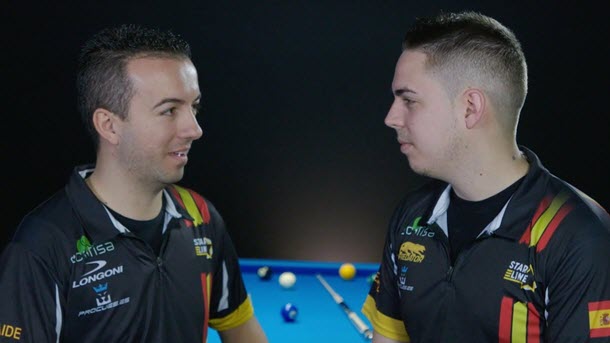 2019 World Cup of Pool – Best of the Rest
TOP TIP – Spain to win 26.00
With three victories in the event, it's folly to write off the Philippines. Carlo Biado has been in fine form over the last 12 months, but his partner Jeff De Luna looks a weak link in the heat of battle. 17.00 doesn't seem too exciting a price.
Finland were victorious in 2012, but neither Petri Makkonen nor Mika Immonen are playing at the required level this time around.
Russia possess one of the most exciting young talents in the game in Fedor Gorst, but his partner Ruslan Chinakhov is prone to errors.
A more consistent duo are David Alcaide & Francisco Sanchez Ruiz for Spain. Alcaide has a fine record in front of the Sky cameras with two victories in the World Masters. Sanchez Ruiz has stepped up his game this year with a good run in the US Open. They look attractively priced at 26.00.
Alexander Kazakis has performed well in singles events on TV, but Greece are another team where the second player is too weak.
The Netherlands have a solid record without ever winning, but debutante Marc Bijsterbosch may be overawed. Niels Feijen will bring his usual solidity. Even at 29.00 they aren't tempting.
World Cup of Pool – Others to Watch
There are plenty of teams that should provide quality entertainment, whilst being unlikely winners. Tony Drago will be a familiar face to snooker audiences, and his Malta team will hope to knock Great Britain A out. Melling, Shaw and Drago at the same table will be a breathless hour anyway.
The 'B' teams often go well, but Mark Gray and Imran Majid have been handed a rotten draw for Great Britain B. Gray is an excellent ex-snooker professional, but Majid makes too many mistakes for them to be fancied.
Alex Pagulayan of Canada and Eklent Kaci of Albania are another two stars who may struggle to overcome having weak partners. And don't forget the loveable Naoyuki Oi of Japan, who always gives quality interviews in defeat.
2019 World Cup of Pool FAQs
Is the World Cup of Pool on TV?
In the UK all games will be on Sky Sports. In the USA, streaming service DAZN will show all the matches.
Who will win the World Cup of Pool?
Our top tip is:
Spain to win 26.00.
Where is the World Cup of Pool being held?
The Morningside Arena in Leicester, England.
What are the World Cup of Pool 2019 dates?
The first-round matches begin on Tuesday 25th June, with the final on Sunday 30th June.
Albin Ouschan
Alex Pagulayan
Alexander Kazakis
Austria
Canada
Carlo Biado
china
Chinese Taipei
Chris Melling
David Alcaide
Fedor Gorst
Finland
Francisco Sanchez Ruiz
Germany
Great Britain A
Great Britain B
Greece
Holland
Imran Majid
Imran MajidChina
japan
Jayson Shaw
Jeff De Luna
John Morra
Joshua Filler
Ko Pin-yi
Ko Ping-Chung
Konrad Juszczyszyn
Liu Haitao
Marc Bijsterbosch
Mario He
Mark Gray
Mateusz Sniegocki
Mika Immonen
Naoyuki Oi
Nick Malaj
Niels Feijen
Petri Makkonen
Philippines
Poland
Ralf Souquet
Ruslan Chinakhov
Russia
Shane van Boening
Skyler Woodward
Spain
Toru Kuribayashi
USA
World Cup of Pool
Wu Jia-qing