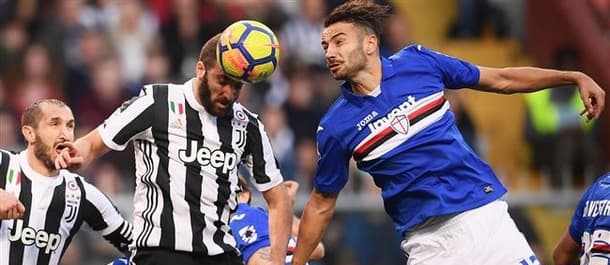 The Italian Serie A tournament reaches its halfway point this weekend when Sampdoria rates as the best bet on the coupon because of the odds that bookmakers are offering about Samp recording a home win over SPAL on Saturday.
Sampdoria has not won any of its last five matches across all competitions but there is depth to its Italian Serie A form, certainly considerably more than that of its weekend opponent, SPAL, which has accrued five points from its most recent three divisional games but deservedly resides in the relegation zone above just Verona and Benevento.
Roma is the only Italian Serie A side that neither Sampdoria nor SPAL has faced this season. According to one's Italian Serie A collateral form analysis, Sampdoria enjoys a 12-1-4 edge over SPAL and that advantage blows out to an even more impressive 5-0-1 if one just counts matches featuring teams occupying one of the top seven rungs on the ladder. Back the home side at odds of 1.70Bet €100 to win €1707/10Bet £100 to win £170-143Bet $100 to win $1700.70Bet HK$100 to win HK$170-1.43Bet Rp100 to win Rp1700.7000Bet RM100 to win RM170 with BetVictor.
Another Italian Serie A home side which bookmakers are not affording sufficient respect is Fiorentina ahead of its game against lower ranked Milan on Saturday.
Frankly, it is ridiculous that Fiorentina is trading at odds of 2.12Bet €100 to win €21228/25Bet £100 to win £212+112Bet $100 to win $2121.12Bet HK$100 to win HK$2121.12Bet Rp100 to win Rp212-0.8929Bet RM100 to win RM212 with 888Sport to get the better of Milan. Fiorentina is eighth on the Italian Serie A ladder, two points and three rungs ahead of Milan plus the Purples boast a far superior goal difference to the Red and Blacks. One's Italian Serie A collateral form backs up the ladder – Fiorentina holds an 8-6-4 edge over Milan and the Purples are 5-4-1 up on the Red and Blacks if one only factors in matches in which either of them played versus teams ranked in the top 12.
There is a reason as to why one is not headlining Fiorentina and that is because, like Milan, the Purples have not beaten any of the Italian Serie A's leading eight sides. But one is convinced that Fiorentina's form is better than that of Milan and that the worldwide betting market is wrong.
One could make rock-solid cases for Napoli to kick off the 19th Italian Serie A round with an away defeat of Crotone and Juventus to bring it to close with a road victory over Verona but bookmakers have not missed either high flier.
Consequently, one's third and final Italian Serie A pick for 2017 is Atalanta to get the chocolates at home to Cagliari at odds of 1.43Bet €100 to win €14343/100Bet £100 to win £143-233Bet $100 to win $1430.43Bet HK$100 to win HK$143-2.33Bet Rp100 to win Rp1430.4300Bet RM100 to win RM143 with 888Sport.
Since losing 0-2 in Italian Serie A action at Internazionale in mid-November, Atalanta is 6-2-0 across all tournaments in spite of fighting on three fronts – the league, the Italian Coppa Italia and the UEFA Europa League. Contrast that with Cagliari being 0-2-4 in its last six games irrespective of competition and there is a simplistic argument for backing Atalanta to prevail over the Red and Blues on Saturday.
If one is looking for a more sophisticated case for siding with Atalanta than here it is: according to one's Italian Serie A collateral form analysis, the Goddess enjoys a 12-2-4 advantage over Cagliari. Last term's corresponding Italian Serie A fixture resulted in a 2-0 success for Atalanta and one is forecasting a similar outcome.
Below are one's Italian Serie A collateral form figures for all 10 matches in the 19th round of the championship so you can see the raw data for yourself and bet accordingly.
Crotone 1-1-16
Fiorentina 8-6-4
Atalanta 12-2-4
Benevento 4-2-12
Bologna 7-4-6
Roma 12-3-2
Sampdoria 12-1-4
Torino 9-2-7
Internazionale 7-1-9
Verona 0-4-14
Tips Summary
Sampdoria to beat SPAL
Saturday 30th December, 14:00 GMT
Odds: 1.70Bet €100 to win €1707/10Bet £100 to win £170-143Bet $100 to win $1700.70Bet HK$100 to win HK$170-1.43Bet Rp100 to win Rp1700.7000Bet RM100 to win RM170
Fiorentina to beat Milan
Saturday 30th December, 11:30 GMT
Odds: 2.12Bet €100 to win €21228/25Bet £100 to win £212+112Bet $100 to win $2121.12Bet HK$100 to win HK$2121.12Bet Rp100 to win Rp212-0.8929Bet RM100 to win RM212
Atalanta to beat Cagliari
Saturday 30th December, 14:00 GMT
Odds: 1.43Bet €100 to win €14343/100Bet £100 to win £143-233Bet $100 to win $1430.43Bet HK$100 to win HK$143-2.33Bet Rp100 to win Rp1430.4300Bet RM100 to win RM143
Atalanta
Fiorentina
Italian Serie A
Sampdoria
Serie A