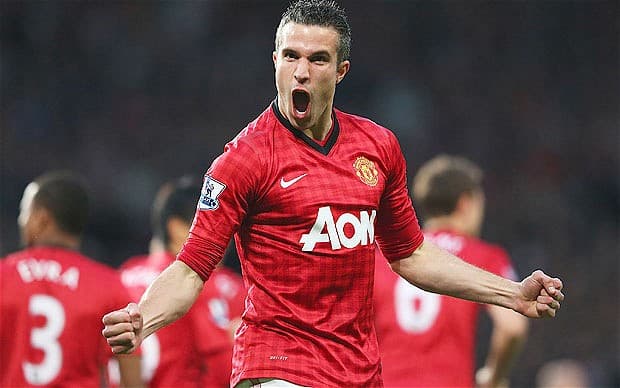 The English Premier League fixture list is out and it may be prudent to snap up some fancy prices pertaining to Robin van Persie and how he performs for Manchester United next term.
The iconic image of the first batch of 2014 FIFA World Cup group games had to be the shot of Netherlands coach Louis van Gaal and Netherlands captain Van Persie high fiving during the Dutch team's 5-1 thrashing of Spain. Once thought to be arch enemies, it is clear that Van Persie and Old Trafford-bound Van Gaal are on the same wavelength now.
Van Persie's body language playing for Manchester United last season was terrible. Van Persie signed for Manchester United when Alex Ferguson was its boss and he was angry when the Red Devils boss decided to call time on his legendary managerial career. Rio Ferdinand has opined that Van Persie went from being adored by Ferguson to being unloved by David Moyes. Now Moyes has gone one expects Van Persie to perk up, particularly given his obvious great respect for Van Gaal.
Van Gaal and Van Persie have not always seen eye to eye. Van Gaal became the Netherlands coach after the Dutch had a UEFA Euro 2012 campaign to forget under Bert van Marwijk. One of the first things than Van Gaal did in his second spell as Netherlands boss – he was in charge of the national side from 2000 to 2002 – was organise an open-house meeting to invite the players to speak about what they thought went wrong in Poland and Ukraine. Van Persie snubbed the event.
Then it appeared from the outside looking in that Van Gaal's fraught relationship with Van Persie plumbed new depths. The Netherlands played a friendly match against Belgium and Van Gaal relegated Van Persie to the bench, electing to start Klaas-Jan Huntelaar up front. It looked as though Van Gaal was making a statement to Van Persie that he would not be the first-choice Netherlands striker and that he would not be part of the Dutch leadership group. But the truth was somewhat different. Later, Van Gaal revealed that he had spent an hour speaking with Van Persie before the Belgium game, explaining that the only reason why he had left out the forward was because he felt that his move from Arsenal to Manchester United, which was in the process of being wrapped up, was too much of a distraction. What Van Gaal revealed also was that he had sounded out Van Persie about changing the formation of the Netherlands team and that he wanted the striker's help in facilitating that change.
So it turned out that Van Gaal was a Van Persie fan and the men attended a couple of Dutch Eredivisie match together so that they could study the system that the Netherlands coach wanted to introduce to the national side. Van Gaal and Van Persie clicked off the field and it was not long before the former installed the latter as Netherlands captain. Van Gaal believes in Van Persie and the feeling is clearly mutual.
It would not be a shock to see Van Gaal rebuild Manchester United around Van Persie and, following on from that, it would not be a shock to see Van Persie reward Van Gaal with a stellar season for the Red Devils. The English Premier League title may be beyond Van Persie and Manchester United – the Red Devils ended last term 22 points behind Manchester City – but individual honours could be on the agenda for the fantastic forward. Van Persie is available at odds of 4.50 with William Hill and Winner to be the English Premier League top goal scorer and he is trading at odds of 15.00 with Paddy Power to be the PFA Player of the Year. Van Persie was the English Premier League top goal scorer in 2011-2012 and 2012-2013 and he was the PFA Player of the Year award in 2011-2012 so he has form in both contests.
Louis van Gaa
PaddyPower
PFA
Premier League
Robin Van Persie
William Hill