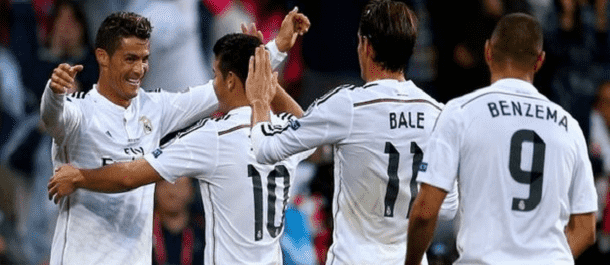 There are signs that Real Madrid's upgraded squad of stars has clicked and so odds of 1.67Bet €100 to win €16767/100Bet £100 to win £167-149Bet $100 to win $1670.67Bet HK$100 to win HK$167-1.49Bet Rp100 to win Rp1670.6700Bet RM100 to win RM167 with Bwin and William Hill about the latest set of Galaticos beating Villarreal in the Spanish Primera Division are too big.
Spanish Primera Division sides must be shaking in their boots at the prospect of facing Real Madrid in its current goal-scoring form. Real Madrid has netted 18 goals in its last three matches, beating Basel 5-1, Deportivo 8-2 and Elche 5-1. Cristiano Ronaldo has scored an amazing eight goals in those games and Gareth Bale has bagged four. It is scary how good Real Madrid could be of Bale, Ronaldo and the likes of Karim Benzema, Toni Kroos and James Rodriguez all hit top form together – no team would be able to stop Real.
Sixth in the Spanish Primera Division last term, Villarreal did remarkably well in the first season back among the big boys. But it took only two points out of a possible 18 from its six Spanish Primera Division matches against Atletico Madrid, Barcelona and Real Madrid, with its games versus Real resulting in a 2-2 home draw and a 2-4 away loss.
Already this season Villarreal had found itself in the wrong end of a Spanish Primera Division match versus one of the heavyweights, losing 0-1 at home to Barcelona on the final day of August. Barcelona dominated that entertaining game and it was remarkable that Barca had to wait until the 82nd minute before breaking the deadlock through Sandro Ramerez.
One cannot see the widely available odds of 1.67Bet €100 to win €16767/100Bet £100 to win £167-149Bet $100 to win $1670.67Bet HK$100 to win HK$167-1.49Bet Rp100 to win Rp1670.6700Bet RM100 to win RM167 about Real Madrid following in Barcelona's footsteps lasting until the kick-off time on Saturday, particularly as the early signs are that Villarreal will not be at full strength.
Like Villarreal, Granada has a poor record against the big boys of the Spanish Primera Division and there is a strong case for backing it to lose at Barcelona without getting on the scoresheet, an option that is available at odds of 1.83Bet €100 to win €18383/100Bet £100 to win £183-120Bet $100 to win $1830.83Bet HK$100 to win HK$183-1.20Bet Rp100 to win Rp1830.8300Bet RM100 to win RM183 with Paddy Power. Surely those odds will not last, either.
Barcelona is yet to concede a goal in its six matches across all competitions this term and it should have an easy match at the Camp Nou versus a Granada team that has an appalling record in the stadia of Atletico Madrid, Barca and Real Madrid since rejoining the Spanish Primera Division.
Granada has completed three full seasons back in the Spanish Primera Division. During that time it has lost each of its nine road games against Atletico Madrid (0-2, 0-5 and 0-1), Barcelona (3-5, 0-2 and 0-4) and Real Madrid (1-5, 0-3 and 0-2) so that is seven losses to nil, including six losses to nil in a row. Two of Granada's four goals in its horror run away to the Spanish Primera Division heavyweights came from the penalty mark, which makes its figures even worse really.
Finally, it was a toss up between Celta Vigo to beat Elche and Levante to beat Rayo Vallecano for one's third Spanish Primera Division round six pick. Head-to-head data suggests that Levante is well over the odds to get the better of Rayo Vallecano – the former was undefeated versus the latter last term, winning two of their four Spanish Primera Division and Spanish Copa del Rey clashes – but one is going to side with Celta, which must be full of confidence following its 2-1 home victory over Deportivo in the Galician derby.
Celta's pre-season results were good and it has built on them to rank sixth on the Spanish Primera Division ladder with an unbeaten record. What attracted one to Celta was that its opponent, Elche, struggles to score goals. Celta, which is averaging two goals per Spanish Primera Division matches this term, is trading at odds of 2.38Bet €100 to win €23869/50Bet £100 to win £238+138Bet $100 to win $2381.38Bet HK$100 to win HK$2381.38Bet Rp100 to win Rp238-0.7246Bet RM100 to win RM238 with several bookmakers, including Betfred, Boylesports and Ladbrokes.
Tips Summary
Real Madrid to beat Villarreal
27th September 15:00 GMT
Odds: 1.67Bet €100 to win €16767/100Bet £100 to win £167-149Bet $100 to win $1670.67Bet HK$100 to win HK$167-1.49Bet Rp100 to win Rp1670.6700Bet RM100 to win RM167
Where to Bet: Bwin, William Hill
Barcelona to beat Granada to nil
27th September 17:00 GMT
Odds: 1.83Bet €100 to win €18383/100Bet £100 to win £183-120Bet $100 to win $1830.83Bet HK$100 to win HK$183-1.20Bet Rp100 to win Rp1830.8300Bet RM100 to win RM183
Where to Bet: Paddy Power
Celta Vigo to beat Elche
26th September 20:00 GMT
Odds: 2.38Bet €100 to win €23869/50Bet £100 to win £238+138Bet $100 to win $2381.38Bet HK$100 to win HK$2381.38Bet Rp100 to win Rp238-0.7246Bet RM100 to win RM238
Where to Bet: Betfred, Boylesports, Ladbrokes
Bale
Barcelona
Betfred
Bwin
La Liga
Real Madrid
Ronaldo
Tips