Milan v Udinese – 2nd April – 18:00 BST
Back-to-back losses have jeopardised Milan's qualification for next season's UEFA Champions League via Italian Serie A but the Red and Blacks are good bets to return to winning ways when they entertain lowly Udinese on Tuesday.
Milan surged up the Italian Serie A ladder after Christmas and, while the Red and Blacks have experienced consecutive defeats against Internazionale and Sampdoria, they remain well placed to finish the championship in one of the top four positions. Milan has very few selection issues going into its Italian Serie A home match versus a Udinese team that is flying close to the wind near the relegation zone. Udinese is 16th on the Italian Serie A ladder, the Little Zebras are 1-4-8 on their divisional travels and their road win was over cellar dweller Chievo and they have failed to earn a point in their eight league games against the six strongest sides in the competition, one of which is Milan.
November's reverse Italian Serie A fixture between Udinese and Milan resulted in a 1-0 away victory for the Red and Blacks courtesy of a 90th-minute goal. One expects Milan to confirm its superiority over Udinese this week, probably by a good margin. According to one's Italian Serie A collateral form analysis, Milan holds an 11-6-2 advantage over Udinese, including progressive counts of 4-1-1 and 5-3-1. Milan has a way to go before it challenges for the Italian Serie A title because the Red and Blacks have not beaten Juventus, Napoli or Internazionale so far this term but they have been good enough to be the best of rest and fourth spot is theirs.
TOP TIP! – Milan to beat Udinese @ 1.50 with Bet365
Get the best odds in the Italian Serie A with our selected bookmakers below.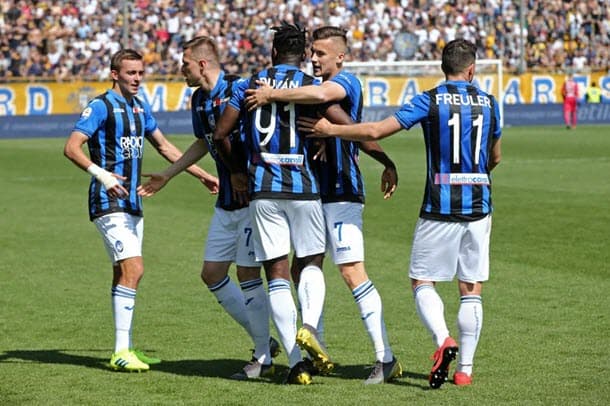 Atalanta v Bologna – 4th April – 20:00 BST
TOP TIP! – Atalanta to beat Bologna @ 1.53
Atalanta was too strong for Parma late in their Italian Serie A clash on the weekend and one wants to back the Goddess to end Bologna's resurgence on Thursday at 1.53 with Betway.
Three Italian Serie A triumphs in a row have lifted Bologna out of the bottom three but Atalanta is much stronger than Cagliari, Torino and Sassuolo as the Goddess demonstrated when they defeated Bologna 2-1 away in November. According to one's Italian Serie A collateral form analysis, Atalanta boasts an 11-3-5 lead over Bologna, including progressive counts of 4-0-2, 5-0-3, 6-0-4, 8-1-5 and 9-2-5. That there is even just a slight chance of Atalanta qualifying for the UEFA Champions League is a miracle given the Goddess won only one of their eight Italian Serie A matches. Expected goals data suggested Atalanta would ascend the Italian Serie A ladder sooner rather than later and so it has proved, with the Goddess earning stacks of points and entertaining also.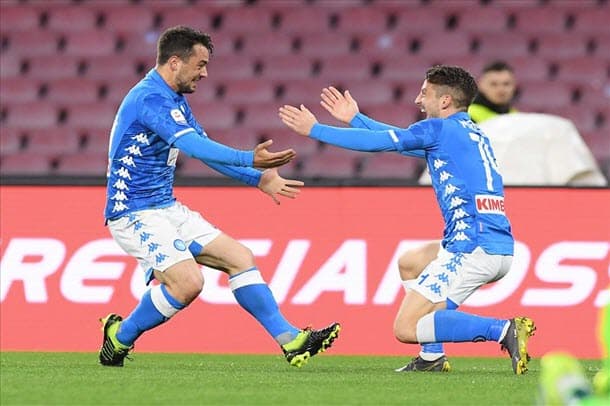 Napoli v Empoli – 3rd April – 18:00 BST
TOP TIP! – Napoli to beat Empoli @ 1.48
Both Juventus and Napoli have winnable Italian Serie A road games and, for one's third and final midweek pick, one has settled on the Partenopei at 1.48 with Betway. Napoli blew away Roma on Sunday and relegation candidate Empoli may not have the ability to withstand the Partenopei on Wednesday. According to one's Italian Serie A collateral form analysis, Napoli enjoys a 15-2-2 edge over Empoli and November's reverse fixture was one-sided with the Partenopei registering a 5-1 home win.
COLLATERAL FORM FIGURES
Milan 11-6-2
Cagliari 1-1-17
Empoli 2-2-15
Frosinone 4-5-10
Genoa 3-2-14
Roma 8-5-6
SPAL 3-4-12
Torino 6-5-8
Sassuolo 10-4-5
Atalanta 11-3-5
Feel free to us know what you think of our tips. Click the button below and Share on Facebook or Twitter and tell us if you agree or disagree with our selections!
Atalanta
Bologna
Empoli
Italian Serie A
Milan
Napoli
Udinese