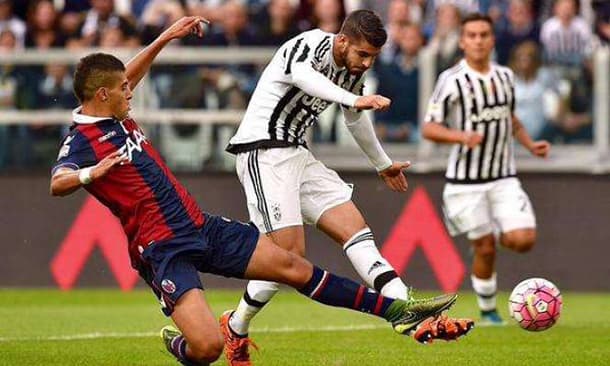 Juventus is a perfect six out of six in competitive matches since Cristiano Ronaldo's strengthened its already strong squad and the White and Blacks should register its seventh successive victory across all competitions this season when they host Bologna in Italian Serie A midweek action.
The Italian Serie A bet in which one is most interested in Juventus to beat Bologna without conceding a goal, which is what the White and Blacks did when they visited the Red and Blues last term and they would have repeated the trick at home if they had not conceded a 30th-minute penalty kick.
Juventus has won three of its half a dozen games this season to nil and, according to expected goals data, the White and Blacks have deserved to score 11 and concede four as per the real ladder. Bologna celebrated its first Italian Serie A success of the term last time out when it defeated Roma 2-0 at home and climbed to 18th on the ladder. But Bologna were mighty lucky to beat Roma because, according to expected goals statistics, a 1-3 loss would have been a much more appropriate result. Bologna's two Sunday goals were its first of the Italian Serie A season and there is plenty of data that says the Red and Blues are set to be one of the division's lowest scorers for the rest of the tournament.
Check out all the best odds for Serie A betting with our most recommended bookmakers:
Bookmakers are quoting odds just short of even money about Juventus at 1.78Bet €100 to win €17839/50Bet £100 to win £178-128Bet $100 to win $1780.78Bet HK$100 to win HK$178-1.28Bet Rp100 to win Rp1780.7800Bet RM100 to win RM178 with BetVictor continuing on its merry way in Italian Serie A with a comfortable home victory over a toothless Bologna team.
The first Italian Serie A midweek round of the campaign will get underway when Internazionale Fiorentina clash in Milan and one is keen on wagering that at least one of the sides will fail to rustle the San Siro onion bags at 1.73Bet €100 to win €17373/100Bet £100 to win £173-137Bet $100 to win $1730.73Bet HK$100 to win HK$173-1.37Bet Rp100 to win Rp1730.7300Bet RM100 to win RM173 with Betway.
According to expected goals data, the two Italian Serie A teams that should have conceded the fewest goals this term are Internazionale and Fiorentina. Furthermore, Fiorentina does not deserve to have scored 11 Italian Serie A goals because unemotional statistical analysis points to the Purples having merited about eight goal celebrations.
Only one of the last six meetings between Internazionale and Fiorentina has featured a clean sheet but it did occur last season when the Black and Blues defeated the Purples 3-0 in the corresponding fixture. Also, Fiorentina took until the 90th minute to breach Internazionale's defence in Florence.
Just one point and two rungs separate Udinese and Lazio on the Italian Serie A ladder following five rounds but one thinks the White and Sky Blues will pull away from the overrated Little Zebras over the coming weeks.
Lazio has rebounded well from running into Napoli and Juventus in the first couple of Italian Serie A rounds and, according to expected goals, the White and Sky Blues should have beaten Frosinone, Empoli, and Genoa more emphatically than they did. Lazio, at 1.95Bet €100 to win €19519/20Bet £100 to win £195-105Bet $100 to win $1950.95Bet HK$100 to win HK$195-1.05Bet Rp100 to win Rp1950.9500Bet RM100 to win RM195 with BlackType to beat Udinese, is good value for its nine Italian Serie A points and there will be competition for places in its starting side for next weekend's derby against Roma.
Udinese has not deserved a couple of its Italian Serie A points and, on the balance of play, the Little Zebras should not have won at Chievo on Sunday, let alone by a two-goal margin. Udinese has lost each of its last four matches versus Lazio and one thinks the Little Zebras are likely to experience more misery against the White and Sky Blues.
Tips Summary
Juventus to win to nil versus Bologna
Wednesday 26th, 20:00 BST
Odds: 1.78Bet €100 to win €17839/50Bet £100 to win £178-128Bet $100 to win $1780.78Bet HK$100 to win HK$178-1.28Bet Rp100 to win Rp1780.7800Bet RM100 to win RM178
Both teams not to score in Internazionale versus Fiorentina
Tuesday 25th, 20:00 BST
Odds: 2.10Bet €100 to win €21011/10Bet £100 to win £210+110Bet $100 to win $2101.10Bet HK$100 to win HK$2101.10Bet Rp100 to win Rp210-0.9091Bet RM100 to win RM210
Lazio to beat Udinese
Wednesday 26th, 18:00 BST
Odds: 1.95Bet €100 to win €19519/20Bet £100 to win £195-105Bet $100 to win $1950.95Bet HK$100 to win HK$195-1.05Bet Rp100 to win Rp1950.9500Bet RM100 to win RM195
Bologna
Fiorentina
Internazionale
Italian Serie A
Juventus
Lazio
Udinese