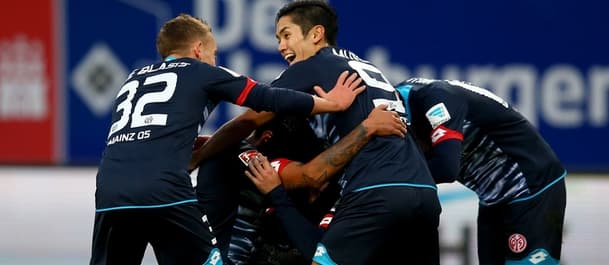 Esteemed magazine Kicker rates Mainz as the fourth best team in the German Bundesliga and one agrees that bookmakers are underrating the O-Fives ahead of their home match versus Stuttgart that will kick off the 16th round of games.
It is the time of the German Bundesliga season when detailed collateral form analysis comes into its own because, as one is fond of saying, the ladder sometimes does not tell the truth, the whole truth and nothing but the truth. Fixture schedules mean that, inevitably, some sides have easier introductions than other teams and that can result in misleading ladders in the middle third of a competition.
Mainz and Stuttgart have had 14 common German Bundesliga opponents and one's collateral form analysis rates the O-Fives has having posted seven superior head-to-head results than the Reds, with two inferior scores and five ties. Mainz will enjoy home advantage over Stuttgart for Friday's German Bundesliga match so, in effect, the five ties move over to the former's side of the ledger, making it a 12-2 clash. Bookmakers have chalked up Mainz as the clear favourite for Friday's German Bundesliga game but the gap between the sides is insufficient given one's collateral form data. Mainz represents the best value on the German Bundesliga card at odds of 2.25Bet €100 to win €2255/4Bet £100 to win £225+125Bet $100 to win $2251.25Bet HK$100 to win HK$2251.25Bet Rp100 to win Rp225-0.8000Bet RM100 to win RM225 with Betfred to get the better of relegated threatened Stuttgart.
Strictly speaking, the German Bundesliga ladder is not lying about seventh-placed Mainz and 17th-placed Stuttgart – the issue is that bookmakers are underrating the O-Fives and overrating the Reds, particularly the latter whose defence is preventing them from being competitive in many matches. The German Bundesliga ladder is, however, not telling the truth about the difference in quality between Wolfsburg and Hamburg, hence why one wants to back the Wolves on Saturday.
Only four points and four rungs split Wolfsburg and Hamburg on the German Bundesliga ladder but they have had 14 common divisional opponents and one's collateral form analysis favours the Wolves significantly. Wolfsburg holds a 10-1-3 German Bundesliga collateral form advantage over Hamburg and, with the Wolves hosting Saturday's game, the one tie moves it their side of the ledger for a 11-3 tally. The German Bundesliga collateral form edge that Wolfsburg has over Hamburg is the same that Bayern Munchen and Dortmund have over Ingolstadt and Frankfurt respectively but look at the considerable difference in the three betting markets. Bayern and Dortmund are trading at odds of around 1.10Bet €100 to win €1101/10Bet £100 to win £110-1000Bet $100 to win $1100.10Bet HK$100 to win HK$110-10.00Bet Rp100 to win Rp1100.1000Bet RM100 to win RM110 and 1.20Bet €100 to win €1201/5Bet £100 to win £120-500Bet $100 to win $1200.20Bet HK$100 to win HK$120-5.00Bet Rp100 to win Rp1200.2000Bet RM100 to win RM120 respectively, whereas Wolfsburg is available at odds of 1.62Bet €100 to win €16231/50Bet £100 to win £162-161Bet $100 to win $1620.62Bet HK$100 to win HK$162-1.61Bet Rp100 to win Rp1620.6200Bet RM100 to win RM162 with Boylesports, so get on.
Finally, one is playing the value card in Saturday's German Bundesliga match between Leverkusen and Monchengladbach because bookmakers have priced up the game incorrectly.
Eighth-placed Leverkusen and third-placed Monchengladbach have had 14 common German Bundesliga opponents and, even though the Foals got off a terrible start – they lost each of their first five matches – one's collateral form analysis puts them 9-0-5 ahead of the Factory Team. No ties mean that Leverkusen's home advantage for Saturday's German Bundesliga does not change anything and the Factory Team has one fewer day than Monchengladbach to back from the UEFA Champions League. So one is keen to lay Leverkusen at its odds.
Totesport are quoting odds of 4.00Bet €100 to win €4003/1Bet £100 to win £400+300Bet $100 to win $4003.00Bet HK$100 to win HK$4003.00Bet Rp100 to win Rp400-0.3333Bet RM100 to win RM400 about a Monchengladbach win over Leverkusen on Saturday in the game of the German Bundesliga round but prefers the offer of 1.87Bet €100 to win €18787/100Bet £100 to win £187-115Bet $100 to win $1870.87Bet HK$100 to win HK$187-1.15Bet Rp100 to win Rp1870.8700Bet RM100 to win RM187 from Boylesports about the Foals avoiding an away defeat.
Tips Summary
Mainz to beat Stuttgart
11th December 19:30 GMT
Odds: 2.25Bet €100 to win €2255/4Bet £100 to win £225+125Bet $100 to win $2251.25Bet HK$100 to win HK$2251.25Bet Rp100 to win Rp225-0.8000Bet RM100 to win RM225
Wolfsburg to beat Hamburg
12th December 14:30 GMT
Odds: 1.62Bet €100 to win €16231/50Bet £100 to win £162-161Bet $100 to win $1620.62Bet HK$100 to win HK$162-1.61Bet Rp100 to win Rp1620.6200Bet RM100 to win RM162
Monchengladbach to win/draw v Leverkusen
12th December 17:30 GMT
Odds: 1.87Bet €100 to win €18787/100Bet £100 to win £187-115Bet $100 to win $1870.87Bet HK$100 to win HK$187-1.15Bet Rp100 to win Rp1870.8700Bet RM100 to win RM187
Bundesliga
Hamburg
leverkusen
Mainz
Monchengladbach
Stuttgart
Wolfsburg