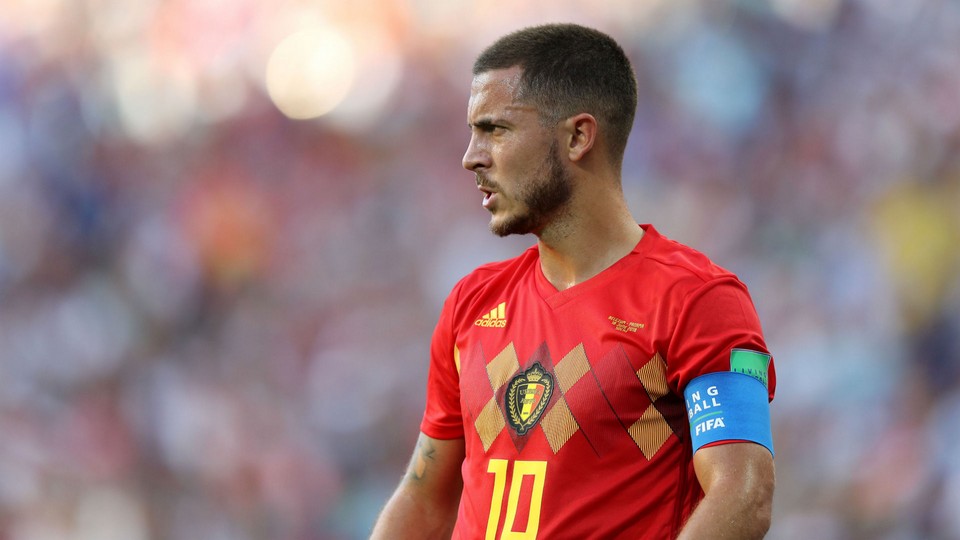 While not as widely discussed as the Golden Boot – the award for the tournament's top goalscorer – things are hotting up in the race for the Golden Ball; the trophy awarded to the World Cup's outstanding player. The usual routine at this juncture is to mull over whether Lionel Messi or Cristiano Ronaldo have done enough to add the Golden Ball to their collection of Ballon D'Ors, or whether Neymar has finally been able to gate-crash their exclusive little party, but Russia 2018 is different.
It's a tournament that has dispensed with tradition and some tired old footballing norms. Everywhere you look there is an 'out with the old and in with the new' analogy to be thrown around. VAR – love it or loathe it – has served to ignite games that would otherwise have been mundane; early group games had little hint of the timidity and caution of previous tournaments; the hosts went deeper in the tournament than anyone imagined; and, above all, the whole thing has been underpinned by a seismic changing of the guard.
While Messi and Ronaldo may be 31 and 33 respectively, no-one had pre-penned their obituaries. On June 13, before a ball had been kicked, they were both still jostling for the seat at the summit of world football. Neymar was just a few metres behind, waiting for one of the other to slip up, but all three considered themselves still on another plane to the mere footballing mortals.
But if there ever was a crown involved, it has well and truly slipped. With the tournament now at the semi-final stage, not one of this trio of deities has survived. Messi will be having some quiet family time, Ronaldo will be working out in an outdoor gym on the fringes of a tropical beach and Neymar will be on strolling along the Copacabana and hitting the deck at the merest hint of contact with a passer-by.
Four years ago, FIFA's Technical Study Group – a daft name for the panel that decides the winner – gave the award to Messi, even though most experts agreed he didn't deserve it. It was like the Technical Study Group had been seduced by the name and despite him having only an average tournament by his standards, the fact that Argentina made it to the final was good enough for them. Even he was embarrassed to collect the award.
This time around, there is no way they can find an excuse to shoehorn Messi, or Ronaldo, into the award's shortlist. Neither even made it to the last eight of the competition, and while both had their moments – let's not forget the latter smashed in a hat-trick in his side's opener with Spain – these moments of brilliance were ultimately not enough to carry their team through.
Neymar meanwhile did make it through to the last eight, but his performances were as notable for their histrionics as they were flashes of genius. Goals against Costa Rica and Mexico were reminders of the real Neymar but all too often the headlines surrounded his propensity to roll around on the grass after the slightest touch from an opponent. He has been social media gold.
All of which is a shame. To see a great player lampooned in this way when we should be lauding his brilliance with the ball at his feet does neither the player himself or his country any favours. His move to PSG has done little for the Neymar 'brand', which is clearly very important to the player and his people, and the way his countrymen turn to him as their saviour when there are so many other brilliant players in their national team has led to an odd imbalance; one that no doubt contributed to their world cup exit.
So, three big names down – the biggest names in fact – and the scene is now set for some new names to enter the frame for the Golden Ball. The betting market is wide open with no clear favourite, and you can get the best odds at our top bookies below:
The young Frenchman has set this tournament alight with not only his goals but also some thrilling performances, as he links up with Olivier Giroud and Antione Griezemann in attack for the French. At just 19-years-of-age he literally has the world at his feet and in addition to skill and trickery, he is blessed with lightening pace that terrorises defences. Even if he doesn't win this award, he's made his mark and has proved himself to be a natural on the world stage.
Harry Kane – 7/2
England's captain and figurehead had a relatively quiet afternoon in the quarter-final against Sweden, but already in the tournament, he has proven himself to be a far better all-round footballer than previously given credit for. His reputation for Tottenham had been rightly garnered around his prolific strike-rate in front of goal, but in this World Cup, he has proven himself to be so much more than that. In addition to his six goals, he has led the England line with great awareness and intelligence and looks every inch the world-class player described week in, week out by Mauricio Pochettino.
Eden Hazard – 9/2
The Belgium playmaker has not always been able to discover his Chelsea form on the biggest stage, but Russia 2018 has seen a coming of age for Hazard. In addition to the couple of goals he has chipped with, he, along with Kevin De Bruyne, has been Belgium's creative hub. With his low centre of gravity and an ability to twist and turn his way out of seemingly impossible situations, his contribution to his side's march to the semi-final – which let's not forget included beating the Brazilians – has been little short of awesome.
Luka Modric – 7/1
The Croatian playmaker has long been a wonderful player on the international stage but all too often the modest achievements of his national team have limited his impact. Not in Russia 2018. Croatia, in the favourable half of the draw, have marched relentlessly to the semi-final stage and have just a game with England between them and a place in the final. And in the midst of this run has been the diminutive figure of Modric pulling the strings. Alongside the equally impressive Rakitic, the pair have shown an ability to dictate games. While, up to now, the Croatians have needed penalty shootouts to progress in the knockout stage, they have arguably the best midfield combo in the tournament.
Kevin De Bruyne – 8/1
Hazard's partner-in-crime. The Man City midfield general had a quiet start to the tournament but has grown in confidence as it has progressed and was wonderful in his side's win over Brazil. Like Hazard, he has the ability and nous to impact on games with a brilliant strike or a slide-rule pass.
Antoine Griezemann – 12/1
The Atletico Madrid hitman has been a perfect foil for Mbappe. While not making the headlines, Griezemann has quietly gone about his work and has been integral to his side's route to the semi-final. His clever movement and passing, not to mention his ability to chip in with crucial goals, has made him Deschamp's key player, and if they are to go all the way, Griezemann will be in the very heart of it.
The Best of the Rest…
Romelu Lukaku (14/1) – Belgium's leading goalscorer in the tournament.
Jordan Pickford (20/1) – England's keeper has improved game on game.
Paul Pogba (33/1) – The French midfield powerhouse.
Ivan Rakitic (33/1) – Modric's partner in crime in the heart of the Croatian midfield.
Eden Hazard
Golden ball
harry kane
world cup