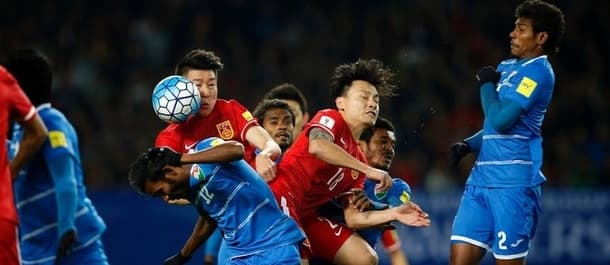 China's FIFA World Cup adventure will come to a premature end if it fails to beat Qatar in Taiyuan on Tuesday in a match that means totally different things to the sides.
The FIFA World Cup qualifying rules are complicated – one requires at least a Bachelor's degree to work through all the possibilities – but one thing is simple: China must defeat Qatar if it is going to stand any chance of qualifying for the next stage of the competition.
China is second in AFC Group C of Asia's second round of FIFA World Cup qualifying, seven points behind Qatar with one round of matches remaining. Home and away goalless draws versus Hong Kong, plus a 0-1 loss at Qatar, have put China on the brink of an early FIFA World Cup exit and Team Dragon needs a few things to go its way across Asia on Tuesday.
Four of the eight AFC group runners-up will go through to Asia's third round of FIFA World Cup qualifying, with the berths going to the best second-placed sides. According to the FIFA World Cup criteria, China ranks sixth of the eight probable runners-up so Team Dragons must leapfrog two of them to stay in the tournament. Syria is out of sight and one would expect Iraq to beat Vietnam at home so that leaves North Korea, Jordan and the United Arab Emirates as the three sides that China is most likely to overtake.
One has crunched the numbers and come to the conclusion that the margin by which China defeats Qatar is unlikely to make any difference to Team Dragon's fate. China is probably not going to find itself in a goal-difference fight with either North Korea or Jordan, at least not one that does not favour it. So one does not see any value in backing China to run up a cricket score against a Qatar side that has nothing for which to play other than ranking points and pride.
What appeals, though, is China to take care of business at home to an unmotivated Qatar with a half-time/full-time double result. China is trading at odds of 3.00Bet €100 to win €3002/1Bet £100 to win £300+200Bet $100 to win $3002.00Bet HK$100 to win HK$3002.00Bet Rp100 to win Rp300-0.5000Bet RM100 to win RM300 with BetVictor and BoyleSports to lead Qatar at both breaks.
Taiyuan is one of the largest cities in northern China and one thinks that the Chinese Football Association picked it as Qatar's destination for good reason. The temperature in Taiyuan on March nights drops to an average of minus two degrees Celsius and that is noticeably different to Qatar where the mean temperature does not fall below 14 degrees Celsius. Qatar entertained Hong Kong in the Middle East last week so it will struggle to acclimatise for a FIFA World Cup game that, in reality, means very little to the Maroons.
China is available at odds of 1.83Bet €100 to win €18383/100Bet £100 to win £183-120Bet $100 to win $1830.83Bet HK$100 to win HK$183-1.20Bet Rp100 to win Rp1830.8300Bet RM100 to win RM183 with BetVictor and SkyBet to beat Qatar by any method but the purpose of this weekly article is to highlight long-priced bets that are overpriced and odds of 3.00Bet €100 to win €3002/1Bet £100 to win £300+200Bet $100 to win $3002.00Bet HK$100 to win HK$3002.00Bet Rp100 to win Rp300-0.5000Bet RM100 to win RM300 about China-China stands out.
Most AFC sides are not the greatest travellers and one notes that a Malaysian refereeing group will officiate. Roughly one-quarter of Malaysia's population identify as being Chinese so one was quite surprised to see Mohd Bin Yaacob and his compatriots down to control the massive match.
If you are going to back China then get on Team Dragon at your earliest convenience. One thinks that China will be backed off the boards as kick-off time approaches because the game means everything to it and little to its guest.
Tips Summary
China Half Time/Full Time Double Result
Tuesday 29th March, 13.15 GMT
Odds: 3.00Bet €100 to win €3002/1Bet £100 to win £300+200Bet $100 to win $3002.00Bet HK$100 to win HK$3002.00Bet Rp100 to win Rp300-0.5000Bet RM100 to win RM300
Asia World Cup Qualification
china
Fifa World Cup
Qatar