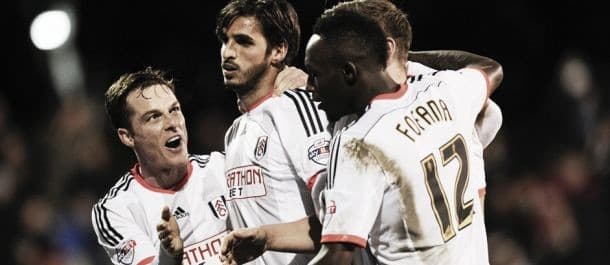 Shocks are part and parcel of the English FA Cup and, after tipping Sheffield United to knock out Queens Park Rangers in the third round, one has perused the fourth round program to identify the tie that is most likely to feature a boilover.
One thinks that the English FA Cup fourth round rag that has the best chance of causing an upset is English Championship team Fulham, which will play English Premier League side Sunderland at the Stadium of Light on Saturday.
It is a sad truth of 21st century football that the English FA Cup is not all that important to many English Premier League teams. The identity of the English Premier League sides that are disinterested in the English FA Cup changes from year to year but one can summarise the group as being those teams that are worried about their top-flight status.
Avoiding relegation from the English Premier League is worth millions of British pounds to sides and that is just the tip of the iceberg. One has lost count of how many ex-English Premier League teams have fallen on hard times because they did not make it back to the big time at the first attempt.
Sunderland has the look of an English Premier League side that is not going to fight tooth and nail to have an English FA Cup run. Sunderland is 16th on the English Premier League ladder after 22 rounds, only one point outside the drop zone and on a wretched top-flight run of one win in 12 games. For the sake of Sunderland supporters, thank God that the Black Cats beat Newcastle 1-0 at St James' Park before Christmas.
Consult the English Premier League fixture list and one will see that Sunderland's next three-point opportunity is at home to relegation favourite Burnley at the Stadium of Light seven days after its English FA Cup fourth round tie versus Fulham at the same venue. Indeed, Sunderland's next four English Premier League matches are against Burnley (home), Swansea (away), Queens Park Rangers (home) and West Bromwich (home) – they are four season-defining games for the Black Cats. Surely Sunderland manager Gus Poyet is going to have more than one eye on those important English Premier League matches when Fulham rocks up for English FA Cup action.
Relegated from the English Premier League last season, it would be fair to say that this term has not gone according to plan for Fulham but the Cottagers have recovered from a horrific start to climb to 15th position on the English Championship ladder, eight points clear of 22nd-placed Millwall. Unlikely to exit the English Championship from either end in four months from now, the English FA Cup is Fulham's most important competition and an away tie versus an English Premier League team provides it with a chance to play under no real pressure. After all, Sunderland is odds on across the board to beat Fulham at the Stadium of Light and qualify for the last 16 of the English FA Cup.
BetVictor is offering odds of 5.40 that Fulham gets the better of Sunderland at the Stadium of Light. As was the case with opposing Queens Park Rangers in English FA Cup round three, one does not see the point in taking shorter odds about Sunderland either losing or drawing at home to Fulham in round four – the last thing that the Black Cats want is a replay that has the potential to go 120 minutes.
Unfortunately the English FA Cup fourth round does not lend itself to lots of shocks. There are behind-the-scenes issues at Blackburn because bigger clubs are trying to secure the signature of Rovers striker Rudy Gestede. Derby has local pride to protect against Chesterfield. And the bosses of Aston Villa, West Bromwich and West Ham are making noises about treating the English FA Cup seriously for a variety of reasons. So that leaves Sunderland as the most vulnerable English FA Cup fourth round favourite by some distance.
Tips Summary
Fulham to beat Sunderland
24th January 15:00
Odds: 5.40
Where to Bet: BetVictor
Black Cats
FA Cup
fulham
Gus Poyet
Sheffield United
Stadium of Light