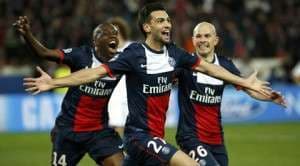 Betting on the over/under-two-and-a-half-goals markets is the most appealing way to attack the UEFA Champions League quarter-final second legs from a punting perspective, with the best bet being Chelsea and Paris St-Germain to go under the popular goals total at odds of 1.87 with BetVictor.
Chelsea trails Paris Saint-Germain 1-3 following the UEFA Champions League quarter-final first leg in France in which PSG scored its third goal during stoppage time. That Javier Pastore strike has the potential to determine how the second leg in England pans out and that is one of the reasons why one is interested in betting on under two and a half goals.
One is positive that Paris Saint-Germain is happier to be leading 3-1 than 2-1 but it does make the second leg tricky for PSG to approach. At 2-1, PSG would kick off with a clear game plan, to either play its natural game and go in search of an away goal or play to frustrate Chelsea and hit the Blues on the break towards the end of normal time. At 3-1, PSG may have to change tack midway through the match if Chelsea opening the scoring. A Chelsea goal first would, effectively, make it next goal wins and that may result in both teams playing within themselves for fear of conceding.
Some sides that need at least two goals in normal time would go for broke from the off but Chelsea is not one of those sides. One can see Chelsea playing patiently because Blues boss Jose Mourinho places considerable emphasis on defence and, without wishing to be unkind, the Stamford Bridge team's strikers are not the cream of the crop. Well, Mourinho has pretty much said the same thing himself.
Manchester United was the last away side to score against Chelsea at Stamford Bridge and 732 minutes of football have been played at the ground since then. Even with the likes of Edison Cavani and Zlatan Ibrahimovic, Paris Saint-Germain is going to struggle to score more than once. And one thinks that Chelsea is likely to find PSG hard to breach because one rates the Blues as being inferior to their opponents.
The UEFA Champions League quarter-final second leg between Atletico Madrid and Barcelona will be the fifth time that the Spanish Primera Division teams have met this season. All four previous meetings have gone under two and a half goals, with two 0-0 draws and two 1-1 draws.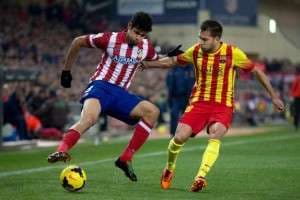 One is keen on under two and a half goals at odds of 1.90 with Stan James.
Atletico holds the upper hand in its UEFA Champions League tie versus Barcelona after last week's 1-1 at the Camp Nou that means that Diego Simeone's side can sit back and let Barca force the issue. Barcelona has to either win or score at least two goals in a draw to knock out Atletico without the need for a penalty shootout so one expects Barca to dominate possession and territory while Simeone's team, doing what it does best, soaks up the pressure.
A very early Barcelona goal would, potentially, blow open the all-Spanish UEFA Champions League clash but one rates Atletico Madrid's defence very highly and, at the odds, one would prefer to be short of goals than long of them.
Finally, the UEFA Champions League quarter-final second leg between Dortmund and Real Madrid screams over two and a half goals at odds of 1.57 with several bookmakers, including Boylesports and Paddy Power.
Real Madrid took out the UEFA Champions League quarter-final first leg by a 3-0 margin and, with the pressure almost off Real, one can expect it to play with a degree of freedom against a Dortmund side that will throw the kitchen sink at its opponent because of not only the state of the tie but also the attacking philosophy of its coach, Jurgen Klopp.
Each of Real Madrid's six matches has gone over two and a half goals, while six of Dortmund last seven games have exceeded the common goals total as well. Both Dortmund and Real are over teams and the game could be extremely open.