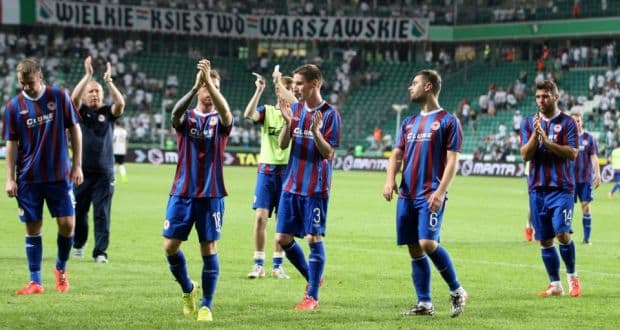 St Patrick's almost caused a UEFA Champions League boilover last week and one thinks that bookmakers are underestimating the true odds of it going that little bit better this week.
Only seconds were left on the clock when Legia Warszawa star Miroslav Radovic broke the hearts of everyone associated with St Patrick's, the Serbia-born winger running on to Ondrej Duda's through ball and shooting past Brendan Clarke to level the supposedly easy-to-predict UEFA Champions League second qualifying round first leg at 1-1.
Legia Warszawa, which had won the Polish top flight by 10 points, was meant to cruise past St Patrick's but the UEFA Champions League second qualifying round first leg did not go according to plan. Legia Warszawa had to substitute its Portuguese striker, Orlando Sa, in the 17th minute due to injury, after which St Patrick's grew in confidence. The Irish title holder enjoyed a purple patch in the final 15 minutes of the first half, taking the lead through Christy Fagan and going close on a couple of other occasions.
UEFA records statistics for all Champions League games and they support the case that St Patrick's was good value for its 1-1 draw. St Patrick's had more attempts on target than Legia Warszawa, with the Irish team topping the count 5-3 and one of those was cleared off the line in the first half.
Unsurprisingly, bookmakers have chalked up short odds about Legia Warszawa winning its UEFA Champions League second qualifying round second leg against St Patrick's, which will take place in the town of Tallaght, south of Dublin. But one cannot help thinking that St Patrick's is over the odds.
First, there is the UEFA Champions League second qualifying round first leg. St Patrick's gave as good as it got and, on another night, it would have been two or three goals ahead going into the half-time interval. St Patrick's handled almost everything that Legia Warszawa threw at it and, importantly, it rattled its opponent on the counter.
Second, the position of the UEFA Champions League second qualifying round tie means that Legia Warszawa must come out and play. The 1-1 draw between the sides in Poland puts the onus on Legia Warszawa to score in normal time because, if it does not, St Patrick's will progress on either aggregate or the away-goals rule. That means that St Patrick's can set up to frustrate Legia Warszawa and hit the favourite on the break. And, of course, the longer that Legia Warszawa goes without scoring an away goal, the more desperate that it will get and the more risks that it will take.
And third, Legia Warszawa's form is not that of a team that should be odds on to win a UEFA Champions League road match. Legia Warszawa has played three competitive games this term for one draw and two losses. Legia Warszawa crashed 2-3 to Zawisza Bydgoszcz in the Polish curtain raiser between the champion and cup winner, then it drew 1-1 at home with St Patrick's and then it lost 0-1 at home to Belchatow, which was playing its first league match since gaining promotion.
St Patrick's is trading at odds of 2.95 with Bwin to make the UEFA Champions League third qualifying round at the expense of Legia Warszawa and play either Celtic or KR for one of the group berths. But one subscribes to the theory of no guts, no glory so Betfair's sportsbook's odds of 5.80 about St Patrick's beating Legia Warszawa in normal time is too good to pass up. St Patrick's is in with a good shout.
Betfair
Bwin
St Pats
UEFA
UEFA Champions League