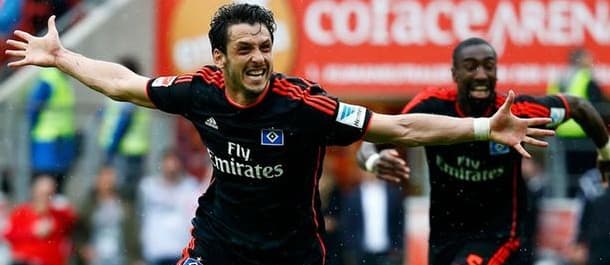 The six-way fight to stay in the German Bundesliga makes a fascinating final round in which one is surprised that one of the teams in most danger, Hamburg, is trading at odds of 2.50Bet €100 to win €2503/2Bet £100 to win £250+150Bet $100 to win $2501.50Bet HK$100 to win HK$2501.50Bet Rp100 to win Rp250-0.6667Bet RM100 to win RM250 with Coral to get the better of Schalke on Saturday.
Hamburg must beat Schalke to have any chance of remaining in the German Bundesliga and maintaining its proud record of being the only side to have played in every season of the competition. One is not going to gild the lily – Hamburg deserves its 17th place on the German Bundesliga ladder because it is a terrible team but one could say the same about Schalke in recent weeks as it is quite clear that everything is not well behind its closed doors, either.
Saturday's German Bundesliga match means so much to Hamburg and so little to Schalke, which is guaranteed to qualify for the UEFA Europa League as either the fifth, or sixth placed German Bundesliga finisher. Schalke has managed two home wins over 16th-placed Stuttgart and 18th-placed Paderborn in its nine German Bundesliga games since it caused a sensation by defeating Real Madrid 4-3 in its UEFA Champions League last-16 second leg at the Santiago Bernabeu. One was not expecting Hamburg to be available at odds of 2.50Bet €100 to win €2503/2Bet £100 to win £250+150Bet $100 to win $2501.50Bet HK$100 to win HK$2501.50Bet Rp100 to win Rp250-0.6667Bet RM100 to win RM250 for a German Bundesliga match that, even it wins, it may end up occupying one of the bottom two positions at full time. One cannot believe that one is writing this but Hamburg is the best bet on the German Bundesliga coupon, certainly at odds against versus a Schalke opponent that may not turn up.
The German Bundesliga relegation picture is such that a draw between Hannover and Freiburg may result in both ordinary sides remaining in the top flight – a draw would do the trick if Stuttgart does not win at Paderborn in one of Saturday's other crunch games. Freiburg knows that a draw would keep it in the German Bundesliga regardless of what happens in the other matches, while Hannover knows that it would either escape or go into the relegation play-offs if it earned a point. Again, one was expecting to see several bookmakers taking evasive action but, remarkably, the draw is trading at odds of 3.75Bet €100 to win €37511/4Bet £100 to win £375+275Bet $100 to win $3752.75Bet HK$100 to win HK$3752.75Bet Rp100 to win Rp375-0.3636Bet RM100 to win RM375 with many firms, including Bet365 and WilliamHill. One cannot bring oneself to back Hannover at odds on, and odds against Freiburg doesn't appeal, so the draw seems the best option.
Finally, one would not be shocked if Bayern Munchen made a statement in its German Bundesliga home game versus Mainz on Saturday to leave no-one in any doubt as to its champion quality. The last couple of weeks have been a disaster for Bayern Munchen, failing to make the final of either the German DFB Pokal or the UEFA Champions League and losing three consecutive German Bundesliga matches. One would have got long odds about such a sequence before the season began.
Mainz beat Koln 2-0 in the penultimate German Bundesliga round but it cannot finish higher than eighth on the ladder because at least one of Dortmund and Bremen is guaranteed to get to 44 points. The lowest German Bundesliga position that may qualify for the UEFA Europa League is seventh – it will depend upon the German DFB Pokal final result – so Mainz has nothing for which to play except pride. One suspects that Bayern Munchen's motivation will be much greater than that of Mainz and, therefore, one thinks that the German Bundesliga title winner is a decent bet at odds of 2.40Bet €100 to win €2407/5Bet £100 to win £240+140Bet $100 to win $2401.40Bet HK$100 to win HK$2401.40Bet Rp100 to win Rp240-0.7143Bet RM100 to win RM240 with Bwin and PaddyPower to cover a two-goal handicap line.
Tips Summary
Hamburg to beat Schalke
23rd May 14:30 GMT
Odds: 2.50Bet €100 to win €2503/2Bet £100 to win £250+150Bet $100 to win $2501.50Bet HK$100 to win HK$2501.50Bet Rp100 to win Rp250-0.6667Bet RM100 to win RM250
Where to Bet: Coral
Hannover v Freiburg – Draw
23rd May 14:30 GMT
Odds: 3.75Bet €100 to win €37511/4Bet £100 to win £375+275Bet $100 to win $3752.75Bet HK$100 to win HK$3752.75Bet Rp100 to win Rp375-0.3636Bet RM100 to win RM375
Where to Bet: Bet365, WilliamHill
Bayern -2 v Mainz
23rd May 14:30 GMT
Odds: 2.40Bet €100 to win €2407/5Bet £100 to win £240+140Bet $100 to win $2401.40Bet HK$100 to win HK$2401.40Bet Rp100 to win Rp240-0.7143Bet RM100 to win RM240
Where to Bet: Bwin, PaddyPower
Freiburg
German Bundesliga
German DFB Pokal
Hamburg
Hannover
Santiago Bernabeu