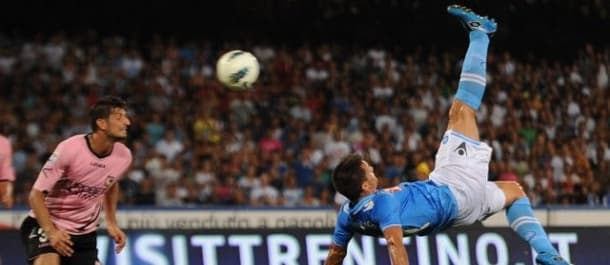 An exotic bet is the best way to play on the 10th round of Italian Serie A matches, with 888Sport and Unibet offering odds of 1.86Bet €100 to win €18643/50Bet £100 to win £186-116Bet $100 to win $1860.86Bet HK$100 to win HK$186-1.16Bet Rp100 to win Rp1860.8600Bet RM100 to win RM186 that Wednesday's game between Napoli and Palermo goes under 10 and a half corner kicks.
Napoli is second on the Italian Serie A ladder and it is the division's second highest scorer but its matches have been extremely low on corner kicks, particularly for one of the championship contenders. Napoli has forced 38 corner kicks in its nine Italian Serie A games, conceding 32 of the set pieces. Remarkably, none of Napoli's nine Italian Serie A matches has gone over 10 and a half corner kicks, with the tallies in its divisional games being five, six (twice), eight (three times), nine and 10 (twice). Napoli was an under-10-and-a-half-corner-kicks team in last term's Italian Serie A but that nothing to compared to this season.
No Italian Serie A side has forced fewer corner kicks than Palermo this term, with the Eagles having taken just 29 in their nine matches. Six of Palermo's nine Italian Serie A games have gone under 10 and a half corner kicks, including three out of four on its travels. Several bookmakers are quoting odds about Napoli and Palermo combining for under 10 and a half corner kicks when one thinks that a better line to trade would be nine and a half corners. At least Napoli does not have a perfect unders record at that line.
Sticking with the exotic theme and a bet on under two and a half goals in Wednesday's six-pointer match between Italian Serie A's relegation favourites, Frosinone and Carpi, appeals at odds of 1.80Bet €100 to win €1804/5Bet £100 to win £180-125Bet $100 to win $1800.80Bet HK$100 to win HK$180-1.25Bet Rp100 to win Rp1800.8000Bet RM100 to win RM180 with Bet365.
Frosinone lost its first-ever Italian Serie A game 1-2 at home to Torino but each of its subsequent eight divisional matches have gone under two and a half goals. Almost the complete opposite is true for Carpi, which has had only two of its nine Italian Serie A games go under two and a half goals, with two of its divisional matches being very high scoring – 1-5 away to Roma and 2-5 away to Sampdoria.
One is inclined to think that, while Carpi's defence is not up to Italian Serie A standard, the fact that the struggling teams have managed just 15 goals between them in the opening nine rounds means that under two and a half goals is the go, with Frosinone's statistics being the most indicative. That Carpi, the lower ranked side, is the visiting team is yet another reason why one is leaning towards the unders bet.
Finally, Roma ascended to the top of the Italian Serie A ladder following its 2-1 road victory over Fiorentina on Sunday and one cannot see the Wolves handing back the initiative by failing to beat Udinese on Wednesday.
Only time will tell if Roma's below-par defence will prevent it winning its first Italian Serie A title since 2001 and one was of the opinion that the Wolves would come unstuck versus Fiorentina last time out. Roma conceded one goal but the Wolves were leading 2-0 before Fiorentina hit the back of the net in stoppage time and, by that stage, the sides had an unequal number of players. Udinese is one of Italian Serie A's lowest scorers – nine goals in nine rounds is an ordinary tally – so one is less fearful for Roma at home to the Little Zebras than one was when the Wolves travelled to Fiorentina, which is one of the division's gun attacks.
Roma is trading at odds of 1.42Bet €100 to win €14221/50Bet £100 to win £142-238Bet $100 to win $1420.42Bet HK$100 to win HK$142-2.38Bet Rp100 to win Rp1420.4200Bet RM100 to win RM142 with 888Sport and Unibet to defeat Udinese, odds that are perfectly fair given the relevant strengths and weaknesses of the sides.
Tips Summary
Napoli v Palermo Under 10.5 corners
28th October 19:45 GMT
Odds: 1.86Bet €100 to win €18643/50Bet £100 to win £186-116Bet $100 to win $1860.86Bet HK$100 to win HK$186-1.16Bet Rp100 to win Rp1860.8600Bet RM100 to win RM186
Frosinone v Carpi Under 2.5 goals
28th October 19:45 GMT
Odds: 2.10Bet €100 to win €21011/10Bet £100 to win £210+110Bet $100 to win $2101.10Bet HK$100 to win HK$2101.10Bet Rp100 to win Rp210-0.9091Bet RM100 to win RM210
Roma to beat Udinese
28th October 19:45 GMT
Odds: 1.42Bet €100 to win €14221/50Bet £100 to win £142-238Bet $100 to win $1420.42Bet HK$100 to win HK$142-2.38Bet Rp100 to win Rp1420.4200Bet RM100 to win RM142
Carpi
Frosinone
Italian Serie A
Little Zebras
Napoli
Palermo
Roma
Udinese