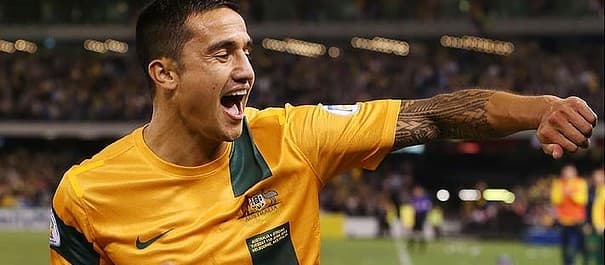 No AFC team won a 2014 FIFA World Cup match – Australia, Iran, Japan and Korea Republic managed zero wins, three draws and nine losses between them – so that probably explains why the AFC Asian Cup will make few headlines outside of the world's most populous continent.
But that does not exclude the AFC Asian Cup in Australia from providing good opportunities and, in a tournament with the depth of the shallow end of a backyard swimming pool, one thinks that there is a strong case for dutching the hosting Socceroos and the defending champion, Japan.
Overall, AFC Asian Cup host nations do not have a brilliant record but the fact that many minnows have staged the event has a lot to do with that. Legitimate title contenders that have hosted the AFC Asian Cup have fared well. One would say that eight of the 15 AFC Asian Cup editions have had a home team worthy of genuine championship consideration and their combined record is six titles and two second places. So one would be crazy not to have Australia on one's AFC Asian Cup short list as it hosts the tournament for the first time.
Australia joined the AFC in 2006. Since then Australia has played 19 competitive home matches for 15 wins, two draws and two losses, with the Socceroos losing to China and Kuwait when they fielded starting line-ups that were compromised of players attached to Australian A-League sides. So the fact is that Australia has not lost an AFC home game of consequence since it joined the confederation and one can rest assured that the Socceroos will be a factor even though their golden generation has hung up its boots.
The Australia team of the late 2010s would be one's headline pick for the 2015 AFC Asian Cup but the Socceroos have gone backwards since those days and other sides, most notably Japan, have moved forwards. Australia coach Ange Postecoglou has named Nathan Burns and Tomi Juric in the Socceroos squad but, unless something strange happens, one expects to see Tim Cahill leading the line for the home team at the age of 35. Australia has been reliant on Cahill for goals for quite some time and its likely first 11 includes weak right back Ivan Franjic, who has been unable to get much action with Russian Premier League struggler Torpedo Moskva, and some other players who are not regular starters at club level.
The AFC Asian Cup draw – Australia is likely to qualify for the knockout stage and run into first China and then Iran – and the venue for the event are sufficient for conservative punters to include the Socceroos in their portfolio. But if one wants to back only one team to take out the AFC Asian Cup then Japan rates as the bet given its star quality.
Keisuke Honda and Shinji Kagawa are two of Asian football's biggest names and, in Shinji Okazaki, Japan may have found the answer to its age-old goal-scoring problem. Okazaki has scored 40 goals in his 84 matches for Japan and he has been a regular German Bundesliga scorer for Stuttgart and Mainz in recent seasons. Japan has won three of the last four AFC Asian Cup titles and, respectful but certainly not fearful of Australia, the Samurai Blue merits clear favouritism.
Of the other AFC Asian Cup market leaders, Korea Republic was too poor in the FIFA World Cup to rank ahead of either Australia or Japan, while Iran was extremely negative in Brazil and it will need to play more offensively if it is going to have a chance of winning its fourth crown.
Japan is available at odds of 3.75 with BetVictor and Australia is trading at odds of 4.00 with BetVictor and WilliamHill so, if one wants to dutch the Samurai Blue and the Socceroos, who would meet in the AFC Asian Cup final if every game went according to the betting, one can obtain odds of around 1.93 about one of the big guns triumphing. One thinks that 51.67 per cent does not reflect the true probability of either Australia or Japan being victorious.
Tips Summary
Australia/Japan to win the AFC Asian Cup
Starts 9th January 08:30 GMT
Odds: 1.93 (Dutched)
Where to Bet: BetVictor, WilliamHill
AFC Asian Cup
Ange Postecoglou
Samurai Blue
Socceroos
Tim Cahill