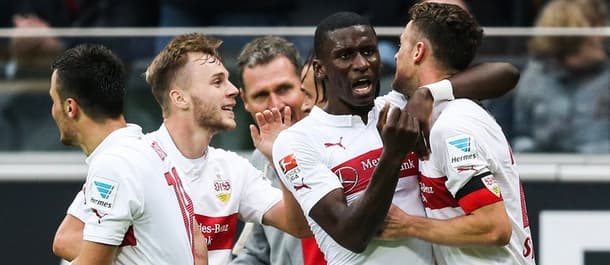 One hopes that the final match of the German Bundesliga's ninth round is worth the wait because one thinks that there are a couple of decent betting opportunities in the game between Stuttgart and Ingolstadt on Sunday.
Stuttgart is anchored to the foot of the German Bundesliga ladder after eight rounds but one expects the Reds to lift themselves off the bottom in the near future. There are a million ways to analyse football matches but one that has considerable merit is looking at the number of attempts – both on and off target – that teams have because, quite simply, not many bad teams rank highly on those metrics, particularly the first one. To have attempts, either on or off target, sides have to work themselves into half-decent positions on the pitch so it is common sense that the top teams are likely to be the top teams in terms of attempts.
It may surprise you to find out that Stuttgart has had more attempts than any other side in the German Bundesliga this season. Stuttgart has had 151 attempts, which is 16 more than Bayern Munchen and 58 more than its Sunday opponent, Ingolstadt. Stuttgart is not the most accurate of German Bundesliga teams but still the Reds rank second behind Bayern Munchen in terms of attempts on target, whereas Ingolstadt's tally is lower than all bar Darmstadt.
There is no mystery as to how Sunday's German Bundesliga game between Stuttgart and Ingolstadt is likely to play out tactically. Ingolstadt will probably set out to frustrate Stuttgart and take whatever chances that it can generate from counter attacks. One expects Stuttgart to have many sights of Ingolstadt's goal and one is willing to take a punt on the Reds finally making the most of their shots.
The only negative about backing Stuttgart is that, sadly, several bookmakers have clocked on to the likelihood that the Reds are not German Bundesliga relegation fodder. One can get odds of 1.80Bet €100 to win €1804/5Bet £100 to win £180-125Bet $100 to win $1800.80Bet HK$100 to win HK$180-1.25Bet Rp100 to win Rp1800.8000Bet RM100 to win RM180 with William Hill about a Stuttgart success, though, and that rates as a sound investment.
Sticking with Sunday's German Bundesliga game between Stuttgart and Ingolstadt and, closer to kick-off time, it may be worth investigating the various cards markets because the sides are two of the competition's most ill disciplined.
Stuttgart has collected 23 yellow cards and two red cards in its eight German Bundesliga matches, making it comfortably the division's worst behaved team. Stuttgart's four German Bundesliga home games have seen the Reds pick up 15 yellow cards and one red card to rank top of that ladder as well.
Overall, Ingolstadt's German Bundesliga disciplinary record stands at 20 yellow cards, a competition-leading 13 of which it has earned on its travels. One will not know who will be the referee of Sunday's German Bundesliga match between Stuttgart and Ingolstadt until later this week but one will be tracking down the official's data to see if he likes a card as much as the two sides. Clearly there is potential for a bet on a lot of cards points and/or a sending off.
Finally, 10 and a half corner kicks is the general line that bookmakers use for German Bundesliga games and one likes the chance of Friday's match between Mainz and Dortmund going under it. The game will mark Dortmund coach Thomas Tuchel's return to Mainz but, rather than bet on the headline result, one prefers to get stuck into one of the popular exotics.
None of Dortmund's eight German Bundesliga games has gone over 10 and a half corner kicks and only once have BVB taken more than five corners of their own. Half of Mainz's eight German Bundesliga matches have gone under 10 and a half corner kicks, including its home game versus Bayern Munchen in which there were a total of seven such set pieces.
Both of last term's German Bundesliga matches between Mainz and Dortmund went under 10 and a half corner kicks – eight in Mainz and 10 in Dortmund – so there are head-to-head statistics to support this season's corners numbers.
Tips Summary
Stuttgart to beat Ingolstadt
18th October 16:30 GMT
Odds: 1.80Bet €100 to win €1804/5Bet £100 to win £180-125Bet $100 to win $1800.80Bet HK$100 to win HK$180-1.25Bet Rp100 to win Rp1800.8000Bet RM100 to win RM180
Stuttgart v Ingolstadt – Overs in Cards Market
18th October 16:30 GMT
Odds: TBC
Mainz v Dortmund – Unders in Corners Market
16th October 19:30 GMT
Odds: TBC
dortmund
German Bundesliga
Ingolstadt
Mainz
Stuttgart
Thomas Tuchel