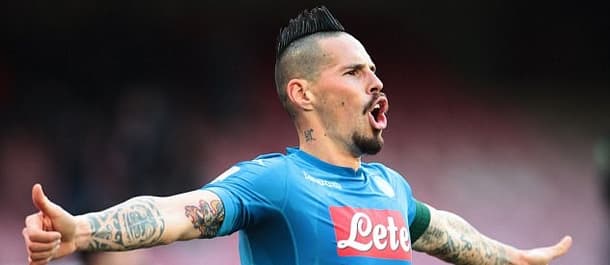 Italian Serie A leader Napoli features in the 21st round opener and one rates the Partenopei worthy of support at odds greater than even money to win at Atalanta on Sunday.
Napoli fought back from 0-1 down to beat Atalanta 3-1 in the reverse Italian Serie A fixture in what was the second of the Partenopei's eight consecutive victories to kick off their championship campaign. Napoli is 16-3-1 after 20 Italian Serie A rounds and, while its inability to defeat either second-ranked Juventus or third-ranked Internazionale at home during the first half of the season calls into question its title credentials, one is confident that the Partenopei are much better than seventh-ranked Atalanta.
According to one's Italian Serie A collateral form analysis, Napoli enjoys a 13-2-4 advantage over Atalanta but there is considerably more to those numbers than meets the eye. Napoli has fared better than Atalanta against each of the five teams stuck between them on the Italian Serie A ladder, which is a very good indicator that the Partenopei are operating at a different, higher level than the Goddess. The leaders can take three points at odds of 2.05 with BetVictor.
You will struggle to find two more evenly matched teams than Sassuolo and Torino so one is all over the draw in Sunday's game between the Black and Greens and the Maroons at 3.2 with 888Sport.
Sassuolo is five rungs and seven points below Torino on the Italian Serie A ladder but, according to one's collateral form analysis, there is very little between the sides with the Maroons boasting the most marginal of edges due to their superior head-to-head record. Sassuolo and Torino are tied on 6-7-6 based on one's Italian Serie A collateral form data, with the Maroons registering a 3-0 home win in the reverse fixture, albeit with two relatively late goals.
Torino has not lost to any Italian Serie A team ranked lower than eighth so the Maroons should line up versus 15th-ranked Sassuolo with a degree of confidence. One toyed with the idea of backing Torino on the double-chance line but one thinks that the main betting market is wrong, with the biggest error being the odds available about the draw.
For one's third Italian Serie A pick it was a toss-of-a-coin job between Bologna and Sampdoria. Bologna is more than fairly priced to earn three Italian Serie A points from its home match against Benevento but BetVictor are offering outrageous odds of 3.0 about Sampdoria beating Fiorentina in Genoa on Sunday so one is going to nominate Samp instead.
Sixth-ranked Sampdoria won 2-1 at ninth-ranked Fiorentina in the reverse Italian Serie A fixture and, according to one's collateral form analysis, Samp and the Purples are tied on 9-0-9. At worst, Sampdoria should be trading at odds of around 2.20 , which is the generally accepted price for a home side in a clash between equally talented teams. That some bookmakers are quoting shorter odds about Fiorentina than Sampdoria does not make any sense whatsoever.
Below are one's Italian Serie A collateral form numbers for all of the upcoming round's 10 matches.
Atalanta 4-2-13
Bologna 12-6-1
Lazio 13-2-3
Sampdoria 9-0-9
Sassuolo 6-7-6
Udinese 9-6-3
Verona 7-6-6
Cagliari 7-4-8
Internazionale 8-3-8
Juventus 15-4-0
Tips Summary
Napoli to beat Atalanta
Sunday 21st January, 11:30 GMT
Odds: 2.05
Sassuolo and Torino to draw
Sunday 21st January, 14:00 GMT
Odds: 3.2
Sampdoria to beat Fiorentina
Sunday 21st January, 14:00 GMT
Odds: 3.0
Napoli
Sampdoria
Sassuolo
Serie A
Torino