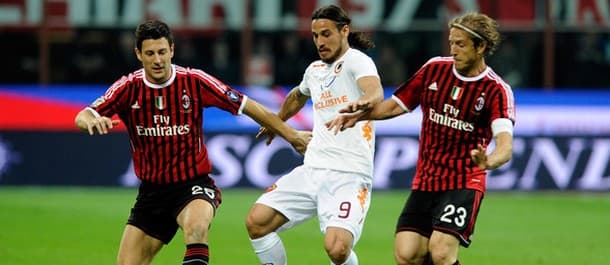 It is getting to the decidedly difficult bit of the Italian Serie A season in which to bet confidently because one is not sure as to the motives of the sides taking part.
For example, Juventus would be a home banker versus Cagliari at most junctures of an Italian Serie A season but, with the title in Juve's back pocket, a UEFA Champions League return match against Real Madrid around the corner and the underdog fighting for its life at the foot of the divisional ladder, enthusiasm for the home team at short odds is low. Indeed, one could understand why some speculative punters may back Cagliari in light of reports that Juventus plans to field a second-string side for a game that means nothing to it.
Perhaps the best bet on the Italian Serie A coupon is under two and a half goals in Saturday's match between Milan and Roma, an option that is available at odds of 1.91Bet €100 to win €19191/100Bet £100 to win £191-110Bet $100 to win $1910.91Bet HK$100 to win HK$191-1.10Bet Rp100 to win Rp1910.9100Bet RM100 to win RM191 with many bookmakers, including Totesport and WilliamHill.
Most of Roma's Italian Serie A games have been light on for goalmouth incident. Twenty-three of Roma's 34 Italian Serie A matches have gone under two and a half goals, a 67.65 per cent strike rate that only Chievo has bettered. Eleven of Roma's 17 Italian Serie A away matches have gone under two and a half goals, with the same numbers applying to Milan and its home games. There is no way that under two and a half goals should be close to over two and a half goals in the betting on the San Siro match but that is the reality of the situation. Other ticks for the bet include that Milan's Italian Serie A top scorer, Jeremy Menez, is suspended and Roma would probably take a draw if one was offered to it.
The next most appealing investment on what is an uninspiring Italian Serie A card is Chievo at odds of 1.67Bet €100 to win €16767/100Bet £100 to win £167-149Bet $100 to win $1670.67Bet HK$100 to win HK$167-1.49Bet Rp100 to win Rp1670.6700Bet RM100 to win RM167 with SkyBet on the draw-no-bet market for its derby versus Verona on Sunday. The things that make one list Chievo as a decent draw-no-bet punts are the result of the fixture Italian Serie A fixture and Verona's major disciplinary issues.
Chievo beat Verona 1-0 when the city rivals met in Italian Serie A just before Christmas, Alberto Paloschi scoring the only goal of the game in the 81st minute. Verona's chance of avenging its Italian Serie A derby defeat five months later have been hit by not one, not two but three untimely bans, with Leandro Greco, Rafael Marquez and Jacopo Sala barred from Sunday's local argument for various misdemeanours.
Finally, if one is looking for a safe Italian Serie A bet in the 35th round of matches, Napoli should land odds of 1.36Bet €100 to win €1369/25Bet £100 to win £136-278Bet $100 to win $1360.36Bet HK$100 to win HK$136-2.78Bet Rp100 to win Rp1360.3600Bet RM100 to win RM136 with Coral when it plays relegated Parma on Sunday in a game that matters just to one side.
Back-to-back 0-4 losses to Lazio and Cagliari suggest that Parma has finally given up caring about its Italian Serie A performances, whereas Napoli is keen to qualify for the UEFA Champions League via its domestic competition so that it can play in the UEFA Europa League without that extra pressure. Napoli is four points adrift of third-placed Lazio on the Italian Serie A ladder but the teams will meet in the final round and Rafa Benitez's side boasts a head-to-head edge over its rival, which is the first tie-breaker. Napoli beat Parma 2-0 with two first-half goals when the teams fought over Italian Serie A points earlier in the season.
Tips Summary
Milan v Roma Under 2.5 goals
9th May 19:45 GMT
Odds: 1.91Bet €100 to win €19191/100Bet £100 to win £191-110Bet $100 to win $1910.91Bet HK$100 to win HK$191-1.10Bet Rp100 to win Rp1910.9100Bet RM100 to win RM191
Where to Bet: Totesport, WilliamHill
Chievo draw-no-bet versus Verona
10th May 11:30 GMT
Odds: 1.67Bet €100 to win €16767/100Bet £100 to win £167-149Bet $100 to win $1670.67Bet HK$100 to win HK$167-1.49Bet Rp100 to win Rp1670.6700Bet RM100 to win RM167
Where to Bet: SkyBet
Napoli to beat Parma
10th May 17:00 GMT
Odds: 1.36Bet €100 to win €1369/25Bet £100 to win £136-278Bet $100 to win $1360.36Bet HK$100 to win HK$136-2.78Bet Rp100 to win Rp1360.3600Bet RM100 to win RM136
Where to Bet: Coral
Italian Serie A
Jacopo Sala
Jeremy Menez
Juventus
Leandro Greco
Rafael Marquez