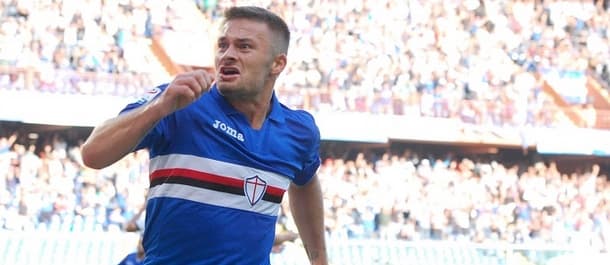 The ninth round of Italian Serie A will kick off on Saturday when Sampdoria hosts Crotone and one thinks that the former rates as the best bet on the division's weekend program.
Sampdoria has posted four wins in its four home games across all competitions this term and its victims include Milan and Atalanta, two teams that should finish well above Crotone on the Italian Serie A when the season ends in May. Sampdoria and Crotone have encountered five of the same Italian Serie A sides – Torino, Milan, Atalanta, Verona and Benevento – and, according to one's collateral form analysis, Samp holds a 4-0-1 lead over Crotone. Furthermore, it is worth noting that Sampdoria outperformed Crotone versus all bar Benevento and that is the least important Italian Serie A collateral form line because the Wizards are the cellar dwellers.
Whereas Crotone has won just one of its eight Italian Serie A matches, Sampdoria has lost just one and it had excuses – Samp conceded three penalties in the 0-4 loss at Udinese. It was a remarkable 90 minutes for Sampdoria, one from which it bounced back with a 3-1 home victory over Atalanta. Back the home side at 1.57Bet €100 to win €15757/100Bet £100 to win £157-175Bet $100 to win $1570.57Bet HK$100 to win HK$157-1.75Bet Rp100 to win Rp1570.5700Bet RM100 to win RM157 with Bet365 and 888Sport.
The derby factor puts one off getting involved in Sunday's Italian Serie A game between Chievo and Verona even though there is a decent collateral form argument for backing the Flying Donkeys to get the better of Hellas. That reluctance to take a position in a local argument leaves one to wager on Sunday's Italian Serie A matches featuring Benevento against Fiorentina and SPAL versus Sassuolo.
Benevento is a big price of 2.38Bet €100 to win €23869/50Bet £100 to win £238+138Bet $100 to win $2381.38Bet HK$100 to win HK$2381.38Bet Rp100 to win Rp238-0.7246Bet RM100 to win RM238 with BetVictor to get something out of its Italian Serie A home game against Fiorentina given how the Wizards and the Purples have performed in matches versus identical opponents. Internazionale, Sampdoria, Bologna and Verona are the four Italian Serie A teams that have each encountered Benevento and Fiorentina and it may come as a surprise to some punters that the Wizards enjoy a 3-0-1 collateral form edge over the Purples, Yes, that is correct – Benevento has performed better than Fiorentina in their respective Italian Serie A games versus Internazionale, Sampdoria and Bologna.
One does not dispute that Benevento is likely to drop out of Italian Serie A at the end of its first campaign among the elite but the Wizards are overpriced to break their points duck with either a win or draw against Fiorentina.
SPAL is above Sassuolo on the Italian Serie A ladder on goal difference and the former boasts a collateral form advantage over the latter yet bookmakers are betting as though the home side is slightly inferior to its weekend guest.
Lazio, Bologna and Cagliari have each lined up versus SPAL and Sassuolo in Italian Serie A and one's pick has fared better than the Black and Greens in two of its three assignments. That Sassuolo is challenging SPAL for favouritism is something that does not make sense, and the latter are good value at 2.62Bet €100 to win €26281/50Bet £100 to win £262+162Bet $100 to win $2621.62Bet HK$100 to win HK$2621.62Bet Rp100 to win Rp262-0.6173Bet RM100 to win RM262 with BetVictor.
Tips Summary
Sampdoria to beat Crotone
Saturday 21st October, 17:00 GMT
Odds: 1.57Bet €100 to win €15757/100Bet £100 to win £157-175Bet $100 to win $1570.57Bet HK$100 to win HK$157-1.75Bet Rp100 to win Rp1570.5700Bet RM100 to win RM157
Benevento or Draw – Double chance
Sunday 22nd October, 14:00 GMT
Odds: 2.38Bet €100 to win €23869/50Bet £100 to win £238+138Bet $100 to win $2381.38Bet HK$100 to win HK$2381.38Bet Rp100 to win Rp238-0.7246Bet RM100 to win RM238
SPAL to beat Sassuolo
Sunday 22nd October, 14:00 GMT
Odds: 2.62Bet €100 to win €26281/50Bet £100 to win £262+162Bet $100 to win $2621.62Bet HK$100 to win HK$2621.62Bet Rp100 to win Rp262-0.6173Bet RM100 to win RM262
Benevento
Italian Serie A
Sampdoria
SPAL