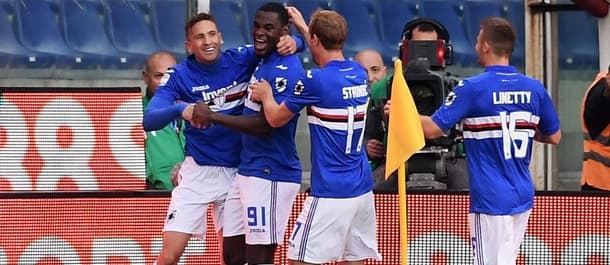 Sampdoria has not won an Italian Serie A match for the best part of a month but one thinks that it is overpriced to get back to winning ways against Sassuolo on Sunday.
Eliminated from the Italian Coppa Italia at Fiorentina in midweek, Sampdoria has not celebrated an Italian Serie A success since beating defending champion Juventus 3-2 at home. But Sampdoria's performances across the first 16 Italian Serie A rounds lead one to rate it well ahead of Sassuolo, with the difference between the teams being greater than the betting for Sunday's game suggests.
Sampdoria and Sassuolo have faced against 14 common Italian Serie A opponents and, according to one's collateral form analysis, the former enjoys a 10-0-4 advantage over the latter. Moreover, Sampdoria's Italian Serie A collateral form edge over Sassuolo is 6-0-0 when one only counts the results of matches involving at least one side on the top half of the ladder. So Sampdoria has earned its Italian Serie A collateral form lead over Sassuolo by outperforming the Black and Greens versus the division's heavyweights.
Last season's corresponding Italian Serie A fixture ended 3-2 in favour of Sampdoria but Sassuolo led that game 2-0 with 83 minutes elapsed. For the sake of one's heart rate, one hopes that Sampdoria do not leave it as late as last term to get the job done against Sassuolo at odds of 1.82Bet €100 to win €18241/50Bet £100 to win £182-122Bet $100 to win $1820.82Bet HK$100 to win HK$182-1.22Bet Rp100 to win Rp1820.8200Bet RM100 to win RM182 with Jetbull.
Napoli bagged five goals in each of its Italian Serie A thumpings of Torino last term and one rates the Partenopei as worthy odds-on favourites at 1.69Bet €100 to win €16969/100Bet £100 to win £169-145Bet $100 to win $1690.69Bet HK$100 to win HK$169-1.45Bet Rp100 to win Rp1690.6900Bet RM100 to win RM169 with Jetbull for their Saturday assignment versus the Maroons. Last season, Napoli smashed Torino 5-3 at home in December before the Partenopei pummelled the Maroons 5-0 on the road in May – Dries Mertens hit five goals in two of his team's best displays of its campaign.
This term, according to one's Italian Serie A collateral form analysis, Napoli holds a 10-2-2 advantage over Torino and, therefore, the odds available about a Partenopei away win over the Maroons are bigger than they should be. Torino is 1-6-3 in its 10 Italian Serie A matches versus sides in the top 12, whereas Napoli is 7-1-0 in its road games.
Fiorentina is one's third and final Italian Serie A pick at 1.58Bet €100 to win €15829/50Bet £100 to win £158-172Bet $100 to win $1580.58Bet HK$100 to win HK$158-1.72Bet Rp100 to win Rp1580.5800Bet RM100 to win RM158 with ComeOn because one's collateral form analysis indicates that there is a significant gulf in quality between the Purples and Genoa, which will clash in Florence on Sunday.
Fourteen Italian Serie A teams have lined up against both Fiorentina and Genoa and, according to one's detailed number crunching, the Purples enjoy a 9-2-3 lead over the Red and Blues. Fiorentina really ought to have won last season's corresponding Italian Serie A fixture because it led 2-0 after 56 minutes and 3-2 after 84 minutes before Filippo Bernardeschi conceded a penalty kick and received his marching orders prior to Genoa's draw-earning equaliser.
Below are one's Italian Serie A collateral form figures for all 10 games in the 17th round of the championship so you can see the data for yourself and use it accordingly.
Internazionale 10-2-2
Torino 2-2-10
Roma 8-4-1
Verona 3-3-8
Bologna 2-2-10
Crotone 1-4-9
Fiorentina 9-2-3
Sampdoria 10-0-4
Benevento 3-3-8
Atalanta 3-2-8
Tips Summary
Sampdoria to beat Sassuolo
Sunday 17th December, 14:00 GMT
Odds: 1.82Bet €100 to win €18241/50Bet £100 to win £182-122Bet $100 to win $1820.82Bet HK$100 to win HK$182-1.22Bet Rp100 to win Rp1820.8200Bet RM100 to win RM182
Napoli to beat Torino
Saturday 16th December, 17:00 GMT
Odds: 1.69Bet €100 to win €16969/100Bet £100 to win £169-145Bet $100 to win $1690.69Bet HK$100 to win HK$169-1.45Bet Rp100 to win Rp1690.6900Bet RM100 to win RM169
Fiorentina to beat Genoa
Sunday 17th December, 14:00 GMT
Odds: 1.58Bet €100 to win €15829/50Bet £100 to win £158-172Bet $100 to win $1580.58Bet HK$100 to win HK$158-1.72Bet Rp100 to win Rp1580.5800Bet RM100 to win RM158
Fiorentina
Napoli
Sampdoria
Serie A