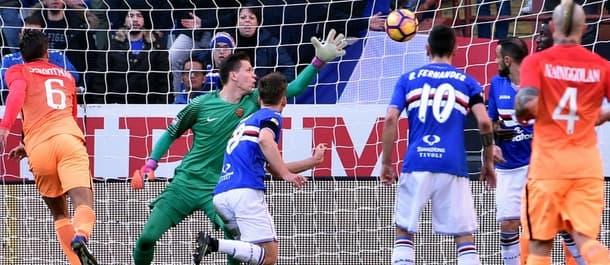 It is two months until Christmas but Chievo are off one's card recipient list after its heavy home loss to Milan in midweek and one is hoping that the Flying Donkeys suffer their second Italian Serie A loss in five days.
Chievo crashed to a 1-4 Italian Serie A home defeat versus Milan on Wednesday, a result that is sure to have knocked the confidence of the Flying Donkeys. Next up for Chievo is an Italian Serie A trip to Sampdoria on Sunday and Samp are coming off a much more respective outcome against a San Siro tenant having lost 2-3 at Internazionale in midweek.
Only two points split Sampdoria and Chievo on the Italian Serie A ladder and the championship standings are in line with the betting market on the match. But, according to one's Italian Serie A collateral form analysis, there is somewhat more of a difference between Sampdoria and Chievo. Fiorentina, Milan, Atalanta, Udinese and Verona are the five Italian Serie A teams which have encountered both Sampdoria and Chievo and one's review of those results leads one to rate Samp as holding a 3-1-1 edge over the Flying Donkeys. Furthermore, Sampdoria has outperformed Chievo in their respective Italian Serie A games versus Fiorentina, Milan and Atalanta – the three highest ranked of their foes. Back the home side at 2.05Bet €100 to win €20521/20Bet £100 to win £205+105Bet $100 to win $2051.05Bet HK$100 to win HK$2051.05Bet Rp100 to win Rp205-0.9524Bet RM100 to win RM205 with BetVictor.
Fiorentina made it three Italian Serie A wins on the spin when it posted a 3-0 home victory over Torino on Wednesday and one fancies the Purples to extend their divisional streak to four triumphs when they visit Crotone on Sunday at 1.72Bet €100 to win €17218/25Bet £100 to win £172-139Bet $100 to win $1720.72Bet HK$100 to win HK$172-1.39Bet Rp100 to win Rp1720.7200Bet RM100 to win RM172 with Bet365.
Last season's corresponding Italian Serie A fixture was the most recent clash between Fiorentina and Crotone and it ended in a 1-0 away win for the Purples. Fiorentina is seventh on the Italian Serie A ladder – 10 points and 10 rungs above Crotone – and, according to one's collateral form analysis, the Purples are not flattered by their handsome lead over the Pythagoreans. Both Fiorentina and Crotone have lined up against Internazionale, Sampdoria, Atalanta, Torino, Verona and Benevento in Italian Serie A action and the Purples boast a 5-0-1 advantage over the Pythagoreans, which is significant. Crotone has beaten just Italian Serie A cellar dweller Benevento in its 10 league matches and the Pythagoreans have failed to score a goal in their four games versus sides ranked in the top eight.
One's third and final Italian Serie A pick is Genoa, which is attractively priced at 2.60Bet €100 to win €2608/5Bet £100 to win £260+160Bet $100 to win $2601.60Bet HK$100 to win HK$2601.60Bet Rp100 to win Rp260-0.6250Bet RM100 to win RM260 with BetVictor to pull away from the relegation zone courtesy of a Sunday success at lower ranked SPAL.
The Italian Serie A fixture computer spat out similar starts for Genoa and SPAL. In the first 10 Italian Serie A rounds, both Genoa and SPAL faced Napoli, Internazionale, Juventus, Lazio, Milan, Bologna, Udinese, Cagliari and Sassuolo. The Italian Serie A schedule makes it relatively simple to line up Genoa and SPAL and, according to one's collateral form analysis, the Red and Blues enjoy a 5-2-2 lead over the White and Blues. Bookmakers are listing Genoa as the favourite for Sunday's Italian Serie A match but one thinks that the Red and Blues are insufficiently short odds. There is no head-to-head form to include in one's deliberations because SPAL is back in Italian Serie A for the first time since 1968 – the White and Blues have been bankrupt twice following their most recent top-flight campaign.
Tips Summary
Sampdoria to beat Chievo
Sunday 29th October, 14:00 GMT
Odds: 2.05Bet €100 to win €20521/20Bet £100 to win £205+105Bet $100 to win $2051.05Bet HK$100 to win HK$2051.05Bet Rp100 to win Rp205-0.9524Bet RM100 to win RM205
Fiorentina to beat Crotone
Sunday 29th October, 14:00 GMT
Odds: 1.72Bet €100 to win €17218/25Bet £100 to win £172-139Bet $100 to win $1720.72Bet HK$100 to win HK$172-1.39Bet Rp100 to win Rp1720.7200Bet RM100 to win RM172
Genoa to beat SPAL
Sunday 29th October, 14:00 GMT
Odds: 2.60Bet €100 to win €2608/5Bet £100 to win £260+160Bet $100 to win $2601.60Bet HK$100 to win HK$2601.60Bet Rp100 to win Rp260-0.6250Bet RM100 to win RM260
Chievo
Fiorentina
Genoa
Sampdoria
Serie A