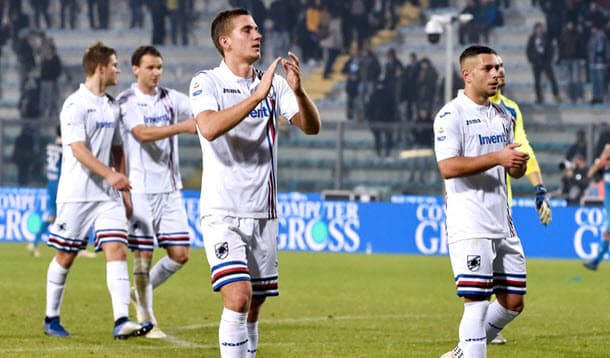 Sampdoria v Chievo – 26th December – 14:00 BST
Sampdoria's Italian Serie A victory at Empoli filled our Christmas stockings with cash and Samp can provide us with money to spend in the post-Christmas sales by getting the better of cellar dweller Chievo on Boxing Day.
Trailing Empoli for most of the first half, Sampdoria hit back to post 4-2 road win and extend its unbeaten run to six games across all competitions. Sampdoria was over its true odds to prevail on Saturday and bookmakers do not appear to have learned their lessons because Samp are attractively priced to become the 10th Italian Serie A side to defeat Chievo, which is winless and anchored to the bottom.
Italian Serie A expected points say Sampdoria's sixth spot is higher than its 17 performances have deserved but there is alternative statistical data that supports Samp being worthy of betting support versus Chievo. According to one's Italian Serie A collateral form analysis, Sampdoria and Chievo have faced 16 common teams and Samp enjoys a big 12-1-3 lead over the Flying Donkeys, including progressive counts of 6-0-1 and 10-0-3. One expected Sampdoria to be well into odds-on territory at 1.80 with Black Type and last term's corresponding Italian Serie A fixture resulted in a 4-1 Samp success.
TOP TIP! – Sampdoria to beat Chievo @ 1.80
Get the best odds in the Italian Serie A with our selected bookmakers below.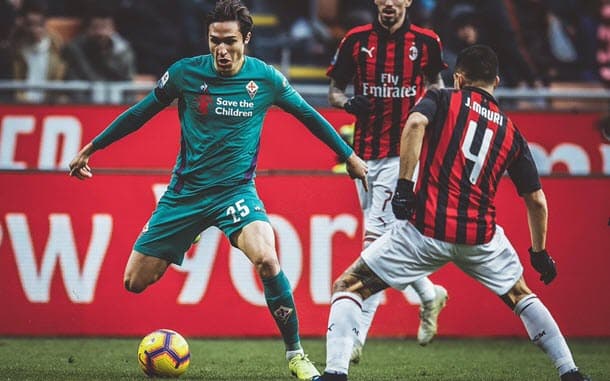 Fiorentina to beat Parma – 26th December – 14:00 BST
TOP TIP! – Fiorentina to beat Parma @ 1.62
Parma's time mixing it with the big boys on the top half of the Italian Serie A ladder is over and one can see the promoted side losing at Fiorentina on Boxing Day at 1.62 with Black Type.
Fiorentina is up to seventh on the Italian Serie A ladder following back-to-back victories over Empoli and Milan, whereas Parma has slid down to 12th after failing to win since edging Sassuolo 2-1 five matches ago. According to one's Italian Serie A collateral form analysis, Fiorentina boasts an imposing 11-1-4 advantage over Parma, including progressive counts of 4-0-2 and 5-1-2. Breaking into the UEFA Champions League qualification positions is probably beyond Fiorentina because the Purples are 0-4 against the current Italian Serie A top four teams but they have taken care of business versus most of the sides below them on the ladder – indeed, they are 5-6-0 against lower ranked foes.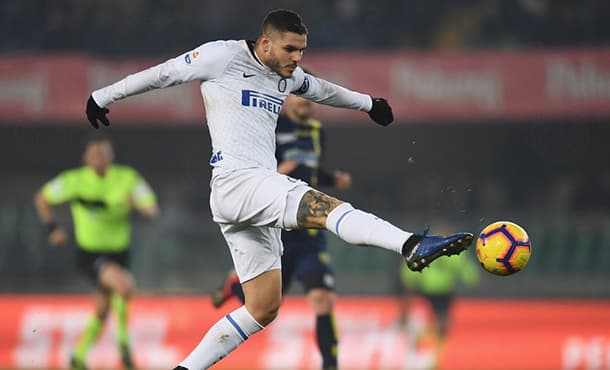 Internazionale v Napoli – 26th December – 19:30 BST
TOP TIP! – Internazionale to beat Napoli @ 2.71
A few teams were in the mix to be one's third and final Italian Serie A pick on Boxing Day but, eventually, one settled on Internazionale in the match of the round at 2.71 with Black Type.
Bookmakers are struggling to split Internationale and Napoli but, with the Black and Blues enjoying home advantage in the clash between Italian Serie A's third- and second-ranked sides, one cannot understand why they are not much shorter than the Partenopei in global markets. According to one's Italian Serie A collateral form analysis, Internazionale enjoys a 7-3-6 edge over Napoli but the former's lead over the latter is 3-2-0 when only their respective results versus Juventus, Lazio, Milan, Sampdoria and Fiorentina count. Not all collateral form data is equal and clearly there is more value in playing well against the division's heavyweights than scoring easy goals and points versus the teams fighting to avoid dropping into the second tier.
COLLATERAL FORM FIGURES
Frosinone 1-3-12
Atalanta 4-3-9
Bologna 1-6-9
Cagliari 6-6-4
Fiorentina 11-1-4
Sampdoria 12-1-3
Roma 8-3-5
SPAL 5-4-7
Torino 8-6-2
Internazionale 7-3-6
Feel free to us know what you think of our tips. Click the button below and Share on Facebook or Twitter and tell us if you agree or disagree with our selections!
Chievo
Fiorentina
Inter Milan
Italian Serie A
Napoli
Parma
Sampdoria