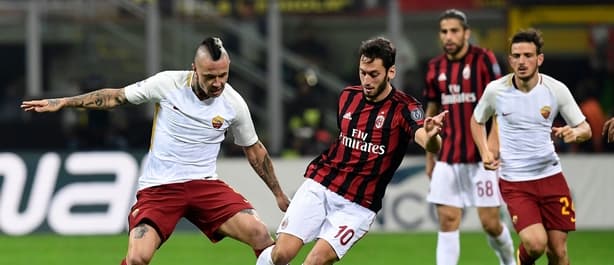 Roma represents the best betting opportunity in the 26th round of Italian Serie A matches because it hosts a Milan team that owes its relatively good position on the ladder to its strong results against most of the league's weak sides.
The beauty of one's collateral form analysis approach to assessing teams is that, from time to time, it flags what would not be obvious to someone simply looking at the raw ladder. Milan is seventh on the Italian Serie A ladder and it is just nine points worse off than third-ranked Roma so, to the casual observer, Roma is entitled to favouritism for their Sunday clash in the capital but the Yellow and Reds do not constitute great value at a shade of odds on. But dig a little deeper and you find that Milan is 0-0-4 away to higher ranked Italian Serie A opponents, it has not beaten any of the top 13 on the road and even its home numbers are being boosted by its wins over the division's lightweights.
According to one's Italian Serie A collateral form analysis, Roma holds only a marginal 10-2-7 advantage over Milan and that, on its own, would be sufficient not to go crazy about odds of slightly shorter than even money about the Yellow and Reds winning Sunday's game. But Roma's progressive Italian Serie A collateral form edge over Milan stood at 8-2-2 before one too far down the ladder when number crunching, with the Red and Blacks closing the gap on the Yellow and Reds because of their respective results versus the likes of Chievo, Crotone and SPAL. Sorry, but results against the Italian Serie A's top sides are more important and Roma won 2-0 at Milan in October's reverse Italian Serie A fixture so the Yellow and Reds are worthy headliners at odds of 1.9 with BetVictor.
Sampdoria has a score to settle with Udinese on Sunday following the Italian Serie A match between the teams in September that the former lost 0-4 chiefly because of its ill-discipline. One is ignoring that result and focusing on Sampdoria's considerable Italian Serie A collateral form lead over Udinese, which stands at 13-0-6 including progressive counts of 4-0-0 and 9-0-2 as one worked one's way down the ladder – for example, Samp has outperformed the Little Zebras in their respective games versus the top four sides. Only Italian Serie A title contenders Napoli and Juventus have won more league home matches than Sampdoria this season so Samp are very good in their own stadium and worth backing at 1.96 with 888Sport.
Both Internazionale and Napoli should justify short odds but one's third and final Italian Serie A selection is Juventus to get the better of Atalanta at odds of 1.38 with 888Sport.
Juventus threw away its 2-0 lead in October's reverse Italian Serie A fixture but the Old Lady boasts a 14-4-1 collateral form edge over Atalanta so one does not expect them to be so benevolent on Sunday.
Below are one's Italian Serie A collateral form figures for all 10 Italian Serie A games taking place this weekend.
Bologna 7-2-10
Internazionale 17-1-1
Crotone 8-3-7
Fiorentina 13-5-1
Sampdoria 13-0-6
Sassuolo 3-3-13
Verona 5-3-11
Juventus 14-4-1
Roma 10-2-7
Cagliari 1-2-16
Tips Summary
Roma to beat AC Milan
Sunday 25th February, 19:45 GMT
Odds: 1.9
Sampdoria to beat Udinese
Sunday 25th February, 14:00 GMT
Odds: 1.96
Juventus to beat Atalanta
Sunday 25th February, 17:00 GMT
Odds: 1.38
Juventus
Milan
Roma
Sampdoria
Serie A