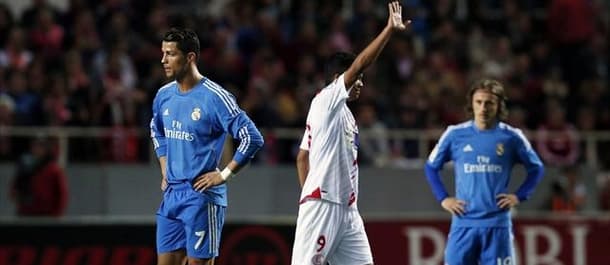 Sevilla is throwing down the gauntlet to Real Madrid and Barcelona in the Spanish Primera Division title race and, therefore, an away win over Osasuna on Sunday should be within the capabilities of the Red and Whites.
The difference between the top and bottom of the Spanish Primera Division ladder is much greater than in, say, the English Premier League and, whereas Sevilla is challenging for honours, Osasuna is striving to get away from trouble.
Osasuna lucked out in securing promotion to the Spanish Primera Division following what was a mediocre season in Spain's second tier. Osasuna has won just one of its 18 Spanish Primera Division games – 3-2 at Eibar in October – and the Reds have proven no match for the league's leading teams, losing by two or more goals to Real Madrid, Barcelona, Atletico Madrid, Sociedad and Villarreal.
Sevilla has gone a long way to proving to Spanish Primera Division punters that it does not suffer from travel sickness anymore. Sevilla is 4-3-2 on the road in the Spanish Primera Division, including handing out thumping defeats without reply to Sociedad and Celta. Osasuna could only dream of such Spanish Primera Division away results.
Eighteen rounds into the Spanish Primera Division and this upcoming set of fixtures completes the first half of the program. Sevilla and Osasuna have had 18 common Spanish Primera Division foes and, according to one's collateral form analysis, the Red and Whites hold a 15-0-3 lead over the Reds. Collateral form edges do not get much bigger.
Twelve months ago, the thought of backing Sevilla at odds of 1.57 with Betfred to win a Spanish Primera Division road match would have sent chills down the spines of even the most fearless punters. But Sevilla deserves to be even shorter odds to get the better of Osasuna because of the enormous gulf in quality between this weekend's rivals.
Las Palmas is yet to taste defeat at home in the Spanish Primera Division and bookmakers are accommodating punters with attractive odds for the Yellows to defeat Deportivo in the opening game of the 19th round of championship matches.
According to one's Spanish Primera Division collateral form number crunching, Las Palmas merits its higher position on the ladder than Deportivo because the Yellows boast a 7-6-5 advantage over Super Depor. But one is willing to go to town on the respective Spanish Primera Division home and away results of Las Palmas and Deportivo. Las Palmas is 5-4-0 at home in the Spanish Primera Division and it is 10th on the ladder despite having had to visit five of the top half a dozen sides. Deportivo is 0-4-5 on its Spanish Primera Division travels, generally losing to top-half teams and earning hard-fought draws against bottom-half sides.
Marathonbet is offering odds of 2.10 about the Spanish Primera Division round kicking off with another Las Palmas home victory, odds that appear a few rolls too generous.
Finally, if Saturday's Spanish Primera Division encounter between Villarreal and Valencia was not a derby then surely the Yellow Submarine would be considerably shorter odds than the 1.96 on offer from one's good friends at Marathonbet.
Villarreal and Valencia have run into 17 identical Spanish Primera Division teams and, according to one's collateral form analysis, the Yellow Submarine lead the Bats 10-5-2.
The Spanish Primera Division ladder is not telling lies about the relative strengths and weaknesses of Villarreal and Valencia: the former is contending for a place at the UEFA Champions League table again, not least because it has not lost any of its blockbuster games, whereas the latter is one rung above the relegation zone having lost each of its eight matches against sides in the top 10 positions.
Tips Summary
Sevilla to beat Osasuna
Sunday 22nd January, 11:00 GMT
Odds: 1.57
Las Palmas to beat Deportivo
Friday 20th January, 19:45 GMT
Odds: 2.1
Villarreal to beat Valencia
Saturday 21st January, 19:45 GMT
Odds: 1.96
La Liga
Las Palmas
Primiera Division
Sevilla
Villarreal