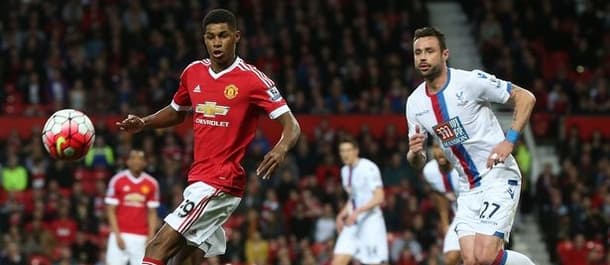 The first English FA Cup final between Crystal Palace and Manchester United was a classic but one is not expecting a repeat of the 1990 match in which Ian Wright came off the substitutes bench to score a couple of cracking goals.
Twenty-six years ago there were four goals in normal time and another two goals in extra time but this term's English FA Cup final is likely to be short on goals because of the manner in which Manchester United and Crystal Palace are likely to approach the game. One thinks that Manchester United will dominate possession but that Red Devils boss Louis van Gaal will instruct his team's wide defenders not to bomb forward because of the threat that Crystal Palace poses on the counter attack. One thinks that Crystal Palace will fancy its chance of frustrating Manchester United and either nicking a goal from a fast break or a set piece.
According to one's English Premier League collateral form data, Manchester United enjoys a 13-2-4 edge over Crystal Palace so the Red Devils are entitled to their English FA Cup final favouritism. However, one is not in any rush to back a Manchester United at odds on given that the Red Devils scored only 49 goals in their 38 English Premier League matches – the 10th best record in the division. No English Premier League side conceded fewer goals than Manchester United but the Red Devils failed to qualify for the UEFA Champions League because of their poor attack.
Bookmakers are taking few chances with their odds about under two and a half goals in the English FA Cup final – just West Bromwich featured in more low-scoring English Premier League games than Manchester United and Crystal Palace were not particularly entertaining, either – but punters should get an excellent run for their money. Marathonbet are offering the best odds of 1.68 .
However, one's idea of the most attractive English FA Cup final wager is Manchester United to have more corner kicks than Crystal Palace, an option that is available at odds of 1.67 with William Hill. Manchester United took 228 corner kicks in its 38 English Premier League matches, which was nine more than Crystal Palace. Manchester United had to defend 144 corner kicks in its 38 English Premier League games, which was 78 fewer than Crystal Palace and 21 fewer than any other team. Manchester United's English Premier League corner-kick ratio was the best in the division, whereas Crystal Palace's ratio was the 10th finest.
The most recent clash between Manchester United and Crystal Palace was an English Premier League match at Old Trafford last month in which the Red Devils won the corner-kick count 10-2. One thinks that the English FA Cup final will play out more like an Old Trafford game than a Selhurst Park match so one is inclined to place more emphasis on that corner-kick count than the one that Crystal Palace won 7-3 in the reverse English Premier League fixture in October.
Finally, Mark Clattenburg will referee the English FA Cup final. Clattenburg is not an official who brandishes cards willy nilly but it is worth noting that Manchester United and Crystal Palace ranked first and second respectively in the English Premier League for fouls committed, with both sides among the worst offenders regardless of venue.
Tips Summary
Manchester United to have more corners
Saturday 21st May, 17:30 GMT
Odds: 1.67
Crystal Palace
FA Cup final
Manchester United