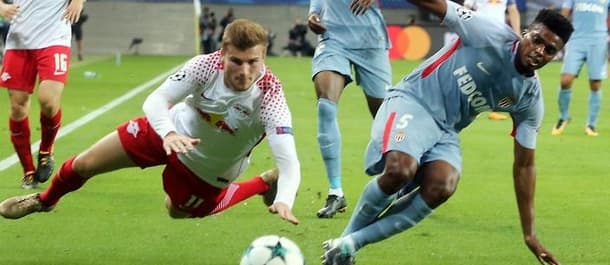 There is a midweek German Bundesliga program – the locals refer to it as the English Week because it is typical of that country's busy schedule – and one thinks the punting value lies in backing a hot team and a couple of draws.
One always leads off with one's idea of the most attractive wager and, therefore, the first German Bundesliga match to profile is Tuesday's game between Augsburg and Leipzig.
Handily, Augsburg and Leipzig have almost identical German Bundesliga records four rounds into the competition – both sides are 2-1-1 with goal differences of plus three, with the Red Bulls ahead of the Fuggerstadter simply because the former have scored one more goal than the latter.
It is early days in the German Bundesliga so collateral form is difficult by which to come but Augsburg and Leipzig have faced one common opponent this term – the Fuggerstadter drew 2-2 at home to Monchengladbach and the Red Bulls did exactly the same versus the Foals. Those results and those from last season's German Bundesliga games between Augsburg and Leipzig – a 2-2 draw in Bavaria and a 2-1 home win in Saxony – hint at the Fuggerstadter and the Red Bulls being more evenly matched than Tuesday's betting market suggests. One can accept that Leipzig is superior to Augsburg but one cannot accept that the Red Bulls are sufficiently superior to the Fuggerstadter to be trading at close to even money to win away from home. Furthermore, Leipzig's energy level is likely to be below 100 per cent given its recent heavy workload, including hosting Monaco in the UEFA Champions League. Marathonbet is offering odds of 3.64Bet €100 to win €36466/25Bet £100 to win £364+264Bet $100 to win $3642.64Bet HK$100 to win HK$3642.64Bet Rp100 to win Rp364-0.3788Bet RM100 to win RM364 about Augsburg and Leipzig drawing and remaining level on German Bundesliga points and that strikes me a bet that constitutes value.
Another German Bundesliga game in which the draw makes a lot of punting appeal is Wednesday's match between Mainz and Hoffenheim, with the option available at odds of 3.60Bet €100 to win €36013/5Bet £100 to win £360+260Bet $100 to win $3602.60Bet HK$100 to win HK$3602.60Bet Rp100 to win Rp360-0.3846Bet RM100 to win RM360 with Marathonbet – it is the outsider of the three choices.
There is a considerable gap between 15th-placed Mainz and fifth-ranked Hoffenheim on the German Bundesliga ladder but, according to one's limited collateral form analysis, the truth is that the O-Fives and Hoffe are more equal. Mainz fared better than Hoffenheim against Leverkusen in their respective German Bundesliga games this term, whereas the O-Fives fared worse than Hoffe versus Bayern Munchen. Last season, Mainz and Hoffenheim drew the corresponding German Bundesliga fixture 4-4 and, while the O-Fives lost 0-4 at Hoffe, the scoreline was 0-1 at the 80-minute mark.
Dortmund went down 1-3 at Tottenham in the UEFA Champions League but the Black and Yellows were unlucky – they had what appeared to be a legitimate goal disallowed when the match was 1-2 in favour of Spurs. Dortmund has been hot in the German Bundesliga, though, scoring 10 goals and letting in zero in beating Wolfsburg, Hertha and Koln and drawing with Freiburg. Hamburg in Hamburg is Dortmund's German Bundesliga assignment on Wednesday and the Blacks and Yellows round out one's picks at odds of 1.47Bet €100 to win €14747/100Bet £100 to win £147-213Bet $100 to win $1470.47Bet HK$100 to win HK$147-2.13Bet Rp100 to win Rp1470.4700Bet RM100 to win RM147 with BetStars – that makes it easy for multiple punters.
Both Hamburg and Dortmund have encountered German Bundesliga cellar dweller Koln, with the Red Shorts winning 3-1 on the road and the Black and Yellows winning 5-0 at home. One's collateral form calculations make Dortmund two goals better than Hamburg so the Black and Yellows deserve to be warm favourites to collect three German Bundesliga points from their visit to the Red Shorts. Last term, Dortmund thrashed Hamburg home and away in the German Bundesliga, winning 3-0 in North Rhine-Westphalia and 5-2 in the city state.
Tips Summary
Augsburg and Leipzig to draw
Tuesday 19th September, 19:30 GMT
Odds: 3.64Bet €100 to win €36466/25Bet £100 to win £364+264Bet $100 to win $3642.64Bet HK$100 to win HK$3642.64Bet Rp100 to win Rp364-0.3788Bet RM100 to win RM364
Mainz and Hoffenheim to draw
Wednesday 20th September, 19:30 GMT
Odds: 3.60Bet €100 to win €36013/5Bet £100 to win £360+260Bet $100 to win $3602.60Bet HK$100 to win HK$3602.60Bet Rp100 to win Rp360-0.3846Bet RM100 to win RM360
Dortmund to beat Hamburg
Wednesday 20th September, 19:30 GMT
Odds: 1.47Bet €100 to win €14747/100Bet £100 to win £147-213Bet $100 to win $1470.47Bet HK$100 to win HK$147-2.13Bet Rp100 to win Rp1470.4700Bet RM100 to win RM147
Augsburg
Borussia Dortmund
Bundesliga
Hoffenheim
Mainz
RB Leipzig