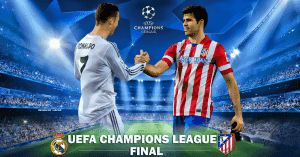 Very few punters like betting on under two and a half goals before sitting down to watch a prestigious football game but the UEFA Champions League final between Atletico Madrid and Real Madrid is likely to be a low-scoring derby affair.
The 2014 UEFA Champions League final will be the fifth time that one country has provided both teams for a decider but the first time that sides from the same city have come face to face in the championship match. Atletico Madrid will be trying to win its first European crown. Real Madrid will be attempting to be the first team to reach double digits.
Atletico Madrid coach Diego Simeone is doing his utmost to make out that Diego Costa has a chance of starting for the shock Spanish Primera Division title winner but surely the Brazil striker is long odds to recover from the hamstring injury that he sustained against Barcelona last weekend.
Costa is Atletico Madrid's key attacking player. Costa was responsible for 29 of Atletico's 71 Spanish Primera Division goals – David Villa was the next highest contributor with 13 – and he netted eight of Atletico's 22 goals en route to the UEFA Champions League final. Therefore, across those two major competitions, Costa has scored just under 40 per cent of Atletico's goals. Costa missed three of Atletico's 38 Spanish Primera Division games and, while Simeone's side accrued seven points from those matches – Celta (away), Malaga (home) and Villarreal (home) – it scored only four goals and its overall performances were unconvincing.
If, as seems likely, Atletico Madrid lines up without Costa then one expects Simeone to focus even more than usual on making life difficult for his team's opponent to get into any sort of offensive rhythm. Simeone is on the record as saying that Real Madrid may miss Xabi Alonso every bit as much as Atletico may miss Costa and, having watched the neighbours go head to head four times already this term, Atleti's straight-talking coach may have a good point.
Atletico Madrid had the better of the midfield exchanges in most of its games versus Real Madrid this season, with Atleti's central players outnumbering those of Real and making their presence felt. One can see Atletico's midfield stifling Real's midfield in the UEFA Champions League final and, while Atleti may be unable to turn their superiority into goals without Costa, they may be able to stop the favourites from getting the ball into the feet of their front three of Gareth Bale, Karim Benzema and Cristiano Ronaldo. Hence why one is keen on backing under two and a half goals at odds of 1.75 with 888sport and Bwin.
If one does want to bet on the headline result of the UEFA Champions League final then Real Madrid is the best option at odds of 1.97 with 888sport and Unibet. The fact is that Real has won two, drawn one and lost one of its four matches against Atletico Madrid this season and the game that Real lost was the one in which Costa was at his most influential, scoring the only goal at the Santiago Bernabeu in September.
Also, as good as Atletico Madrid at stopping opponents, it has only shut out Real Madrid once in this term's four city derbies and it is a tall order for any side to prevent Real scoring. Real has found the back of the net in all bar four of its 59 competitive matches this term and one could argue that it did not take two of those games – away to Olimpic de Xativa in the Spanish Copa del Rey and away to Dortmund in the UEFA Champions League – seriously because of the state of the respective ties. Real is almost impossible to stop.
Finally, because one is tipping that Real Madrid will edge Atletico Madrid in a low-scoring UEFA Champions League final then there may be some value available on the correct-score markets for 1-0 Real and 2-0 Real results. BetVictor is offering odds of 7.00 and 10.00 about those two scorelines, which represent a dutched bet opportunity of around 4.12.