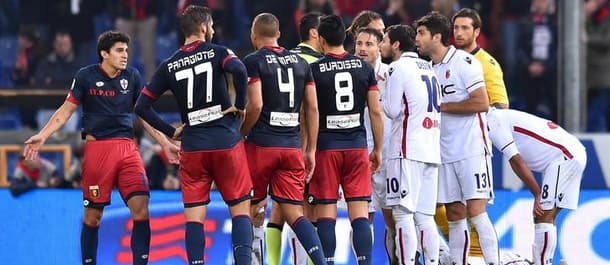 Genoa can build upon its derby draw at Sampdoria by beating relegation-threatened Crotone when the teams clash in the 32nd round of Italian Serie A matches on Saturday.
With seven round of Italian Serie A action we are nearing the point at which bookmakers start to quote strange odds about sides because some of them are stuck on the middle of the ladder whereas others are scrapping for prizes towards the top or fighting for survival towards the bottom. There must be a bit of that for Genoa to be trading at the odds that it is to get the better of Crotone this weekend.
Genoa is 11th on the Italian Serie A ladder with zero chance of either qualifying for one of UEFA club competitions or falling out of the top flight. But Genoa is seven rungs and eight points better off than Crotone and, according to one's Italian Serie A collateral form analysis, the Red and Blues deserve to have a decent gap between themselves and the wonderfully nicknamed Pythagoreans. Genoa boasts a 13-5-1 Italian Serie A collateral form advantage over Crotone and that includes an 8-0-0 lead against the division's top eight teams. Yes, for the sake of clarity, Genoa has outperformed Crotone versus each of the following Italian Serie A sides – Juventus, Napoli, Lazio, Roma, Internazionale, Milan, Fiorentina and Atalanta. Betway are quoting Genoa at 1.83Bet €100 to win €18383/100Bet £100 to win £183-120Bet $100 to win $1830.83Bet HK$100 to win HK$183-1.20Bet Rp100 to win Rp1830.8300Bet RM100 to win RM183 to beat Crotone for the second time this term – November's reverse fixture resulted in a 1-0 road win for the Red and Blues – and that is one's top pick.
Lazio crashed out of the UEFA Europa League on Thursday but what better way for the White and Sky Blues to get back on the bus than by defeating Roma in Sunday's Italian Serie A derby between the third- and fourth-ranked capital crews.
Having its biggest Italian Serie A game of the season three days after it threw away its UEFA Europea League last-eight tie against Salzburg is probably not a bad thing; the White and Sky Whites will not have time to sulk and, what is more from a punting perspective, they are definitely overpriced.
First, Lazio is ahead of Roma on the Italian Serie A ladder so one cannot comprehend how the Yellow and Reds have been installed as favourites for their official away derby. And second, one's Italian Serie A collateral form numbers back up Lazio being higher ranked than Roma. According to one's Italian Serie A collateral form analysis, Lazio enjoys a 12-2-5 edge over Roma. Lazio lost the first Rome derby of the Italian Serie A tournament 1-2 but the match turned on the penalty kick that enabled Roma to open the scoring. It is amazing that Roma is the favourite for Sunday's Italian Serie A game because most data does not support that view. Back the home side at odds of 2.88Bet €100 to win €28847/25Bet £100 to win £288+188Bet $100 to win $2881.88Bet HK$100 to win HK$2881.88Bet Rp100 to win Rp288-0.5319Bet RM100 to win RM288 with Betway.
Fiorentina is in the hunt for a UEFA Europa League berth and it appeals as a betting proposition at odds of 1.50Bet €100 to win €1501/2Bet £100 to win £150-200Bet $100 to win $1500.50Bet HK$100 to win HK$150-2.00Bet Rp100 to win Rp1500.5000Bet RM100 to win RM150 with Betway when SPAL heading to Florence on Sunday. Fiorentina is seventh on the Italian Serie A ladder and, while SPAL is unbeaten in its last six divisional matches, it remains 10 rungs and 23 points below the Purples. November's reverse Italian Serie A fixture ended 1-1 so the direct head to head favours Fiorentina and the Purples hold a 13-3-3 collateral form advantage over SPAL, which is 0-5-9 in its 14 road games versus higher ranked hosts and yet to topple a top-10 team anywhere.
Genoa to beat Crotone
Saturday 14th April, 17:00 GMT
Odds: 1.83Bet €100 to win €18383/100Bet £100 to win £183-120Bet $100 to win $1830.83Bet HK$100 to win HK$183-1.20Bet Rp100 to win Rp1830.8300Bet RM100 to win RM183
Lazio to beat Roma
Sunday 15th April, 19:45 GMT
Odds: 2.88Bet €100 to win €28847/25Bet £100 to win £288+188Bet $100 to win $2881.88Bet HK$100 to win HK$2881.88Bet Rp100 to win Rp288-0.5319Bet RM100 to win RM288
Fiorentina to beat SPAL
Sunday 15th April, 11:30 GMT
Odds: 1.50Bet €100 to win €1501/2Bet £100 to win £150-200Bet $100 to win $1500.50Bet HK$100 to win HK$150-2.00Bet Rp100 to win Rp1500.5000Bet RM100 to win RM150
Fiorentina
Genoa
Lazio
Serie A