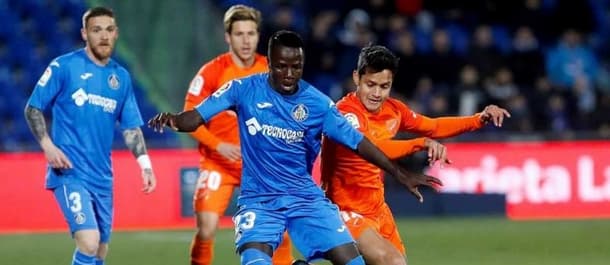 Getafe beat Leganes 2-1 on the road in September's reverse Spanish Primera Division fixture and yet bookmakers appear keen to lay the Deep Blues in Sunday's return encounter.
One of the stories of the Spanish Primera Division season is the stubborn reluctance to acknowledge the achievements of Getafe in securing a position on the top half of the ladder. Getafe is ninth-placed and, even the Deep Blues are level on 28 points alongside 11th-ranked Leganes, one thinks that this weekend's hosts are superior to their guests and that, by the end of the competition, the ladder will prove it.
According to one's Spanish Primera Division collateral form analysis, Getafe enjoys a 7-6-5 advantage over Leganes but there is more to those numbers than meets the eye. For example, Getafe's Spanish Primera Division collateral form lead over Leganes stands at 5-3-1 if one only counts the results of games featuring opponents in the top nine. And, of course, the direct Spanish Primera Division head to head favors Getafe over Leganes and quite emphatically as well. The home side are good value at 1.95Bet €100 to win €19519/20Bet £100 to win £195-105Bet $100 to win $1950.95Bet HK$100 to win HK$195-1.05Bet Rp100 to win Rp1950.9500Bet RM100 to win RM195 with BetVictor.
Sociedad and Deportivo will kick off the Spanish Primera Division round and one thinks that punters should take a punt on La Real posting a home win over Super Depor at odds of 1.55Bet €100 to win €15511/20Bet £100 to win £155-182Bet $100 to win $1550.55Bet HK$100 to win HK$155-1.82Bet Rp100 to win Rp1550.5500Bet RM100 to win RM155 with 888Sport.
Neither Sociedad nor Deportivo will be at full strength for Friday's Spanish Primera Division match in San Sebastian but it is Super Depor which has the greater number of problems, including being without Florin Andone and Celso Borges due to one-game bans. And while neither Sociedad nor Deportivo has won a Spanish Primera Division match since the turn of the year, one can point to La Real being the stronger side based on one's exclusive collateral form data. According to one's Spanish Primera Division collateral form analysis, Sociedad boasts an 11-3-5 edge over Deportivo and La Real's advantage stands at an eye-catching 6-2-0 if one just takes into account games featuring teams in the top eight. That Sociedad has outperformed Deportivo against the likes of Barcelona, Atletico Madrid and Real Madrid is a plus for fans of La Real who want to bet on their favorite side.
Sociedad smashed Deportivo 4-2 away in September's reverse Spanish Primera Division fixture and last term's match between the teams in San Sebastian ended 1-0 in favor of La Real so all kinds of data are backing up one's selections.
With bookmakers pricing up Sunday's Spanish Primera Division game between Atletico Madrid and Valencia correctly – the Mattressmakers merit hot favoritism – one is going to have a small bet on Saturday's league match between Eibar and Sevilla producing a draw and a share of the spoils at odds of 3.30Bet €100 to win €33023/10Bet £100 to win £330+230Bet $100 to win $3302.30Bet HK$100 to win HK$3302.30Bet Rp100 to win Rp330-0.4348Bet RM100 to win RM330 with 888Sport.
The raw Spanish Primera Division ladder suggests that the draw is a serious runner when eighth-placed Eibar hosts sixth-ranked Sevilla and one's collateral form analysis points to the sides being hard to split. According to one's Spanish Primera Division collateral form number crunching, Eibar holds a 7-7-5 lead over Sevilla but that seven of the 19 ratings cannot separate the teams is hard to overlook.
Eibar lost 0-3 at Sevilla in September but last season's Spanish Primera Division clash between the sides at the home of Gunners resulted in a 1-1 draw in spite of the hosts having players sent off in the 45th and 86th minutes.
Below are one's Spanish Primera Division collateral form numbers for all of the upcoming round's 10 matches.
Sociedad 11-3-5
Eibar 7-7-5
Betis 7-2-10
Alaves 6-1-12
Levante 3-3-12
Getafe 7-6-5
Espanyol 1-2-16
Girona 8-4-7
Atletico Madrid 9-2-8
Las Palmas 6-1-12
Tips Summary
Getafe to beat Malaga
Sunday 4th February, 11:00 GMT
Odds: 1.95Bet €100 to win €19519/20Bet £100 to win £195-105Bet $100 to win $1950.95Bet HK$100 to win HK$195-1.05Bet Rp100 to win Rp1950.9500Bet RM100 to win RM195
Sociedad to beat Deportivo
Friday 2nd February, 20:00 GMT
Odds: 1.55Bet €100 to win €15511/20Bet £100 to win £155-182Bet $100 to win $1550.55Bet HK$100 to win HK$155-1.82Bet Rp100 to win Rp1550.5500Bet RM100 to win RM155
Eibar and Sevilla to Draw
Saturday 3rd February, 12:00 GMT
Odds: 3.30Bet €100 to win €33023/10Bet £100 to win £330+230Bet $100 to win $3302.30Bet HK$100 to win HK$3302.30Bet Rp100 to win Rp330-0.4348Bet RM100 to win RM330
Eibar
Getafe
La Liga
Real Sociedad
Sevilla