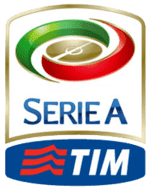 One should concentrate on Italian Serie A's relegation scrap if one wants to strike an excellent value long-term bet on the 112nd edition of the illustrious football competition.
BetVictor bookmakers are offering overly generous odds of 2.10 that Livorno, which earned its Italian Serie A place through winning last season's Italian Serie B play-offs, does not survive among the big boys. History suggests that Livorno should be a long odds-on chance to go straight back down.
Officials reintroduced promotion play-offs to Italian Serie B after the famous 2006-2007 tournament in which Juventus – Alessandro Del Piero and all – regained its top-flight status along with fellow famous teams Napoli and Genoa.
Since then five Italian Serie B play-off winners have tried their luck in Italian Serie A. Lecce was the first side to give it a crack. Lecce accompanied Chievo and Bologna into Italian Serie A for the 2008-2009 season but it finished bottom of the ladder, one point behind Reggina and seven points adrift of safety. Chievo and Bologna stayed up by the skin of their respective teeth, placing 16th and 17th.
Livorno was the next team to try and stay in Italian Serie A after securing promotion via the Italian Serie B play-offs. Like Lecce, Livorno brought up the top-flight rear, ending up two points worse than Siena and 13 points off 17th spot.
Next it was the turn of Brescia to fly the flag for the Italian Serie B play-off winners among the elite. Brescia fared better than Livorno and Lecce but its 32-point tally was sufficient for only 19th position so it went down with Bari and Sampdoria. Brescia finished eight points clear of Bari but nine points away from the safety of 17th place.
Novara stepped up to the Italian Serie A plate after being the 2010-2011 Italian Serie B play-off winner. Cesena ran away with the wooden spoon but Novara was the worst of the rest, its 32 points being ten more than the cellar dweller but 10 fewer than Genoa, which was the lowest survivor.
Last term Sampdoria snapped the cycle of Italian Serie B play-off winners being returned to sender immediately but, with all due respect to Lecce, Livorno, Brescia and Novara, the Genoa-based side was always likely to put up a stronger fight than those that had gone before it. Sampdoria is a much bigger club than Lecce, Livorno, Brescia and Novara, even its glory days are more than 20 years ago. Sampdoria, which sacked Ciro Ferrara midway through the campaign, finished 14th, 10 points above the relegation zone.
While it is no surprise to see that bookmakers have the three Italian Serie A newcomers – Sassulo, Verona and Livorno – as the three relegation favourites, it is a surprise that Livorno is trading at odds against. Most of Livorno's squad has limited Italian Serie A experience and Italian Serie B play-off winners have a poor recent record.
Anything over the 1.50 mark about Livorno being relegated from Italian Serie A would represent a value bet so do not be afraid to play if the odds of around 2.10 shrink a bit.
With regards to the Italian Serie A championship, Juventus is the obvious pick at 1.83 with Coral. Juventus made a mockery of its early pre-season form by walloping Lazio 4-0 in the Italian Supercoppa, a victory all the more impressive since it occurred in Lazio's own stadium. Juventus finished nine points ahead of Napoli and 15 points clear of Milan last term so Juve have a decent buffer on their rivals.
Juventus manager Antonio Conte has strengthened his team's squad for its title defence, with forwards Fernando Llorente and Carlos Tevez joining from Bilbao and Manchester City respectively. Juventus did not have an out-and-out goal scorer last season so if one of its new signings – most probably Tevez – can race into the Italian Serie A high teens or better then Juve will take a lot of stopping.
Napoli has recruited well and its new boss, Rafa Benitez, is an old fox but it will kick off without last term's Italian Serie A top goal scorer, Edinson Cavani, following his move to Monaco, while Milan's hopes of dethroning Juventus will, in large part, rely upon Mario Balotelli delivering the goods. Mario is always entertaining but not always super.