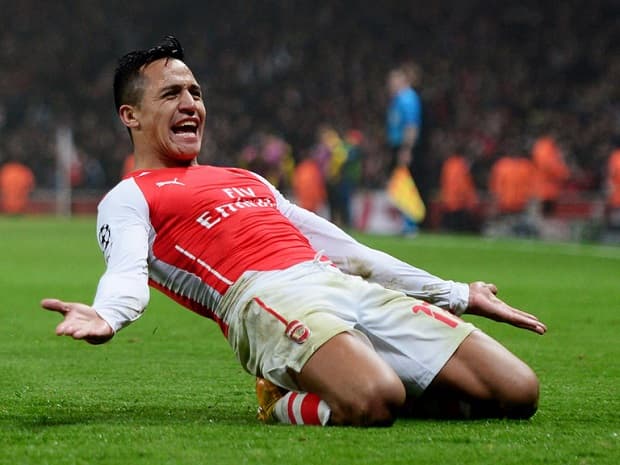 The Professional Footballer's Association Player's Player of the Year and Young Player of the Year awards are two of the most coveted prizes in the Premier League, as they are voted for by fellow players. lat year saw Luis Suarez take the Player's Player award after his sizzling form for Liverpool, while Eden Hazard took the Young Player trophy after an excellent season for Chelsea.
A certain young man from the white half of North London has played his way into favouritism for the Young Player prize this season, and Harry Kane's phenomenal rise has seen him bag 12 Premier League goals already, despite not starting the season in Spur's first eleven. Hazard is there again as his closest competitor, while David De Gea's form between the sticks at Man Utd sees him installed as third favourite. Raheem Sterling is in the running as well, although it hasn't been a sterling season for the Liverpool youngster, and a bigger threat may come from Kane's colleague at Spurs – Christian Eriksen.
There's still plenty of football to be played this season, but with Hazard having a relatively quiet year by his standards at Chelsea, the stage is set for Kane to earn recognition for the way he has burst onto the scene. Such has been his impact on the Spurs side, that he is already being talked about as an England International, and one suspects Roy Hodgson can barely contain his excitement at the prospect of calling him up. Sadly, he's been well-backed for the award already, but he looks a shoo-in and can still be backed to earn a little bit of profit.
Harry Kane – 1.44Bet €100 to win €14411/25Bet £100 to win £144-227Bet $100 to win $1440.44Bet HK$100 to win HK$144-2.27Bet Rp100 to win Rp1440.4400Bet RM100 to win RM144 with Skybet
The main award for PFA Player's Player of the Year is much more open with several contenders in with a chance, while Harry Kane is also in the running to follow in the footsteps of Christiano Ronaldo and Gareth Bale by taking both prizes in the same year. Let's look at the players at the head of the market.
Cesc Fabregas – 4.00Bet €100 to win €4003/1Bet £100 to win £400+300Bet $100 to win $4003.00Bet HK$100 to win HK$4003.00Bet Rp100 to win Rp400-0.3333Bet RM100 to win RM400 with Skybet
Fabregas became the early favourite after his imperious early season form when he arrived at Chelsea. He hit the ground running and instantly took on the mantle of the central playmaker for Jose Mourinho's side, scoring and creating goals aplenty. His form has tailed off slightly over the last couple of months, but he's still integral to the team that look certain to go on and win the title. He's not new to the league, or to the players within it though, and as part of such a strongly functional team it may be harder for him to earn votes. The award is voted for by the players of each Premier League club, and is therefore very subjective. It's no surprise that in recent years it has been won by players who tend to really stand out such as Bale, Ronaldo, Suarez, Van Persie and Rooney.
Diego Costa – 5.00Bet €100 to win €5004/1Bet £100 to win £500+400Bet $100 to win $5004.00Bet HK$100 to win HK$5004.00Bet Rp100 to win Rp500-0.2500Bet RM100 to win RM500 with Betvictor, Skybet and Paddy Power
His Chelsea compatriot, Diego Costa, could well fit that bill. He's new to the country and is currently the Premier League's top scorer with 17 goals. He divides opinion, but there is no doubting his effectiveness and his deadly nature in front of goal. He might consider himself a little unlucky not to take the award if he were to finish the season with a Premier League medal as well as the golden boot, but again, he doesn't appear to be the 'stand out' individual in a Chelsea team that is full of stars.
Alexis Sanchez – 6.00Bet €100 to win €6005/1Bet £100 to win £600+500Bet $100 to win $6005.00Bet HK$100 to win HK$6005.00Bet Rp100 to win Rp600-0.2000Bet RM100 to win RM600 with Betvictor
Another player who is new to these shores, and one who definitely has looked head and shoulders above his team-mates at times, is Alexis Sanchez, and that's why we reckon he's worth a punt to scoop the Player's Player of the Year vote. The last time an Arsenal player won the award was when Robin Van Persie took it in 2011/12, and if Sanchez finishes the season the way he started it, he could follow in the Dutchman's footsteps. He's nabbed 12 Premier league goals so far, but it's been his approach play and his tenacious hard-working attitude that has also caught the eye this season. For a period before Christmas it seemed as if he was winning games for Arsenal on his own, such was his influence, and even Arsene Wenger admitted over the busy festive period that he couldn't afford to rest him. The Chilean player came from Barcelona with a decent reputation, but not many expected him to have the immediate impact that suddenly had him being talked about as Arsenal's best player. He's had a slight injury the last few weeks, but that rest will stand him in good stead for the final months of the season, and as long as he keeps up his form over February and March he should garner plenty of votes.
Eden Hazard – 6.00Bet €100 to win €6005/1Bet £100 to win £600+500Bet $100 to win $6005.00Bet HK$100 to win HK$6005.00Bet Rp100 to win Rp600-0.2000Bet RM100 to win RM600 with Betvictor and Paddy Power
Eden Hazard is the third Chelsea player in the top four of the betting for the award, but unless he has a spectacular couple of months, it's hard to see him winning it. He is almost certainly a victim of the high standards he has set for himself last season, and he hasn't quite reached them again this year.
Sergio Aguero – 7.00Bet €100 to win €7006/1Bet £100 to win £700+600Bet $100 to win $7006.00Bet HK$100 to win HK$7006.00Bet Rp100 to win Rp700-0.1667Bet RM100 to win RM700 with Betvictor
The same could be said of Aguero, who has had a stuttering campaign, similar to his club Manchester City. He's still bagged 14 league goals this season though, and City's title challenge is bound to depend on his scoring ability.
Harry Kane – 12.00Bet €100 to win €120011/1Bet £100 to win £1200+1100Bet $100 to win $120011.00Bet HK$100 to win HK$120011.00Bet Rp100 to win Rp1200-0.0909Bet RM100 to win RM1200 with Paddy Power
Harry Kane comes next in the betting at what looks quite a short price for a player that wasn't even playing first team football at the start of the season. He looks a certainty for Young Player, but it would be a stretch to imagine him taking both awards. Ronaldo (2007) and Bale (2013) completed the double recently, but both were practically carrying their clubs at the time, and were easily the best player in the league in their respective seasons. Prior to those two, the only other player to do it was Andy Gray in 1976/77.
Tips Summary
PFA Young Player of the Year – Harry Kane – 1.44Bet €100 to win €14411/25Bet £100 to win £144-227Bet $100 to win $1440.44Bet HK$100 to win HK$144-2.27Bet Rp100 to win Rp1440.4400Bet RM100 to win RM144 with Skybet
PFA Player's Player of the Year – Alexis Sanchez – 6.00Bet €100 to win €6005/1Bet £100 to win £600+500Bet $100 to win $6005.00Bet HK$100 to win HK$6005.00Bet Rp100 to win Rp600-0.2000Bet RM100 to win RM600 with Betvictor
Alexis Sanchez
cesc fabregas
Diego Costa
Eden Hazard
harry kane
pfa players player of the year
pfa players young player of the year