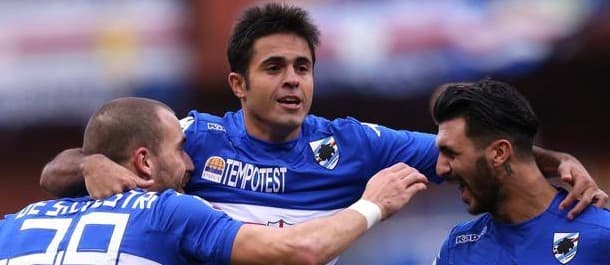 It is away sides that dominate one's Italian Serie A betting attention as the competition reaches its halfway point, with travelling teams representing the best value investments.
Top billing goes to Sampdoria, which is the outsider for its Italian Serie A match at Parma even though the gap between the sides on the ladder is massive and one's collateral form analysis supports what one can see on the league table.
Sampdoria and Parma have had 18 common Italian Serie A foes and one's view is that 15 of those collateral form lines – not one, not two but 15 – favour Sunday's outsider, with three favouring what one thinks is the false favourite.
One is willing to factor in some price movement following Sampdoria's sale of its top goal scorer Manolo Gabbiadini, to Napoli but Sinisa Mihajlovic's team beat Empoli 1-0 at home minus Gabbiadini in the 18th round of Italian Serie A games and Parma is 19th on the ladder for a good reason.
Parma is likely to be without more first-team players than Sampdoria and the Italian Serie A relegation-threatened side showed that it was flattered by its recent 1-0 home victory over a wasteful Fiorentina by following that effort with a 1-3 loss at Verona that was a fair reflection of the play.
Back Sampdoria at odds of 2.88 with BetVictor, Boylesports and WilliamHill to win at Parma because the visitor should be the favourite, of that one is in no doubt whatsoever. And it does not hurt one's case that Parma has an Italian Coppa Italia date with Cagliari on Wednesday, whereas Sampdoria can spend the entire week in Italian Serie A mode.
Palermo is one of Italian Serie A's form teams – it had won five and drawn four of its last nine league matches before losing 3-4 at Fiorentina last time out – but that does not mean that bookmakers are correct in their assessment of Saturday's game between the Pink and Blacks and Roma.
One has conducted collateral form analysis on the 18 rounds of the Italian Serie A competition and one's view is that 14 of the collateral form lines featuring Palermo and Roma favour the latter, strongly endorsing the league ladder on which Rudi Garcia's side is 15 points ahead of its rival.
Perspective is a critical tool for any punter who wants to make long-term profits and one should take a good hard look at Palermo's recent Italian Serie A results. Without wishing to be unkind, Palermo's nine-game Italian Serie A unbeaten run was compiled against teams ranked seventh or lower on the ladder. Palermo has earned just two points from its five Italian Serie A matches versus top-six sides, with its goal difference in those particular games being minus seven.
Roma is at least two or three classes above Palmero and the bookmakers, including BetVictor and Bwin, who are quoting the Yellow and Reds at odds of 2.10 are incorrect.
Internazionale is the least trustworthy Italian Serie A team but one is inclined to back Roberto Mancini's side to win at lowly Empoli on Saturday, an Italian Serie A play that is trading at odds of 2.15 with BetVictor and WilliamHill.
One thinks that 10 of the 18 Italian Serie A collateral form lines involving Empoli and Internazionale favour the latter so, at odds against and showing signs of improvement under Mancini, the San Siro team represents a decent option.
Finally, with regards to Italian Serie A exotic bets, one is most keen to see what bookmakers chalk up for Fiorentina to have more corner kicks than Chievo on Sunday. Fiorentina's Italian Serie A corner-kick ratio is the fourth best, with it averaging 6.22 for and 3.94 against. Chievo is down in 18th position on the Italian Serie A corner-kick ratio ladder, averaging 4.39 for and 6.67 against.
Tips Summary
Sampdoria to beat Parma
18th January 14:00 GMT
Odds: 2.88
Where to Bet: BetVictor, Boylesports, WilliamHill
Roma to beat Palermo
17th January 19:45 GMT
Odds: 2.10
Where to Bet: BetVictor, Bwin
Inter to beat Empoli
17th January 17:00 GMT
Odds: 2.15
Where to Bet: BetVictor, WilliamHill
Italian Serie A
Manolo Gabbiadini
Rudi Garcia
Sampdoria
Sinisa Mihajlovic