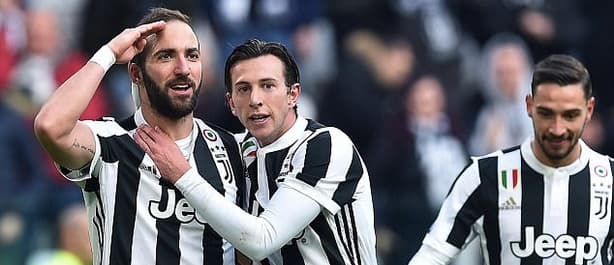 There is a compelling statistical case for backing Juventus to beat Fiorentina in Friday's Italian Serie A round opener.
Italian Serie A is the only one of Europe's major leagues in which the title race looks like going down to the wire, with Napoli and Juventus separated by just one point following 23 rounds of action. The Italian Serie A championship position means that Juventus cannot afford to play it safe, even on its travels, so one is confident that the Old Lady will go for three points away to 11th-ranked Fiorentina.
While Juventus only registered a 1-0 win over Fiorentina in September's Italian Serie A reverse fixture, there is so much evidence that the Old Lady are vastly superior to the Purples that one cannot resist headlining the champions at 1.85 with BetVictor. According to one's Italian Serie A collateral form analysis, Juventus boasts an incredible 2-0-17 advantage over Fiorentina – the two teams against which the Old Lady have fared worse than the Purples are third-ranked Lazio and bottom-of-the-ladder Benevento.
Of the last seven meetings of Juventus and Fiorentina across all competitions, six have resulted in victories for the Old Lady, including two in Florence. Fiorentina is a famous name in Italian Serie A but the Purples are living off their reputation because they are 0-5-4 in their nine matches versus the teams occupying the leading eight positions.
Another Italian Serie A side which one fancies to complete a league double is Atalanta, which will attempt to make it two wins from two clashes with Crotone this season. Atalanta is also trading at odds of 1.85 with BetVictor to follow up its 5-1 home triumph over Crotone in September with a February road win.
All up, Atalanta enjoys a 11-3-5 Italian Serie A collateral form lead over Crotone but the difference between the sides is particularly stark when one just counts the results of games featuring the top 11 teams – the Goddess are 8-2-1 ahead of the Pythagoreans using that subset of data.
Atalanta is 6-2-0 in its eight Italian Serie A matches against bottom-six sides, whereas Crotone is 0-1-10 in its divisional games versus top-nine teams, including failing to score a goal in any of its four home dates with Napoli, Internazionale, Milan and Udinese. Indeed, Crotone has netted only two goals in its 11 aforementioned matches.
Since Crotone returned to Italian Serie A last season, it has lost each of its three games against Atalanta, including a 1-3 loss in last term's corresponding fixture in which the Goddess led 3-0 before they had a men sent from the field.
Finally, one is going to advocate backing the draw at odds of 4.0 with 888Sport in the late Italian Serie A match on Saturday which pitches top-of-the-ladder Napoli versus third-ranked Lazio.
Fourteen points separate Napoli and Lazio on the Italian Serie A ladder but one could argue that the Partenopei are not even superior to the White and Sky Blues. According to one's Italian Serie A collateral form analysis, Napoli trails Lazio 7-3-9 but the Partenopei have outperformed the White and Sky Blues against more highly ranked opponents.
Napoli is well into odds-on territory to accrue three Italian Serie A points from its assignment versus Lazio and, admittedly, the Partenopei came from behind to thrash the White and Sky Blues 4-1 in September's reverse fixture but one cannot help thinking that Saturday's market is wrong.
Below are one's Italian Serie A collateral form numbers for this weekend's full round of fixtures.
Fiorentina 2-0-17
SPAL 5-4-10
Crotone 5-3-11
Napoli 7-3-9
Sassuolo 8-1-10
Chievo 6-6-7
Internazionale 13-1-5
Sampdoria 13-1-5
Torino 7-4-8
Roma 15-2-2
Tips Summary
Juventus to beat Fiorentina
Friday 9th February, 19:45 GMT
Odds: 1.85
Atalanta to beat Crotone
Saturday 10th February, 17:00 GMT
Odds: 1.85
Napoli and Lazio to Draw
Saturday 10th February, 19:45 GMT
Odds: 4.0
Atalanta
Juventus
Lazio
Napoli
Serie A