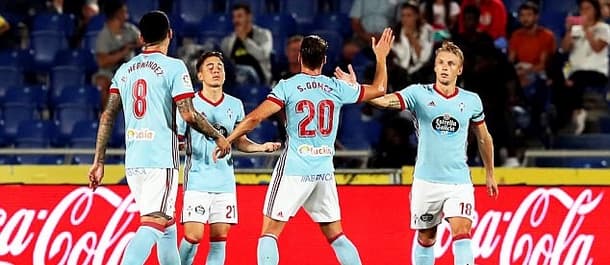 Domestic matches following midweek games in UEFA tournaments are not the easiest to pick so one is going to take a punt on a headline selection at fairly long odds this weekend.
The Spanish Primera Division match in which one is most interested is Sunday's game between 14th-placed Celta and 15th-placed Athletic. The Spanish Primera Division ladder suggests that there is very little to choose between Celta and Athletic after 10 rounds of action and, for once, one agrees with the standings. That is because there is a fair amount of Spanish Primera Division collateral form data on which to base one's assessment of Celta against Athletic. Atletico Madrid, Getafe, Girona, Eibar, Las Palmas and Malaga are the six sides that both Celta and Athletic have faced in the Spanish Primera Division and, according to one's collateral form analysis, the Sky Blues and the Lions are locked together on 2-2-2. Athletic has a UEFA Europa League Group J match versus Ostersunds on Thursday but it will take place in Spain so the Lions do not have to travel and, also, while OFK tops the section, they are the weakest team in the pool on paper, punching well above their weight.
Several bookmakers are quoting the Spanish Primera Division draw between Celta and Athletic as the least likely of the three possible outcomes – 3.5 with BetVictor – and that simply does not feel right. Celta has not beaten a Spanish Primera Division side ranked higher than 17th, while Barcelona is the league's only team to defeat Athletic by more than a one-goal margin.
Quotes of 2.1 with BetVictor about Betis getting the better of Getafe are worth vacuuming up ahead of their Spanish Primera Division clash on Friday in the round opener.
Betis is 4-0-0 at home to sides positioned on the bottom half of the Spanish Primera Division ladder and 11th-placed Getafe fares pretty poorly versus the Green and Whites in one's collateral form analysis. Barcelona, Real Madrid, Villarreal, Sociedad, Levante, Celta and Deportivo are the seven common Spanish Primera Division opponents of Betis and Getafe and, crunching the numbers of those game results, one rates the Green and Whites as holding a 3-3-1 collateral form advantage over the Deep Blues. That is sufficient for one to think that Betis should be odds-on to improve its Spanish Primera Division record to 6-1-4 with a home win.
Villarreal has to contend with a UEFA Europa League Group A road trip to the Czech Republic on Thursday but one cannot ignore its Spanish Primera Division collateral form edge over Malaga, which it will host just three days later.
Both Villarreal and Malaga have encountered Atletico Madrid, Girona, Eibar and Las Palmas in the Spanish Primera Division and, according to one's collateral form analysis, the Yellow Submarine boast a 4-0-0 lead over the Anchovies. That is too good to ignore in spite of Villarreal's busy schedule and, whereas the Yellow Submarine are 3-1-0 at home in the Spanish Primera Division, Malaga is 0-0-5 and yet to score on the road in the same competition. Yes, Malaga has visited four of the Spanish Primera Division top five but it lost 0-1 at Girona and those collateral form figures indicate that it is inferior to Villarreal and significantly so. The Yellow Submarine can be backed at 1.5 with Bet365 and 888Sport.
It was a toss up between Villarreal and Atletico Madrid for one's third and final Spanish Primera Division selection and, when it came down to picking one of them, one chose to favour an odds-on home team over an odds-on away team.
Tips Summary
Celta Vigo and Athletic Bilbao to Draw
Sunday 5th November, 15:15 GMT
Odds: 3.5
Real Betis to beat Getafe
Friday 3rd November, 20:00 GMT
Odds: 2.1
Villarreal to beat Malaga
Sunday 5th November, 17:30 GMT
Odds: 1.5
Celta Vigo
La Liga
Las Palmas
Real Betis
Villarreal