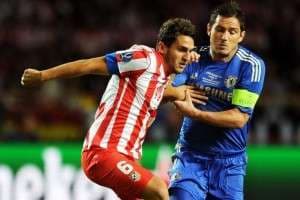 The UEFA Champions League semi-final first-leg match between Atletico Madrid and Chelsea pits the meanest defences in the Spanish Primera Division and the English Premier League against each other in a sudden-death environment so one should be looking to bet a tight, low-scoring game.
UEFA Champions League semi-final first-leg results should be interested in backing Atletico Madrid and Chelsea to draw at odds of 3.40 with BetVictor and Bwin, while there are cases for getting on the half-time draw at odds of 2.05 with Bwin and a half-time score of 0-0 at odds of 2.55 with Bwin also.
Atletico Madrid is receiving the credit that it deserves for leading the Spanish Primera Division with one month to go and qualifying for the UEFA Champions League semi-finals. However, one should get too carried away with Atletico's form, particularly in home matches versus the big boys. Atletico's Spanish Primera Division home games against the top flight's other top-five sides have resulted in a win over Bilbao but only draws against Barcelona, Real Madrid and Sevilla. Atletico did beat Barca at home in the UEFA Champions League quarter-finals but it drew with the Camp Nou team in the Spanish Supercopa and it lost to Real in the Spanish Copa del Rey. There are grounds for opposing Diego Simeone's side when Jose Mourinho's Chelsea comes to town.
It is difficult to back Chelsea, though. Chelsea's record in away first legs of UEFA Champions League ties under Mourinho is zero wins, two draws and two losses. In recent years when Chelsea has won such a match it has been versus second-tier teams – Liverpool in 2009, Kobenhavn in 2011 and Benfica in 2012 – when the self-anointed Special One was missing. And Mourinho's numbers leading Real Madrid into such games was one win over little APOEL, two draws and two losses. Plus Chelsea's English Premier League road record against the heavyweights is a modest one win and three draws as well.
Not only does the full-time draw stick out like a sore thumb given the odds but also the half-time draw. Fifteen of Atletico Madrid's 34 Spanish Primera Division matches have been level at half time, including six of its 18 home games. Seventeen of Chelsea's 35 English Premier League matches have not had a half-time leader, including 10 of its 17 away games. Remarkably, Chelsea has scored just eight goals and conceded only four goals in the first 45 minutes of its 17 English Premier League road matches. Mourinho likes to park the bus, no matter what he says about his side's rivals.
One has highlighted three bets in the UEFA Champions League semi-final first leg between Atletico Madrid and Chelsea. If one wanted to back just one then the full-time draw at odds of 3.40 would be the top pick but not by a great amount.
Real Madrid and Bayern Munchen lock horns in the other UEFA Champions League semi-final first leg. The teams met at the corresponding stage of last season's UEFA Champions League, with the respective home sides winning their advantage legs 2-1 and Bayern reaching the final on penalty kicks.
Cristiano Ronaldo looks likely to play for Real Madrid so the bet that one likes most is both teams to score at odds of 1.60 with William Hill. Real has scored in all bar one of its 25 home games across all competitions, while Bayern has found the back of the net in all bar one of its 26 away matches. Take a bow, Atletico Madrid and Augsburg respectively for shutting down the superpowers.
Tactically, Real Madrid against Bayern Munchen sets up very similarly to Real Madrid versus Barcelona and one should know that both teams have scored in each of the last 16 El Clasico games. So back both sides to score at odds of 1.60.