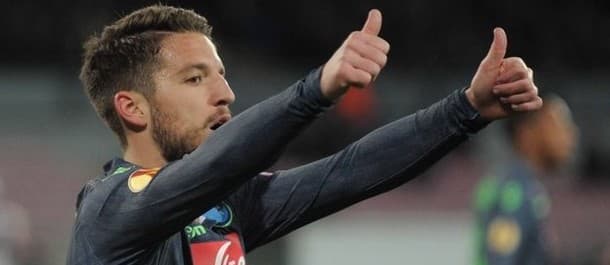 There is no doubt as to what is the marquee match in Italian Serie A's final round and it is the game between Napoli and Lazio that will determine which team accompanies Juventus and Roma into the lucrative UEFA Champions League.
Lazio is three points clear of Napoli on the Italian Serie A ladder and its goal difference is 13 goals superior to that of its nearest rival but Italy's top flight does not have the same tie-breaker rules as either the English Premier League or the German Bundesliga. Italian Serie A uses head-to-head results to rank sides level on points.
That is very bad news for Lazio because it lost 0-1 at home to Napoli when the teams clashed in the first half of the Italian Serie A season and, therefore, if Lazio loses at Napoli on Sunday, it will slide to fourth on the ladder and miss out on UEFA Champions League action yet again.
A few weeks ago Lazio looked like it had a realistic chance of finishing with the Italian Serie A silver medal. Now, off the back of a 1-2 Italian Serie A home derby loss to Roma, it must avoid defeat away to fourth-placed Napoli to avoid its season ending in disaster. It would be fair to say that both Napoli and Lazio will be under pressure on Saturday but one feels that the latter has so much more to lose because, in all honesty, it should have taken care of business long before the final round of the Italian Serie A competition.
Lazio can lean upon its Coppa Italia aggregate win over Napoli but that was the best part of two months ago – the momentum has swung away from the crew from the capital since then and momentum plays a big part in sport. Napoli must have thought that its UEFA Champions League dream was over after it lost 1-3 at Juventus last weekend only for Lazio to choke in its Italian Serie A derby versus Roma.
Napoli has won each of its last four Italian Serie A home matches and it has seven wins and two draws from its last nine divisional home games since losing 1-3 to Juventus in January. All things considered, Napoli is the bet at odds of 2.25Bet €100 to win €2255/4Bet £100 to win £225+125Bet $100 to win $2251.25Bet HK$100 to win HK$2251.25Bet Rp100 to win Rp225-0.8000Bet RM100 to win RM225 with several bookmakers, including Betfred and Totesport. One feels as though the script has been written.
Genoa has not obtained a UEFA licence so Italian Serie A's third UEFA Europa League berth is a straight fight between Sampdoria and Internazionale. The Italian Serie A head to head between Sampdoria and Internazionale is level but the next tie-breaker rule, which is goal difference, favours Internazionale so Roberto Mancini's team will qualify it if beats Empoli at home and Sampdoria loses at home to Parma.
Neither Sampdoria nor Parma has pulled up any trees towards the end of the Italian Serie A tournament but at least the former has something for which to play whereas the latter cannot avoid the wooden spoon. 888Sport and Unibet are listing Sampdoria at odds of 1.30Bet €100 to win €1303/10Bet £100 to win £130-333Bet $100 to win $1300.30Bet HK$100 to win HK$130-3.33Bet Rp100 to win Rp1300.3000Bet RM100 to win RM130.
Finally, in the absence of many meaningful Italian Serie A matches, one is going to draw attention to the three-way battle to end as the division's top goal scorer. Verona's Luca Toni is the leader on 21 goals, with Internazionale's Mauro Icardi and Carlos Tevez, of Juventus, close behind on 20 goals. Verona hosts Juventus on Saturday, which means that Icardi will know what he needs to do when he takes to the field for Internazionale against Empoli on Sunday. For that reason alone, Icardi represents the bet at odds of 3.75Bet €100 to win €37511/4Bet £100 to win £375+275Bet $100 to win $3752.75Bet HK$100 to win HK$3752.75Bet Rp100 to win Rp375-0.3636Bet RM100 to win RM375 with PaddyPower. Realistically, the Italian Serie A game between Internazionale and Empoli could degenerate into being all about Icardi and his shot at Golden Boot glory.
Tips Summary
Napoli to beat Lazio
31st May 19:45 GMT
Odds: 2.25Bet €100 to win €2255/4Bet £100 to win £225+125Bet $100 to win $2251.25Bet HK$100 to win HK$2251.25Bet Rp100 to win Rp225-0.8000Bet RM100 to win RM225
Where to Bet: Betfred, Totesport
Sampdoria to beat Parma
31st May 19:45 GMT
Odds: 1.30Bet €100 to win €1303/10Bet £100 to win £130-333Bet $100 to win $1300.30Bet HK$100 to win HK$130-3.33Bet Rp100 to win Rp1300.3000Bet RM100 to win RM130
Where to Bet: 888Sport, Unibet
Mauro Icardi to finish top goal scorer
Odds: 3.75Bet €100 to win €37511/4Bet £100 to win £375+275Bet $100 to win $3752.75Bet HK$100 to win HK$3752.75Bet Rp100 to win Rp375-0.3636Bet RM100 to win RM375
Where to Bet: PaddyPower
Carlos Tevez
coppa italia
golden boot
Internazionale
Italian Serie A
Lazio
Luca Toni
Mauro Icardi
Napoli
Sampdoria