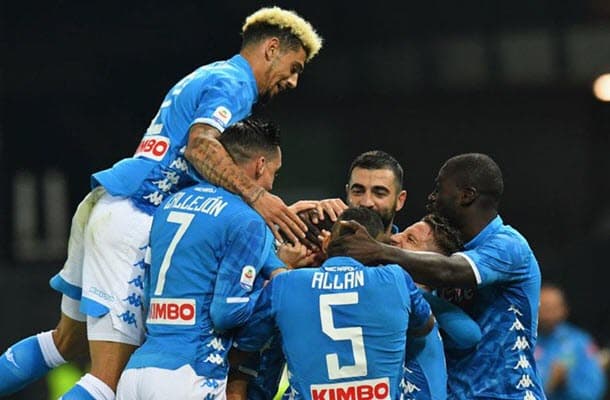 Napoli v Frosinone – 8th December – 14:00 BST
Napoli will want to take care of Italian Serie A business in double-quick time on Saturday so back the Partenopei to beat Frosinone after leading their struggling guest at half time.
A perfect Saturday afternoon for Napoli boss Carlo Ancelotti would be for the Partenopei to run away with their Italian Serie A match so their manager could rest some of their key players ahead of Tuesday's do-or-die UEFA Champions League Group C game at Liverpool. While some media companies are speculating Ancelotti will field a second-choice side versus Frosinone and hope it accrues three points in any manner, one thinks the experienced campaigner is more likely to select his strongest starting 11 and instruct them to put their underwhelming opponents out of their misery quickly.
Napoli, which posted a 2-1 Italian Serie A road victory over in-form Atalanta last time out, ought to do as it pleases at home to Frosinone. Napoli is second on both the real Italian Serie A ladder and the expected points standings, whereas Frosinone is ranked 19th and 20th respectively. According to one's Italian Serie A collateral form analysis, Napoli and Frosinone have lined up against 10 identical opponents and the Partenopei boasts a 10-0-0 advantage over their weekend visitors. Napoli is short odds to beat Frosinone but the half-time/full-time double result is a viable option and it is one's headline recommendation at 1.53 with Bet365. Such half-time/full-time wagers on Napoli versus Frosinone landed in both of the 2015-2016 Italian Serie A clashes of the sides, which was the most recent season in which they shared a division.
TOP TIP! – Napoli/Napoli versus Frosinone @ 1.53
Get the best odds in the Italian Serie A with our selected bookmakers below.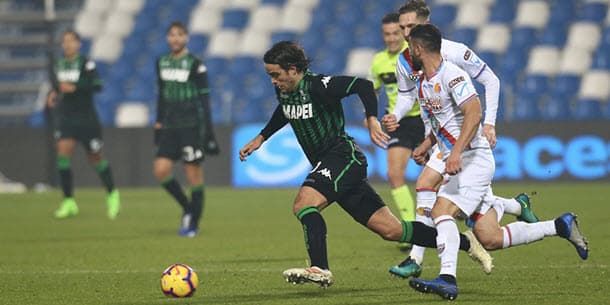 Sassuolo v Fiorentina – 9th December – 11:30 BST
TOP TIP! – Sassuolo to draw versus Fiorentina @ 3.40
One struggled to find multiple Italian Serie A selections on this weekend's tough coupon but, if you must include other bets with Napoli/Napoli then Sassuolo to draw at home to Fiorentina at 3.40 with Bet365 and Empoli to defeat Bologna are the best.
Sassuolo has drawn its last three Italian Serie A home matches, Fiorentina has drawn its last three Italian Serie A away games and, according to one's collateral form analysis, the Purples are marginally superior to the Black and Greens – the visitors hold a 4-3-3 edge over their Sunday hosts – so, given the venue for this weekend's encounter, the draw makes more appeal than either of the two win wagers. That bookmakers are favouring a Fiorentina travelling team that has not won any of its last seven Italian Serie A matches and occupies a lower rung of the ladder than Sassuolo does not make a great deal of sense on any number of levels.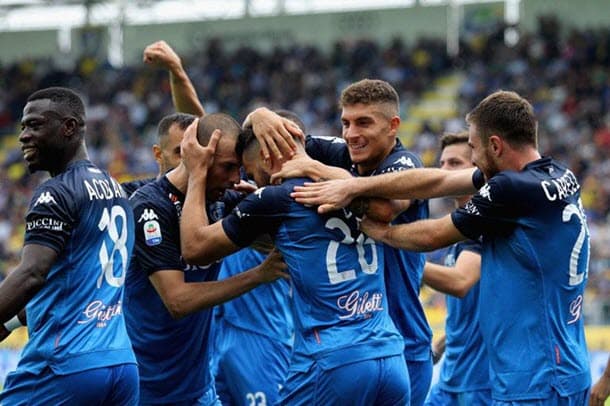 Empoli v Bologna – 9th December – 14:00 BST
TOP TIP! – Empoli to beat Bologna @ 2.05
Parma would have made one's Italian Serie A short list had Gervinho, who is the promoted side's star player, not been ruled out through injury. So one ended up landing on Empoli to earn three Italian Serie A points against a Bologna team that has failed to win any of its last 17 away league games.
Empoli has picked up seven Italian Serie A points from its last three divisional matches to climb out of the relegation zone, which is where you will find Bologna following its run of seven league games without a win. According to one's Italian Serie A collateral form analysis, Empoli enjoys a 4-4-2 lead over Bologna and the Blues are odds against at 2.05 with Black Type.
COLLATERAL FORM FIGURES
Juventus 4-3-3
Napoli 10-0-0
Cagliari 4-2-5
Lazio 6-1-3
Sassuolo 3-3-4
Empoli 4-4-2
Parma 8-1-2
Udinese 2-3-5
Genoa 4-3-3
Milan 4-3-3
Feel free to us know what you think of our tips. Click the button below and Share on Facebook or Twitter and tell us if you agree or disagree with our selections!
Bologna
Empoli
Fiorentina
Frosinone
Italian Serie A
Napoli
Sassuolo