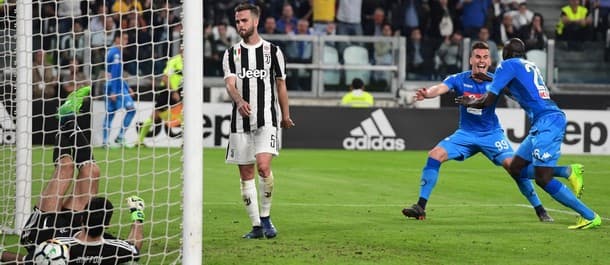 Sensationally, Napoli is back in the Italian Serie A title race and the Partenopei can keep the pressure on Juventus by winning their away match versus Fiorentina on Sunday.
Napoli won 1-0 at Juventus to close the gap on the Old Lady at the top of the Italian Serie A ladder to one point and the Partenopei, who will face Fiorentina one day after their championship rival tackles Internazionale in Milan, have found a good time to run into the Purples in Florence.
Fiorentina is eighth on the Italian Serie A ladder and, while the Purples could still qualify for the UEFA Europa League, the odds are stacked against them. Also, Fiorentina will be without banned duo Bryan Dabo and Marco Sportiello for its Italian Serie A home game versus Napoli and then there is one's Italian Serie A collateral form analysis, which favours the Partenopei strongly over the Purples. Remarkably given that Fiorentina is in the top half of the Italian Serie A ladder, the Purples trail Napoli 2-1-16 on one's collateral form number crunching. One of the very few positives for Fiorentina is that it held Napoli to a 0-0 draw in December's reverse Italian Serie A fixture so that is one of the two results on its side of the ledger.
Napoli – which can be backed at 1.53 with BetVictor has everything for which to play with four rounds to go – Juventus has got to visit both fourth-placed Roma and fifth-ranked Internazionale so its run home has pitfalls – and Fiorentina's record against Italian Serie A's leading lights is poor. For example, Fiorentina is 1-6-7 in its 14 Italian Serie A games versus teams ranked in the top nine, whereas Napoli's equivalent record stands at 8-4-2.
Roma is locked in a compelling three-way fight with Lazio and Internazionale for two of Italian Serie A's four UEFA Champions League berths and the Yellow and Reds should get the 35th round of matches underway with a home win at odds of 1.4 with Betway.
Chievo will be Roma's Italian Serie A visitor on Saturday and, while the Flying Donkeys are in relegation trouble, so are the SPAL side that the Yellow and Reds spanked 3-0 on the road last weekend. According to one's Italian Serie A collateral form analysis, Roma enjoys a 16-1-2 advantage over Chievo, including progressive counts of 7-0-0, 11-1-0 and 12-1-1. December's reverse Italian Serie A fixture ended 0-0 so the direct head to head is one of the 16 that favours Roma over Chievo, the Yellow and Reds have not lost to any of the division's bottom-11 teams and the Flying Donkeys have lost each of their eight away games against sides ranked in the top nine. Roma ought to beat Chievo.
For one's third and final Italian Serie A pick this weekend one is backing Udinese at 2.05 with BetVictor, when they visit relegated Benevento on Sunday in search of points to secure its top-flight status.
Fifteenth-ranked Udinese is four points clear of the Italian Serie A drop zone and it boasts a 15-1-3 collateral form edge over bottom-of-the-ladder Benevento, including progressive counts of 5-0-1 and 12-0-2. Udinese scored a couple of first-half goals to defeat Benevento 2-0 in the reverse Italian Serie A fixture in December and, while does not subscribe to the theory that some teams have nothing for which to play other than pride, one does think that the Little Zebras have more on the line than their hosts.
Tips Summary
Napoli to beat Fiorentina
Sunday 29th April, 17:00 GMT
Odds: 1.53
Roma to beat Chievo
Saturday 28th April, 17:00 GMT
Odds: 1.4
Udinese to beat Benevento
Sunday 29th April, 14:00 GMT
Odds: 2.05