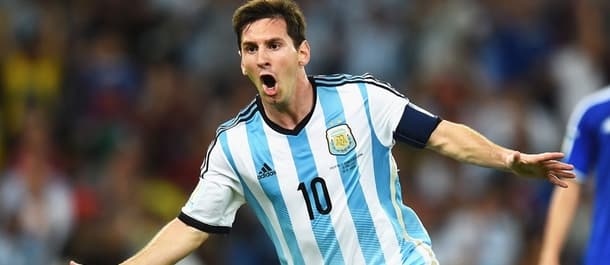 The most interesting Copa America Centenario futures market is the one pertaining to the Most Valuable Player award and it has everything to do with Argentina star Lionel Messi.
There had been a Most Valuable Player recipient at each and every one of the Copa America tournaments until last year's competition in Chile. There is no official line about what happened at the 2015 Copa America but the most common rumour is that Messi was in line to receive it but either he told officials that he did not want it or officials made the decision not to try and present it to him minutes after Argentina had lost 1-4 on penalties to host nation Chile.
Messi was the undoubted star of last year's Copa America, leading the tournament for assists, controlling several matches and being particularly good versus Paraguay in a semi-final game that Argentina won by a five-goal margin. Messi would have been the rightful recipient of the Most Valuable Player trophy at the 2015 Copa America but, 12 months on from being angry at having to pick up the Golden Ball shortly after Argentina's FIFA World Cup final loss to Germany, perhaps someone in CONMEBOL authority did not want to witness a repeat performance. And there is speculation that Messi collected last year's Copa America Most Valuable Player prize in private, away from everyone's prying eyes.
One thinks that Argentina is the Copa America Centenario team to beat because, on paper, its squad is the strongest of the 16 sides and its motivation is greater than that of its nearest market rival, Brazil. Messi is desperate to put a sock in the mouth of every hater who tells him that he has not won a senior international competition with Argentina and Brazil is focussed on the 2016 Rio Olympic Games for obvious and understandable reasons. Argentina has to go close and Messi rarely has a bad game, let alone two in a row. If Argentina plays well that means Messi plays well.
Eight of the last nine Copa America Most Valuable Player winners have represented the team that was victorious in the final – Leonardo Rodriguez (Argentina in 1991), Sergio Goycochea (Argentina in 1993), Enzo Francescoli (Uruguay in 1995), Ronaldo (Brazil in 1997), Rivaldo (Brazil in 1999), Adriano (Brazil in 2004), Robinho (Brazil in 2007) and Luis Suarez (Uruguay in 2011). In case that you are wondering, Honduras midfielder Amado Guevara was voted the Most Valuable Player of the 2001 Copa America for his stellar contribution to his side's surprise third-place finish.
One thinks that Argentina is likely to share around its Copa America Centenario goals – Sergio Aguero, Gonzalo Higuain and Messi are the three Golden Boot favourites even though only one of them is guaranteed to start – making betting on the tournament's leading marksman extremely difficult. But one is willing to gamble on Messi being the Copa America Centenario Most Valuable Player at odds of 6.00 with SkyBet, which are roughly double Argentina's title price.
One's theory is this: if CONMEBOL officials did refrain from putting Messi into what would have been a tough spot at the end of last year's Copa America then their respect for him is such that, should Argentina take out the competition, they are more likely than not to honour him individually.
Messi is the most talented footballer taking part in the Copa America Centenario, Argentina has three Group D opponents against which it has the potential to score lots of goals – Chile is poor defensively, while Bolivia and Panama are out of their depth at this level – and history shows that the Most Valuable Player trophy usually ends up on the mantelpiece of a man from the triumphant team.
Tips Summary
Messi to Win Most Valuable Player Trophy
Copa America, 3rd – 26th June
Odds: 6.0
Argentina
copa america
Copa America Centernario
Lionel Messi