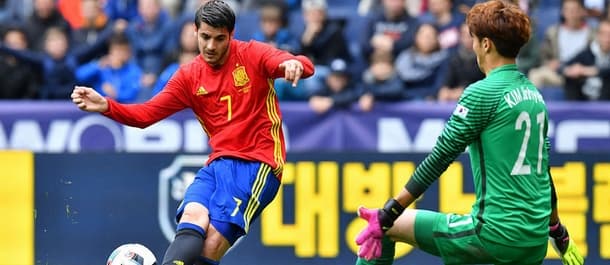 It's just eight days until the start of the summer bonanza of football in France, and we'll be previewing all of the ante-post markets in the build-up to the tournament. One of the most coveted trophies in any international competition is the Golden Boot, awarded to the tournament top goals scorer. There's no more sought after award in the striker's community, and there have been some illustrious winners in the past.
The likes of Michel Platini, Marco van Basten, Alan Shearer, Dennis Bergkamp, Patrick Kluivert and David Villa have all won the Golden Boot in the past, and this year's crop of attackers will be looking to add their name to the list. In 2012 Ronaldo, Torres and Ballotelli were among six players who finished with 3 goals, but in general a tally of 4 or 5 has usually been enough for one player to stand out.
Market Check
The bookies have priced up the top scorer markets, but there are question marks over the market leaders and plenty of value options further down the list. Here's a selection of the prices around at the time of writing:
Thomas Muller 9.00Bet €100 to win €9008/1Bet £100 to win £900+800Bet $100 to win $9008.00Bet HK$100 to win HK$9008.00Bet Rp100 to win Rp900-0.1250Bet RM100 to win RM900
Cristiano Ronaldo 9.50Bet €100 to win €95017/2Bet £100 to win £950+850Bet $100 to win $9508.50Bet HK$100 to win HK$9508.50Bet Rp100 to win Rp950-0.1176Bet RM100 to win RM950
Antoine Greizmann 11.00Bet €100 to win €110010/1Bet £100 to win £1100+1000Bet $100 to win $110010.00Bet HK$100 to win HK$110010.00Bet Rp100 to win Rp1100-0.1000Bet RM100 to win RM1100
Harry Kane 17.00Bet €100 to win €170016/1Bet £100 to win £1700+1600Bet $100 to win $170016.00Bet HK$100 to win HK$170016.00Bet Rp100 to win Rp1700-0.0625Bet RM100 to win RM1700
Zlatan Ibrahimovic 41.00Bet €100 to win €410040/1Bet £100 to win £4100+4000Bet $100 to win $410040.00Bet HK$100 to win HK$410040.00Bet Rp100 to win Rp4100-0.0250Bet RM100 to win RM4100
Wayne Rooney 51.00Bet €100 to win €510050/1Bet £100 to win £5100+5000Bet $100 to win $510050.00Bet HK$100 to win HK$510050.00Bet Rp100 to win Rp5100-0.0200Bet RM100 to win RM5100
Gareth Bale 51.00Bet €100 to win €510050/1Bet £100 to win £5100+5000Bet $100 to win $510050.00Bet HK$100 to win HK$510050.00Bet Rp100 to win Rp5100-0.0200Bet RM100 to win RM5100
Muller has been made favourite for obvious reasons. He's a prolific tournament goal scorer and is almost certain to start for the current World Champions. However, he is still not classed as an out-and-out striker, even if he sometimes fills the position, and Germany are not in fine fettle going into this tournament. Home defeats to England and Slovakia in recent friendlies have done little to inspire confidence, although it would be typical for Germany to turn up and be a different side in competition.
Ronaldo could be about shine on the international stage, but as has been the case in the past, he may well be let down by the quality of team behind him. Portugal have a group that looks easy on paper so Ronaldo could rack up the goals, but how far they will go in the tournament is anyone's guess and tempers enthusiasm.
Griezmann is an obvious choice as he plays for the hosts and he'll be popular, while Harry Kane is set to lead the line for England, but again it's questionable how far the Three Lions will progress. If you think England can do well Wayne Rooney is a huge price. That's down to the fact that he no longer appears to be a certain starter and he may be playing a more reserved role in midfield. Hodgson is a big fan of Rooney though, and will almost certainly find a place in his starting line up for the United striker. Could this be his tournament?
A Team To Go Far
When selecting a top scorer it makes sense to look at teams that are expected to go far in the competition – the more games the more opportunity for goals. France, Germany, Portugal and England are represented in the top four players in the market, but Spain's strikers are conspicuously absent.
Fernando Torres and Diego Costa have both been left out of the Spain squad and there are questions over who will lead the line at the tournament. The man in pole position appears to be Juventus striker Alvaro Morata who has only started a handful of games for the current European Champions, but bagged a brace in the 6-1 win over South Korea in the recent friendly.
Belgium's Romelu Lukaku is another in-form striker for a side expected to go deep into the tournament, although with competition from Origi and Benteke it's not for certain that he will start every game.
The Value Bets
Morata strikes as a value bet here because he's likely to play the forward role for a very strong Spanish side. With chief creator Cesc Fabregas and David Silva pulling the strings behind him there should be plenty of chances, and it would be a surprise if they failed to make the semi finals at least. A group of Croatia, Turkey and Czech Republic isn't a cakewalk, but Spain will be expected to control games against three workmanlike sides.
Morata is available at 21.00Bet €100 to win €210020/1Bet £100 to win £2100+2000Bet $100 to win $210020.00Bet HK$100 to win HK$210020.00Bet Rp100 to win Rp2100-0.0500Bet RM100 to win RM2100 with Bet365, Ladbrokes and Betfair
Another player that stands out at the odds is France's Oliveir Giroud, despite the Arsenal strikers fraught relationship with French fans. He's been boo'd in some recent games but that's more than likely due to the omission of Karim Benzema from Didier Deschamps squad than Giroud's own performances. He's been on target in 4 of France's last six internationals and looks like he will retain the frontman position going into the tournament.
Giroud can be backed at 19.00Bet €100 to win €190018/1Bet £100 to win £1900+1800Bet $100 to win $190018.00Bet HK$100 to win HK$190018.00Bet Rp100 to win Rp1900-0.0556Bet RM100 to win RM1900 with Betfair, 888Sport and Unibet
That seems a decent price for a striker playing a lone role up front for the competition favourites and hosts.
Tips Summary
Alvaro Morata to be Top Scorer
Euro 2016
Odds: 21.00Bet €100 to win €210020/1Bet £100 to win £2100+2000Bet $100 to win $210020.00Bet HK$100 to win HK$210020.00Bet Rp100 to win Rp2100-0.0500Bet RM100 to win RM2100
Olivier Giroud to be Top Scorer
Euro 2016
Odds: 19.00Bet €100 to win €190018/1Bet £100 to win £1900+1800Bet $100 to win $190018.00Bet HK$100 to win HK$190018.00Bet Rp100 to win Rp1900-0.0556Bet RM100 to win RM1900
Euro 2016
France
Giroud
golden boot
Morata
Spain
Top Scorer