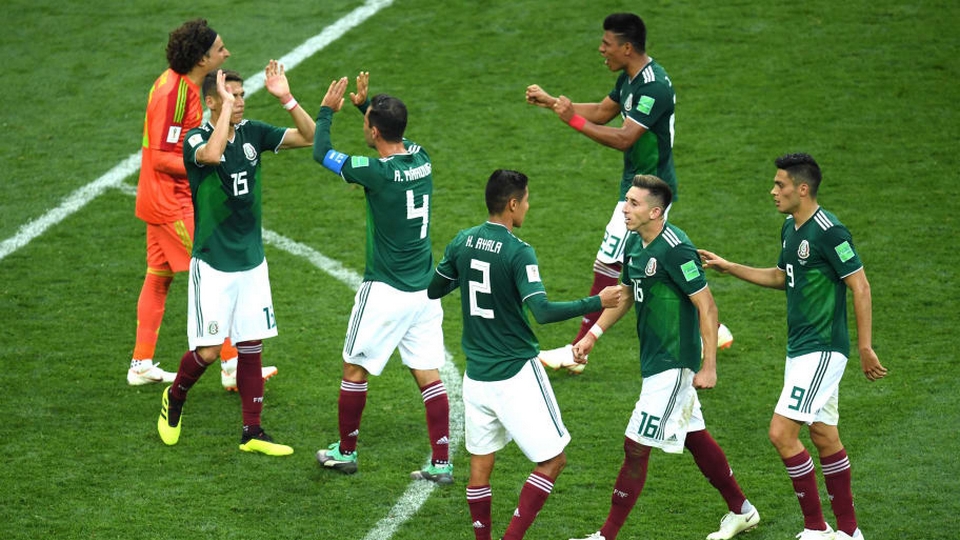 It has been a very revealing weekend. According to the market, the top five favourites for the World Cup pre-tournament were Brazil, Germany, Spain, France and Argentina in that order. From that group, France bungled their way to a win over Australia, Spain drew with Portugal, Argentina drew with Iceland, Brazil drew with Switzerland and, the shock of the weekend, Germany were beaten by Mexico. It has been a weekend to forget for punters but these teams cannot allow themselves that luxury as they look to address some serious issues before their next round of games.
Out of them all, it's a toss-up between Germany and Argentina as to who should worry the most. Das Mannschaft looked leaderless and panicked, having no clear idea what to do other than throw waves and waves of their men forward – Mexico remained unbowed. Argentina have Messi and suite of cohorts who are too scared or simply unable to step up to the plate in any meaningful way. The two finalists of Brazil 2014 don't look close to repeating that feat again.
It would be remiss of us to pass over the stunning achievements of Switzerland, Mexico and Iceland; three teams that few held out any hope for but even if they got to their destination by different routes, they all shared a sense of pride and confidence and refused to back down in the face of the supposedly inevitable. VAR, too, dropped in to say hello with predictably mixed results. It's fair to say that we'll be hearing more from it as the tournament progresses but whether it's thought of as a force for good or farce come the end of the day remains to be seen.
Costa Rica 0-1 Serbia
Costa Rica were one of the surprise teams of Brazil 2014, getting all the way to the quarter-finals. With an ageing squad, few expected the same of them this year. For all the doubts, however, they started this match very brightly, not at all cowed by the supposedly superior Serbia. They fashioned two headed chances in the first 10 minutes but failed to convert either. The chances were coming, though, and from that old head, Bryan Ruiz.
Serbia were threatening too, with Sergej Milinkovic-Savic, in particular, giving glimpses of the talent that has seen price tags in excess of £100 million associated with him. With Serbia in possession, Costa Rica were happy to keep their shape, drop deep when they had to and turn their back three into a back five but they never dropped off pointlessly and kept a high defensive line which kept the pressure on the Serbian player in possession. In a tough, physical encounter, neither side was willing to give ground but it took the early pace right out of the game. Going in 0-0 at the break, Costa Rica would have been happier with their efforts having fashioned the better chances overall.
The second half started slowly but Serbia began to get closer to the Costa Rican goal, with Milinkovic-Savic moving nearer to Aleksandar Mitrovic in attack. With nearly a quarter of an hour played, Mitrovic won a free-kick about 30 yards out and Aleksandar Kolarov blasted a wicked strike with his trusty left peg to send Navas scrambling and put Serbia ahead.
Costa Rica brought Joel Campbell on for the last 20 minutes and the Arsenal man immediately added attacking impetus, fashioning chances and winning free-kicks as Serbia seemed to tire. Milinkovic-Savic, in particular, was blowing hard and struggling with the pace. Campbell continued to be a threat and both teams enjoyed some half chances but it wasn't enough and the match drew to a close with Kolarov's goal the deciding factor in the result.
Did you predict a Serbia win? Don't miss out on the best odds and great promotions with our top bookies:
Germany 0-1 Mexico
The reigning World Champions, Germany, started this tournament as second favourites to win the 2018 version but there were doubts as to whether this version had quite the same dynamism and energy as their Brazilian iteration. Fully seven of the players that lined out in this game started the final against Argentina four years ago. Continuity is one thing but legs don't tend to get quicker with age.
Turns out that neither team were bothered with that particular theory. The game got off to a blistering start with both teams attacking at will and there were good chances at both ends. The rankings said otherwise but this looked very much like a game of equals. Back and forth it went with Germany just about shading possession but never enough to scare Mexico. Germany were leaving a lot of space on their right flank and sure enough, that was the space that Mexico took advantage of to open the scoring. Breaking at speed, Hirving Lozano was played in; he cut back on his right to leave Mesut Ozil, of all people, stranded and stuck it into the bottom corner. Mexico had taken the lead against the World Champions.
Germany were refusing to learn from their mistakes, leaving acres of space for Mexico to exploit in attack. The work rate from the Mexico team was outstanding and if the pace of the game took our breath away, it must have been hellish for the players. A hugely entertaining encounter came to a close after 45 minutes with Mexico one up and looking good for it.
Predictably enough, the pace in the second half wasn't as pronounced as the first but the overall vibe was the same – Germany with most of the possession but looking strangely rattled whereas Mexico where calm out of possession and dangerous with the ball at their feet. Germany were being caught out at the back again; whether through arrogance, ill-discipline or lack of pace it was hard to say but it must have been worrying for the management team. With still over 30 minutes left, they threw on Marco Reus for Sami Khedira, ceding even more space in the middle for Mexico to break into. It seemed to be a touch early for such a bold move and probably indicated the unease being felt on the sideline.
In the end, it didn't matter so much as Mexico largely sat back and let Germany pass the ball back and forth; the Champions did so with an increasing sense of panic which in turn led to poor decision-making across the board. Defenders were substituted for attackers but it just resulted in a loss of shape and purpose for Germany. Toni Kroos did his level best to engineer something for his team but Mexico were unruffled and repelled everything Germany threw at them. The longer the game went on, the less likely it looked like Germany would equalize, let alone win. It was a tale of two halves for Mexico – attack the game and then manage it. They deserved the win. Germany lost not only the match but also their air of invincibility.
Brazil 1-1 Switzerland
With just six of the squad that bombed so badly on their home turf in 2014 in Russia this time around, it's fair to say that any existing hangover from that tournament will have been in the head rather than the legs of the players. Even then, they will have wanted to exorcise those demons early and it was Switzerland who were to play the role of sacrificial lamb. Having seen the previous result between Germany and Mexico, however, Switzerland knew that convention was there to be bucked.
In keeping with many of the previous matches, the erstwhile minnows weren't overawed by the opposition in front of them and although it was Brazil who looked the better team, Switzerland didn't stand off their illustrious opponents. For 20 minutes, that approach was good enough but it wouldn't last forever. After yet another attack was repelled, Coutinho picked up the loose ball on the left and curled it home with his right into the far corner, leaving the 'keeper with no chance; Gillette would kill for that level of precision. Brazil were up and running but they didn't exactly push on. In fact, they seemed to take a little breather and let Switzerland have the ball with the sort of bored insouciance a cat sometimes affords a hobbled mouse that's in its vicinity. Switzerland were causing them few problems and Brazil went in one up at the break. One felt, though, that this was the very attitude that caused so much heartache four years ago.
The second half began with no changes to either side but soon enough there was a change to the scoreline. From a corner, Granit Xhaka whipped in a wonderful ball which Steven Zuber headed home unmarked from two yards out. Brazil complained about a push on Miranda but neither the referee nor VAR were having it. You could see that Brazil were shocked; shaken from their torpor they began to up their game but Switzerland, not having taken their foot off the pedal in the first place, were there already. As time wore on, Brazil became more frantic in their efforts and had a decent shout for a penalty when it looked as it Gabriel Jesus was fouled six yards out but again, neither ref nor VAR were interested. And so it went, Brazil attacked, Neymar fell down, Switzerland defended and so on until the whistle blew for full-time.
Brazil huffed and they puffed but they could not blow the house down. Valon Behrami, in particular, was immense in the middle of the park for Switzerland; Neymar will be up long in the night praying that he never sees him again as the blonde haired battler hardly left his side all game. All over the park, Switzerland gave it their best and, even though they rode their luck with regard to some decisions that went in their favour, it's hard to argue that they didn't deserve their draw. Brazil are going to have to put their thinking hat on.