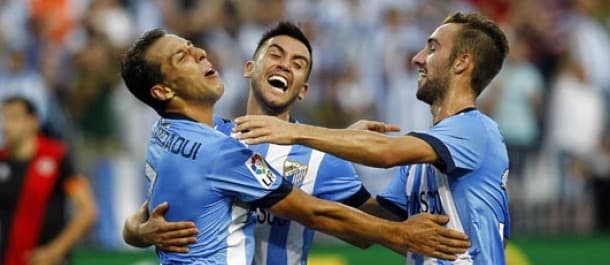 Spanish Primera Division punters must do without their Real Madrid fix because the leader is away on FIFA Club World Cup business, leaving Malaga to represent the best bet at odds of 2.55Bet €100 to win €25531/20Bet £100 to win £255+155Bet $100 to win $2551.55Bet HK$100 to win HK$2551.55Bet Rp100 to win Rp255-0.6452Bet RM100 to win RM255 with BetVictor to win at bottom-of-the-ladder Elche.
A common theme of one's recent football betting articles has been collateral form analysis because one believes that it is the perfect time to trawl through the history books and see if the raw league ladders are somewhat misleading.
League ladders do not lie at the end of a season when every team has played every other team twice but sometimes in the first two-thirds of a competition they can make it look as though sides are better or worse than they are in reality.
The bad news for Elche is that it is a legitimate Spanish Primera Division relegation contender and it will have a tough time avoiding a home loss to seventh-placed Malaga if one's collateral form analysis is on the money. Elche and Malaga have had 13 common Spanish Primera Division opponents and one's view is that 10 of those collateral form lines favour the latter, two favour the former and one is a tie.
Last term's Spanish Primera Division clashes between Elche and Malaga were strange to say the least. Malaga won 1-0 at Elche, scoring in the sixth minute and having a one-player advantage from the 60th minute onwards. Elche won 1-0 at Malaga, scoring in the 11th minute, being reduced to 10 men in the 68th minute and then down to nine men in the 82nd minute. With one tipping Malaga, one is hoping that Elche sees red in Sunday's Spanish Primera Division showdown.
Villarreal enjoys the Spanish Primera Division collateral form edge over Deportivo as Malaga enjoys over Elche and it has the added bonus of home-ground advantage on Saturday.
According to one's research, Villarreal and Deportivo have had 13 common Spanish Primera Division opponents and the collateral form lines favour Saturday's home team 10-1-2, which is one reason why one is keen to back the wonderfully nicknamed Yellow Submarine at odds of 1.36Bet €100 to win €1369/25Bet £100 to win £136-278Bet $100 to win $1360.36Bet HK$100 to win HK$136-2.78Bet Rp100 to win Rp1360.3600Bet RM100 to win RM136 with several bookmakers, including Boylesports and Bwin.
Villarreal has won each of its last four Spanish Primera Division matches, its latest league victory being its 1-0 triumph over title holder Atletico Madrid at the Vicente Calderon. Villarreal has lost only four Spanish Primera Division games and its defeats have occurred against Barcelona, Real Madrid, Sevilla and Valencia. Basically, Villarreal does a fine job of beating the sides below it on the Spanish Primera Division ladder and it comes up a little bit short in most of its matches versus higher-ranked teams.
Nothing stands out from an exotic perspective on the Spanish Primera Division coupon so one's final selection is Rayo Vallecano to beat Espanyol at odds of 2.40Bet €100 to win €2407/5Bet £100 to win £240+140Bet $100 to win $2401.40Bet HK$100 to win HK$2401.40Bet Rp100 to win Rp240-0.7143Bet RM100 to win RM240 with Bwin.
Rayo Vallecano and Espanyol have had 12 common Spanish Primera Division opponents and one's view is that seven of those collateral form linea favour Saturday's home side, four of them favour Saturday's away side and one of them favours neither side. The clincher for wanting to be with Rayo Vallecano is Espanyol's continuing problems on the road. Espanyol's away record of zero wins, two draws and five losses is the worst in the Spanish Primera Division.
Tips Summary
Malaga to beat Elche
21st December 18:00 GMT
Odds: 2.55Bet €100 to win €25531/20Bet £100 to win £255+155Bet $100 to win $2551.55Bet HK$100 to win HK$2551.55Bet Rp100 to win Rp255-0.6452Bet RM100 to win RM255
Where to Bet: BetVictor
Villarreal to beat Deportivo
21st December 11:00 GMT
Odds: 1.36Bet €100 to win €1369/25Bet £100 to win £136-278Bet $100 to win $1360.36Bet HK$100 to win HK$136-2.78Bet Rp100 to win Rp1360.3600Bet RM100 to win RM136
Where to Bet: Boylesports, Bwin
Rayo Vallecano to beat Espanyol
20th December 21:00 GMT
Odds: 2.40Bet €100 to win €2407/5Bet £100 to win £240+140Bet $100 to win $2401.40Bet HK$100 to win HK$2401.40Bet Rp100 to win Rp240-0.7143Bet RM100 to win RM240
Where to Bet: Bwin
BetVictor
Deportivo
Elche
La Liga
malaga
Vicente Calderon
Villarreal