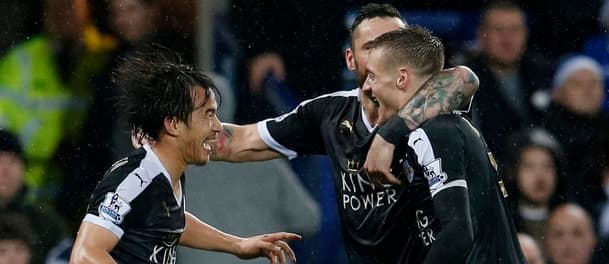 There is no doubt as to which team constitutes the best bet in the first English Premier League round of 2016 and it is Leicester because bookmakers keep underrating the Foxes.
A basic principle of English Premier League betting is that, in the event of two evenly matched teams clashing, the home side should trade at odds of between 2.10 and 2.20. So one cannot get away from picking Leicester to beat Bournemouth on Saturday because SkyBet are offering odds of 2.00 about the Foxes defeating the Cherries.
Bookmakers, it seems, are having difficulty accepting that Leicester is the real deal even though the Foxes ended 2015 in second place on the English Premier League ladder, level on points with Arsenal. And one's collateral form analysis suggests that Leicester's edge over 16th-placed Bournemouth is greater than the advantage that any other English Premier League team enjoys in the competition's 20th round of games.
Leicester and Bournemouth have had 18 common English Premier League opponents and one's collateral form analysis resulted in the Foxes having an 11-4-3 lead over the Cherries. Also, Leicester drew 1-1 at Bournemouth when the teams locked horns in the English Premier League's fourth round. Backing Leicester at odds of 2.00 to beat Bournemouth is a complete no-brainer due to the obvious value that it represents. For example, Arsenal is available at odds of around 1.30 to defeat Newcastle even though one could argue that the difference between the Gunners and the Magpies is not greater than that between Leicester and Bournemouth.
Clear-cut value is the reason for one selecting West Ham not to lose at home to Liverpool in Saturday's English Premier League match at the Boleyn Ground, an option that is trading at odds of 1.88 with 888Sport and Unibet – that is not a lot shorter than the odds about a Hammers loss.
There is no justification for the way in which bookmakers are betting on the English Premier League game between West Ham and Liverpool. Adjacent on the English Premier League ladder, West Ham and Liverpool have had 18 common foes and one's collateral form analysis favours the Reds 8-4-7 so one's view is that there is little to choose between the sides. Consequently, one thinks that West Ham should be trading at odds of around 1.35 not to lose to Liverpool given that the Hammers are playing on their home turf. Remember, West Ham handed out a 3-0 thrashing to Liverpool when the teams met in the English Premier League at Anfield.
Finally, Manchester City has not won any of its last five away matches across all tournaments – scoring only one goal in those games – but one thinks that the Citizens are a punting proposition at odds of 1.73 with PaddyPower to triumph at Watford on Saturday.
Watford and Manchester City have had 18 common English Premier League opponents and one's collateral form analysis favours the Citizens over the Hornets 11-1-6, plus the reverse fixture resulted in a 2-0 win for the superstars from Etihad Stadium. Furthermore, Watford's record versus English Premier League sides above it on the ladder is poor, including its last-start 1-2 home loss to Tottenham.
Strictly speaking, Crystal Palace is overpriced to beat Chelsea at Selhurst Park on Sunday but one cannot bring oneself to pick the Eagles because they are better suited to playing away from home and, also, the Blues are much better than their 14th place on the ladder suggests.
Tips Summary
Leicester to beat Bournemouth
2nd January 15:00 GMT
Odds: 2.00
West Ham to win/draw v Liverpool
2nd January 12:45 GMT
Odds: 1.88
Man City to beat Watford
2nd January 17:30 GMT
Odds: 1.73
Bournemouth
Everton
leicester
liverpool
manchester city
Premier League
watford
West Ham